Normally when people read about exploiting the environment, it means taking an unfair share of natural resources, to make a plethora of temporary products. What I'm talking about today however, is exploiting our "unnatural" environment to the benefit of natural things instead.
You just need to find industries which produce an excess of waste, and find a way to re-purpose it. David works in the hospitality industry presently, where there's quite a lot of waste generated. He doesn't like it, even his bosses don't like it - but its a byproduct of the industry to function.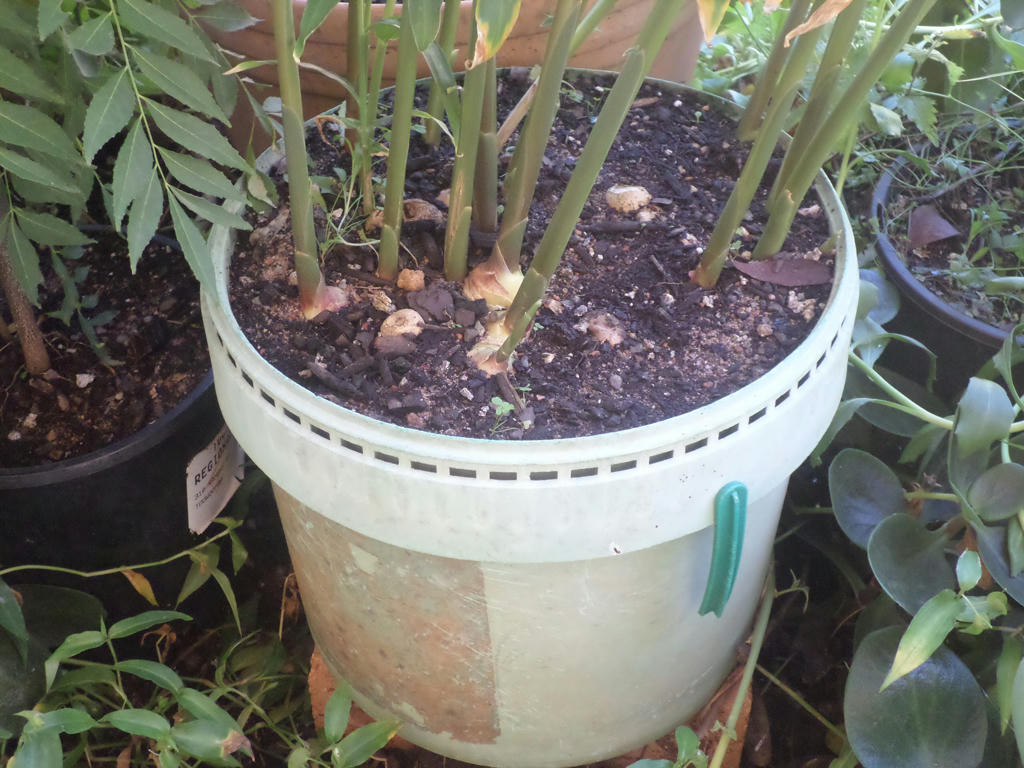 10 Litres of soil
So David will often bring home things from work, which are being thrown away on a regular basis. The hospitality industry requires a lot of food-safe plastic and we require a lot of containers to grow food in! Take a problem and turn it into solutions.
Ten litre buckets which once contained gravy mix or mayonnaise, are used in our garden, primarily as buckets first - but when their handles break from being exposed to the sun for over 12 months, I drill holes in the bottom and use them as large potting containers instead. These are presently great for growing ginger in, but also good for fruit trees.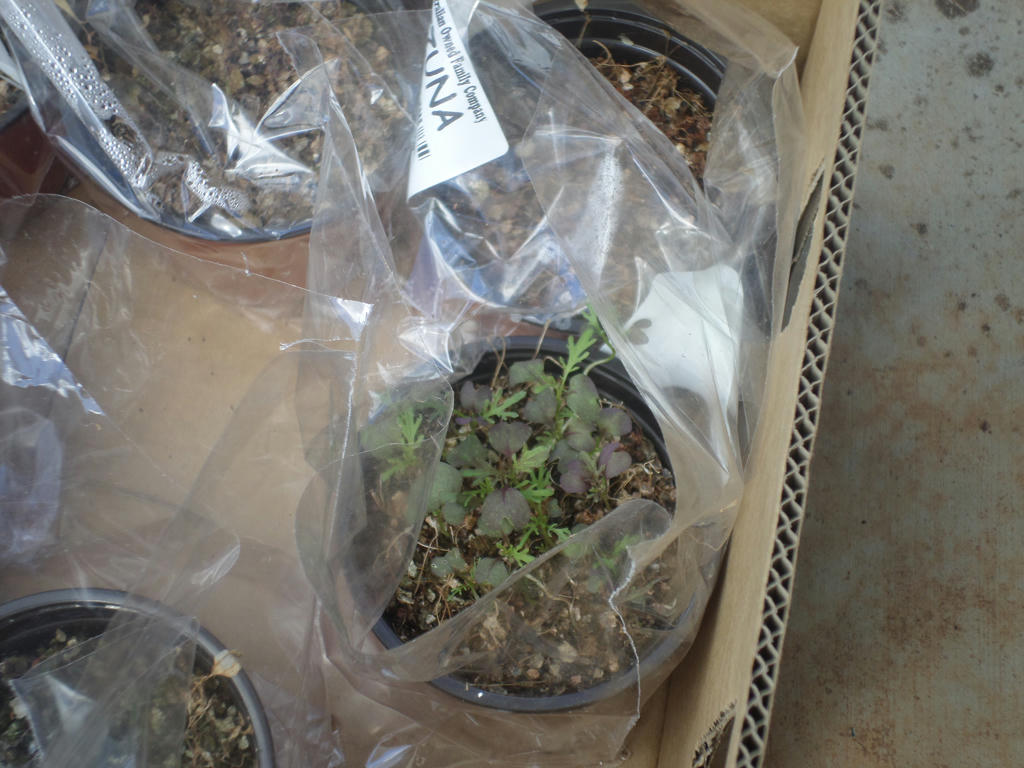 Red Mizuna
David has brought something new home to re-purpose. Micro greens. They're chopped fresh in the kitchen to use on salads. Of course, if you keep the water and nutrient up to them, they can re-shoot. Not something which can be done in a commercial kitchen obviously, but we saved them going into the bin and found a function for them here.
At first, we fed these micro-greens regrowth to the chickens (placing the pots in the coop when they were ready) but then we - I should say, David - decided to experiment a little more.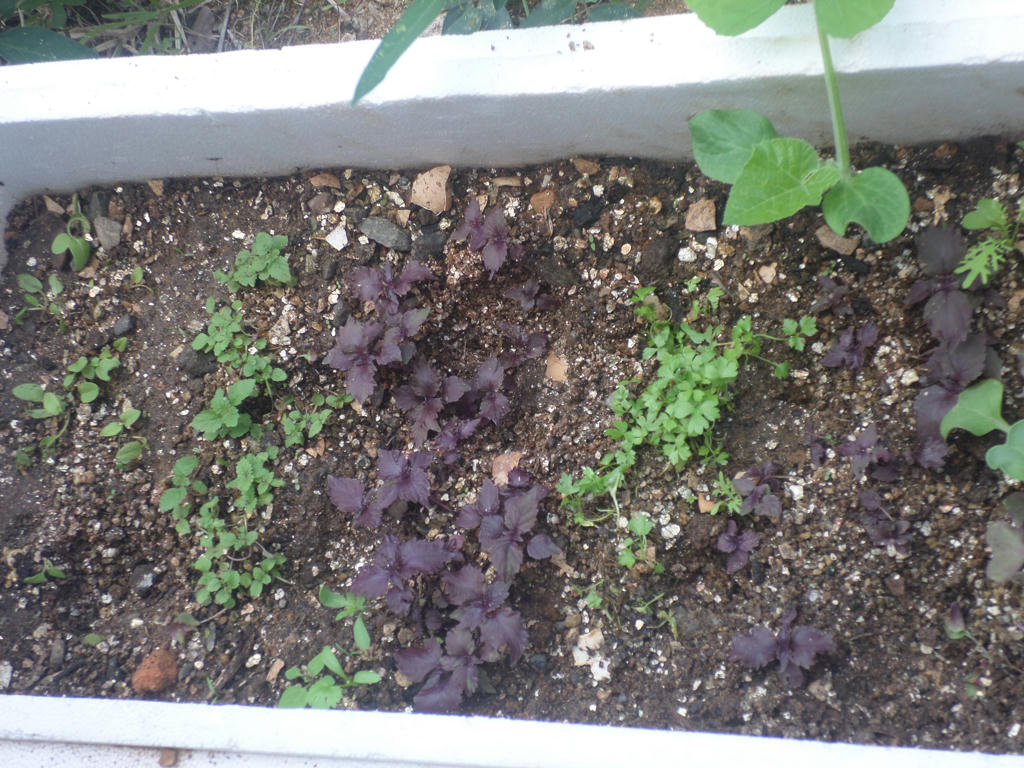 Lots of colour
Compliments of a seafood styrafoam box (also from David's work) he transferred the contents from the containers and some of our compost, and we're now seeing how big they can grow. There's quite a variety. Something else has decided to sprout from the compost mix, also.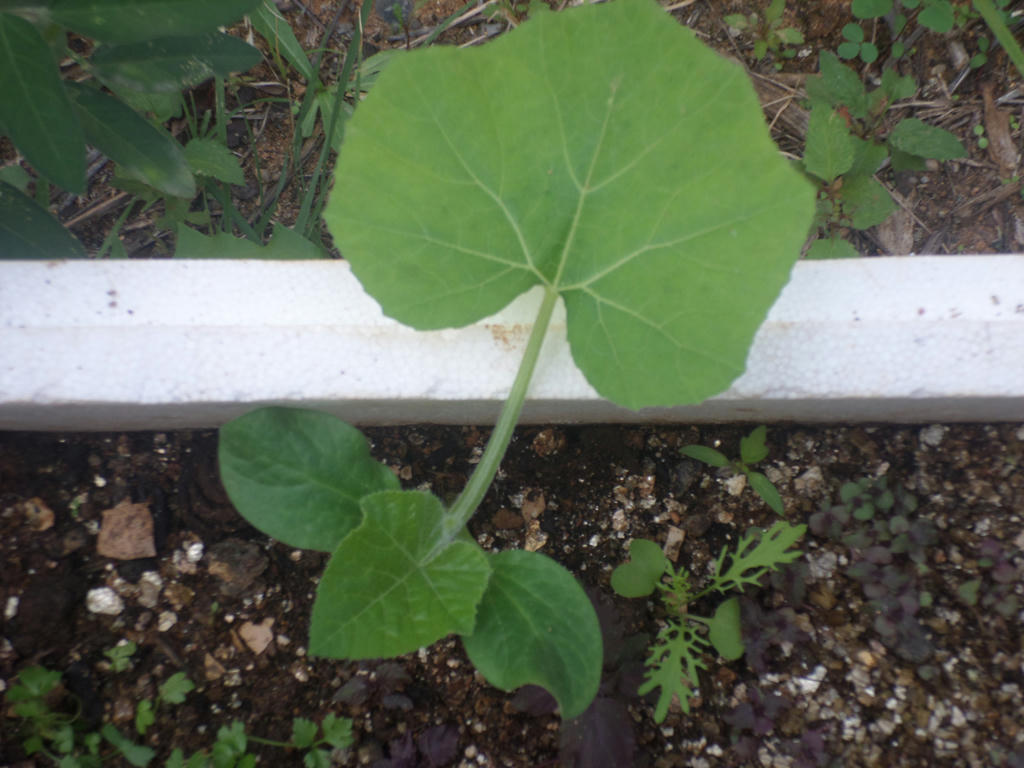 Potential
Its either pumpkin or rockmelon, and is probably too late in the season to get any fruit from it now. But I'm sure it would be happy here until next summer. I love how this box if full of so many surprises. There are things in here I've never heard of, let alone, knowingly ate!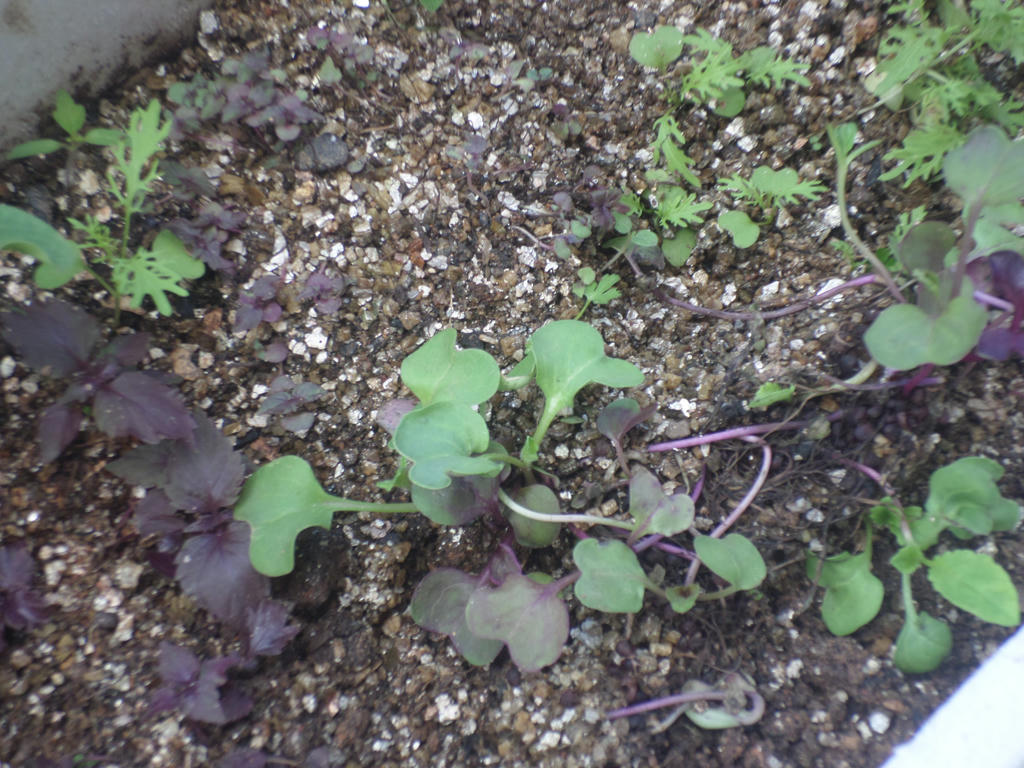 Large green leafs of radishes
I'm really loving the radishes though...they're all squashed together, which will make for some pretty deformed radishes, but if worst comes to worst, the chickens can always get what doesn't work! But that's not the end of this free exercise in potential...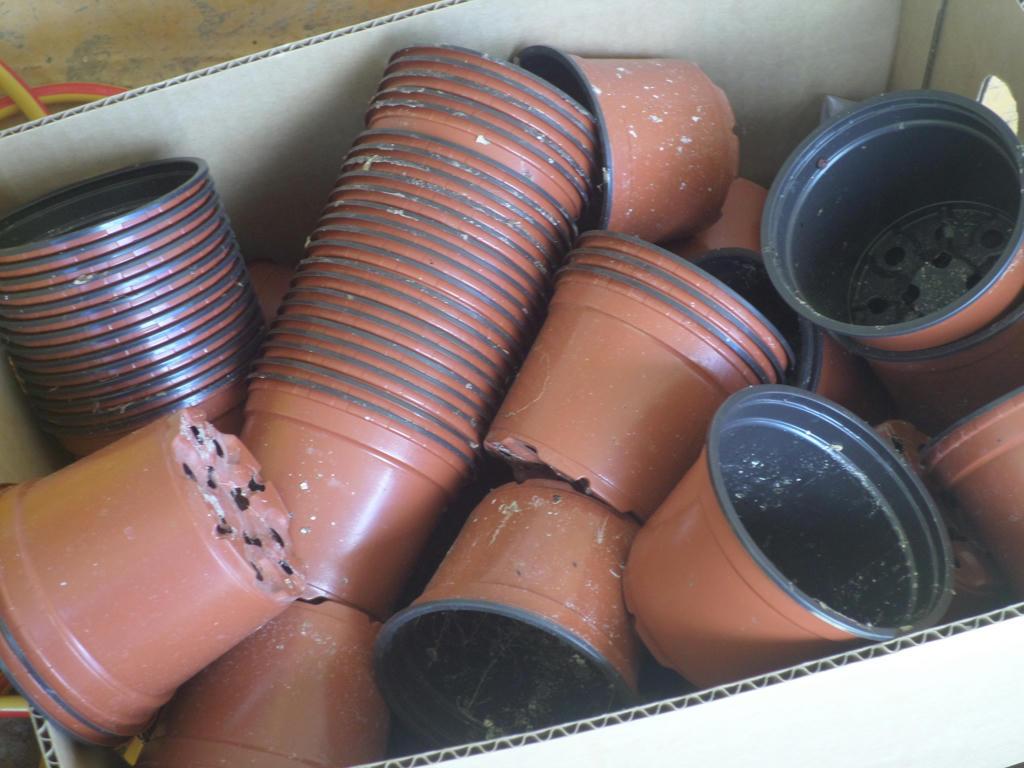 More pots!
I now have over a hundred pots to reuse for my propagation material. These are 80mm instead of the traditional 100mm, which is convenient because I often find I want a pot size between 50 and 100mm. These will be used a lot!
If fact, I have so many, I'd be happy to share them with anyone in the local area, between Withcott and Toowoomba. Just leave a comment and I'll get back to you.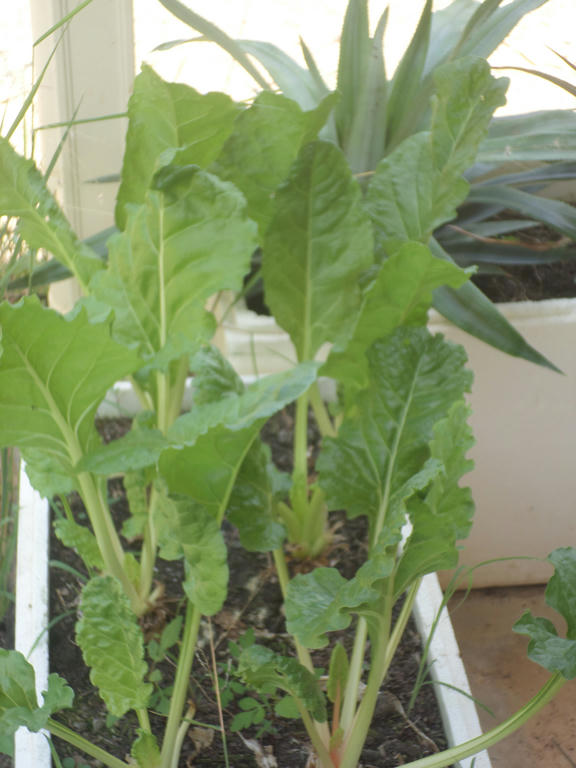 Pick 'em greens
I also grow other things in styrafoam boxes, compliments of David's former workplaces. This box of silverbeet have kept our guinea-pigs happy for a long time. I'd eat it if we had more plants! We could fit six plants to one box. In the background are some pineapple tops I planted in styrafoam boxes too. If there's an empty box, I simply have to plant something in it!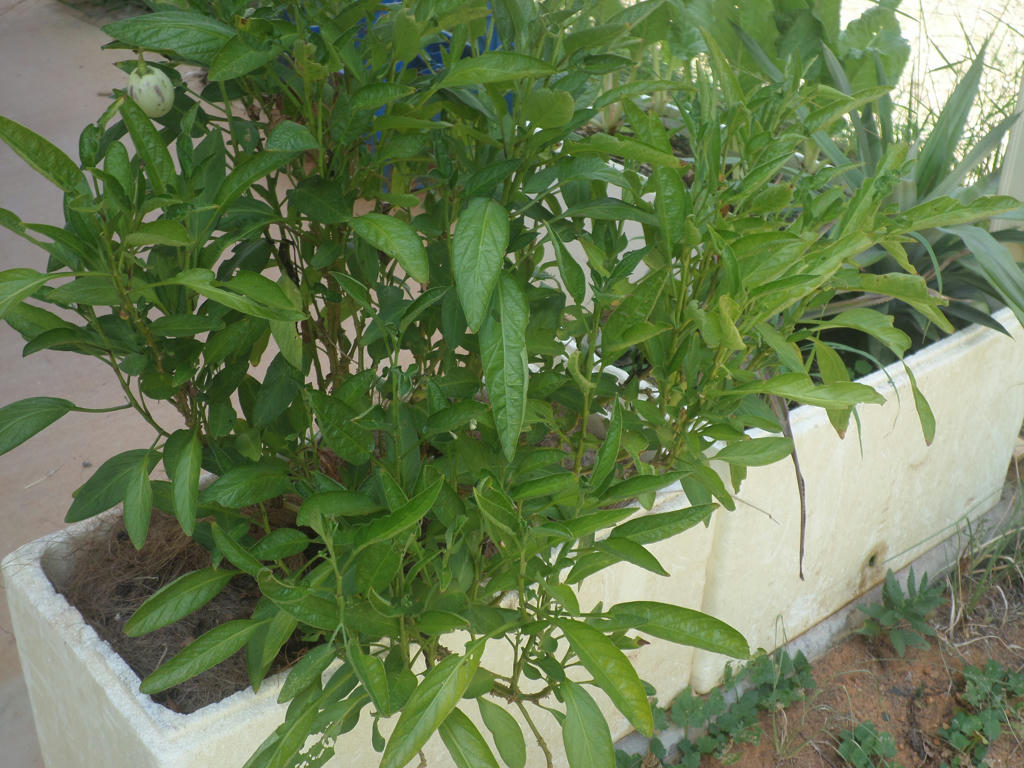 Perennial pots
Next to the pineapple, is a pepino growing in another box. I took this cutting from my wild one, growing amongst grass and weeds near the chicken coop. Pepino makes great forage food for chickens. They love to eat the flesh (because its so juicy) and what small seeds are inside. Bonus if bugs get to them first, as the chickens get extra protein! They scramble competitively for a bug ridden, end of season pepino.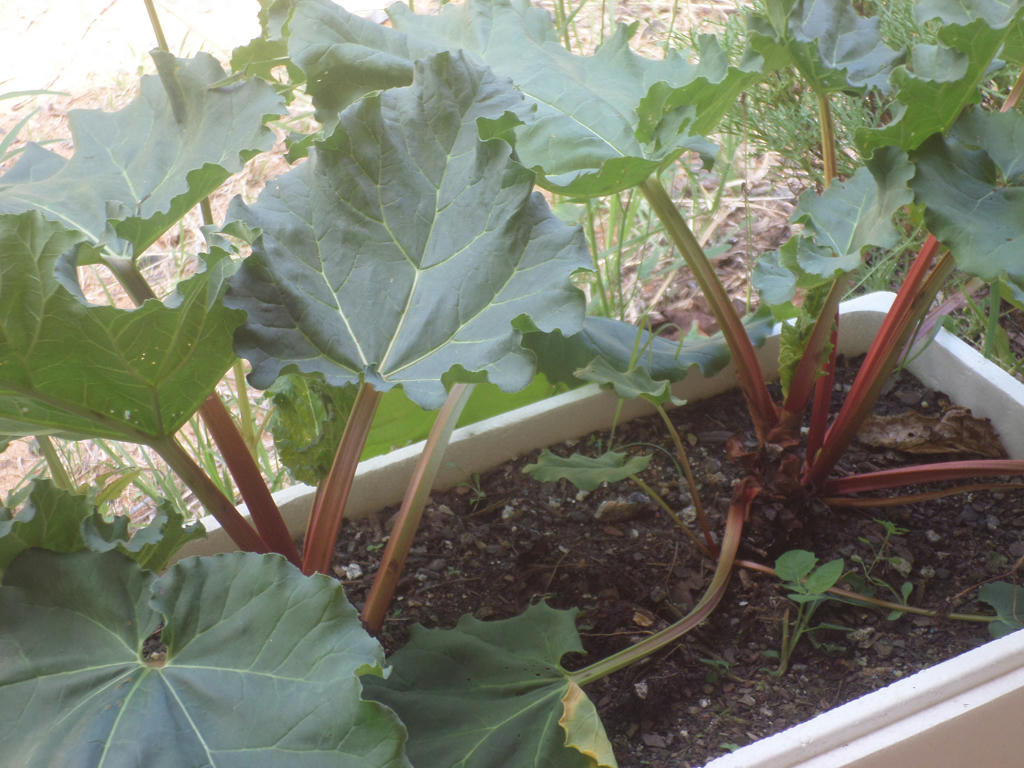 Divide and conquer
I also put my rubarb in boxes. It's one of those plants which just keeps on giving. From one plant I've grown at least six via division. These are the two I had left after the dry spell we experienced in spring. I took them from the garden and nursed them back to heath in a box. It pays to propagate!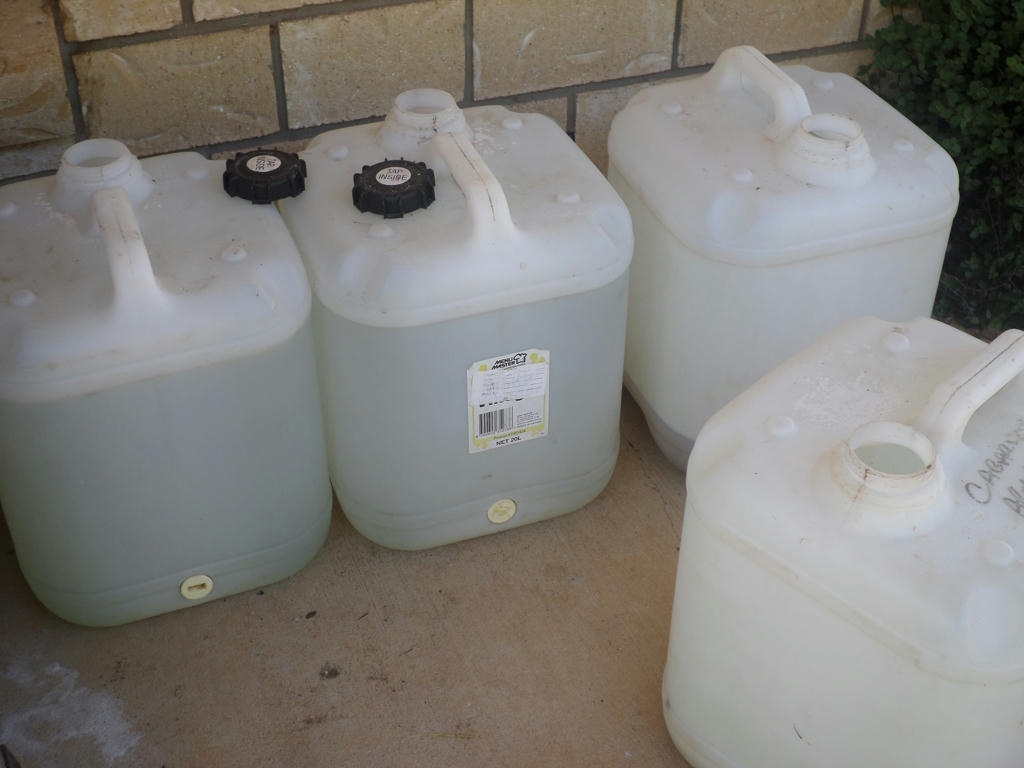 Precious water
Apart from using these disposable byproducts of the hospitality industry to grow food in, we also use them to store water. These are 20 litre bottles which used to hold vinegar. We have five bottles, storing a total of 100 litres. We didn't have to pay anything for them, in fact we saved his employers from having to dispose of them.
David tells others in the workplace, so they might get the same idea!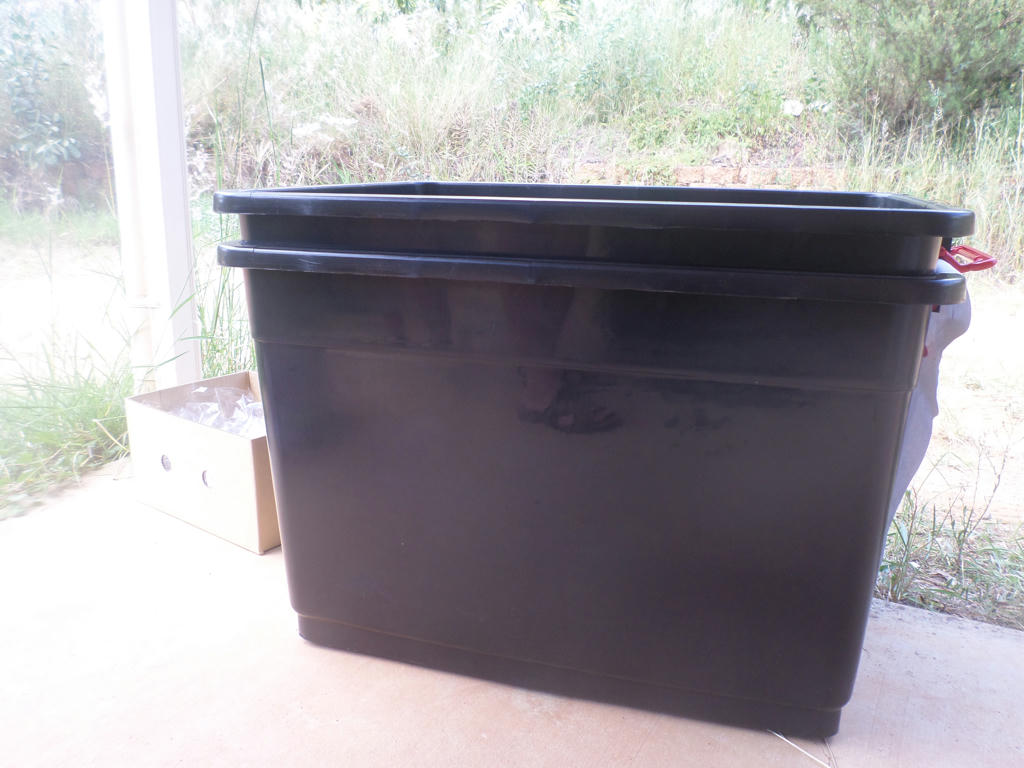 New project
A recent discovery, inside a commercial rubbish bin, has been one of our greatest finds to date. Only two are pictured here, but we have three, 30 litre storage containers, we intend to turn into wicking boxes. They still had the sticker price of $30 each. Had they been complete, we would have paid $90.
All that was wrong with them, was missing or broken handles, and they had no lids. Crap for storage but perfect for wicking boxes!
So might I encourage you to make networks with any industry, which pays to throw away the byproducts of their business. So long as its safe to re-use, it can be put to work in other ways.
*UPDATED TO ADD: these were actually 160 litre tubs, not 30 litre. My brain wasn't plugged in that day. ;)