I have been trying to shape this land for a while now. We've tried different strategies and seen a lot of failures. So I turn to the internet to research what works and what doesn't. Inevitably, there comes the discussion about yields, sustainability and how everyone views that differently.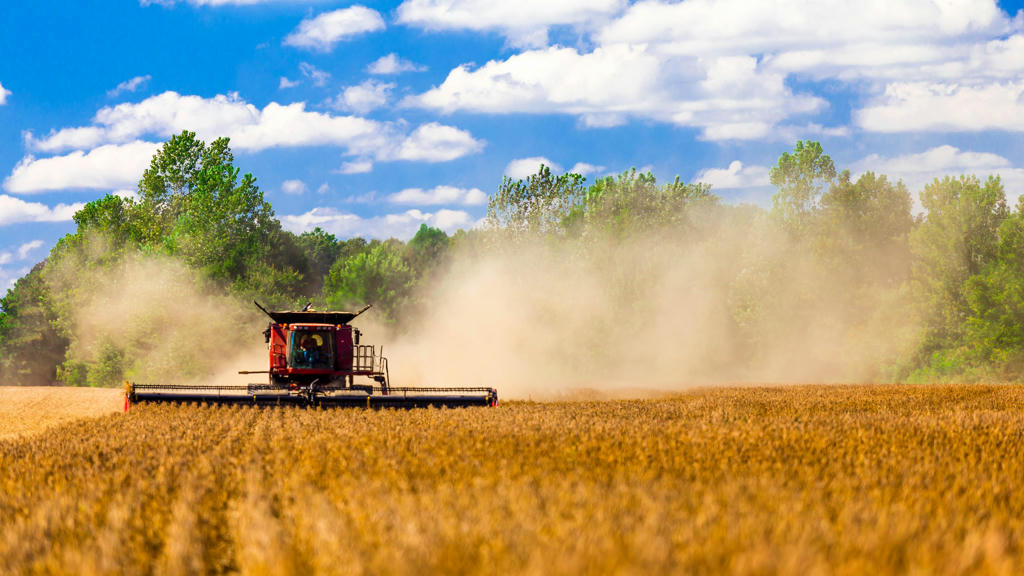 Modern farming
Conventional farming seems to think modern agriculture is the only way to feed the world. Unconventional farmers however, want a moratorium on killing everything in sight. There's a tussle between who's right.
It got me thinking recently, about my own farming experience. I don't mention it much, but I come from several farming backgrounds. My mother and her siblings, grew up on farms. They killed rabbit and poultry for food, grew fruit and vegetables, with just enough to sell to pay the bills.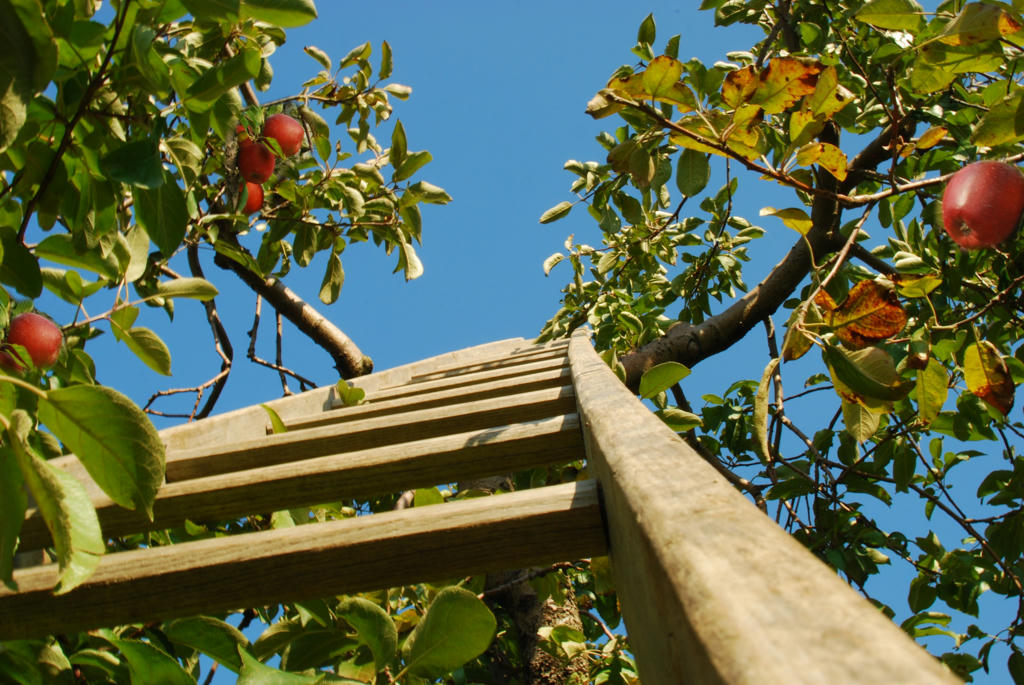 An old fashioned way to pick fruit
It wasn't an ideal life, it was hard work, but as the seasons came and went, they always seemed to be healthy and have food they produced themselves. My grandmother married several times in her life. In the beginning it was a grape farmer in a winery area, and at the later part of her life, it was a cattle man, much older than her.
But the stories I heard from that last marriage, were quite valuable in retrospect. At the time though, I thought they were weird (like from another planet weird) because I was used to a completely different way of living. How could a man spend most of his life in the saddle, living with his cattle? How could he get up every day in the small town we lived, waiting to trek to his property and check the cows? Wasn't town more exciting? Weren't cows boring?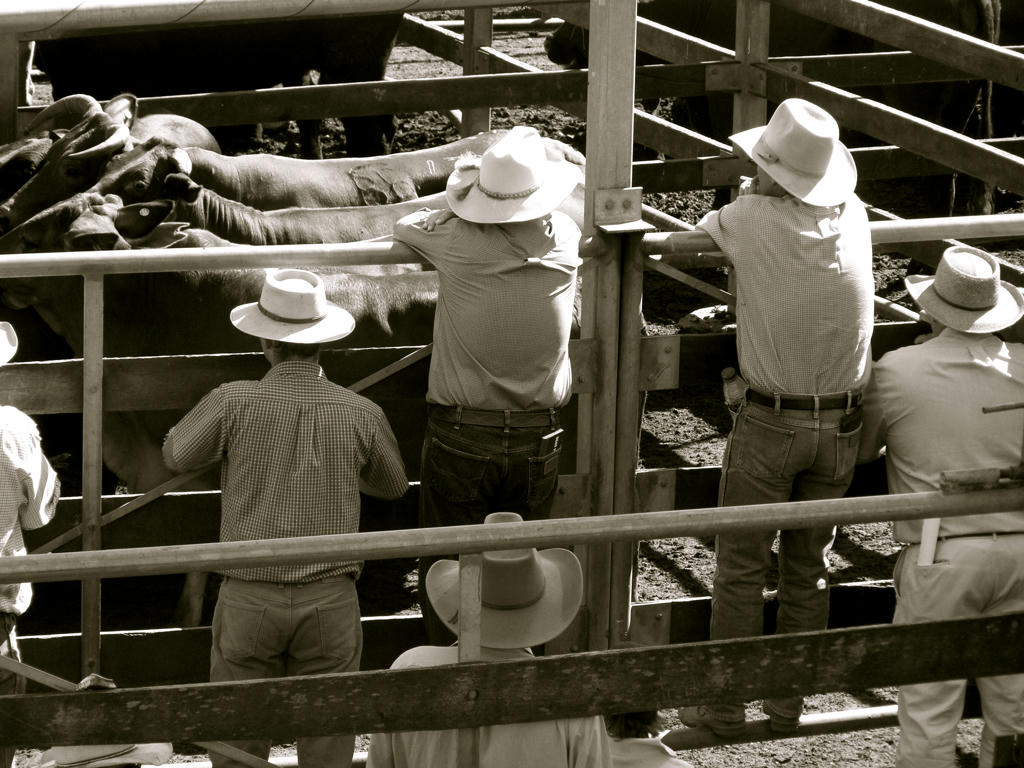 Sale yards
I overheard my grandmother saying in a conversation once, that her husband was well respected in the farming community. I didn't realise how well, until I attended a cattle sale at the local yards. Everyone wanted to shake his hand. Every man wanted to steal his ear. He couldn't move a few meters before someone else stopped him. He was always polite to people, but you could see he was never far from the cows either. Looking back now, he was really quite obsessed with cattle.
I started to piece together the stories I heard in conversations - the little things I had no idea about at the time, but always seemed important for my grandparents to discuss. I never heard my grandfather complain about the weather. He was an astute observer instead, always noting where the wind was coming from, and if the rain was coming from the west, to expect bad storms. He never got it wrong.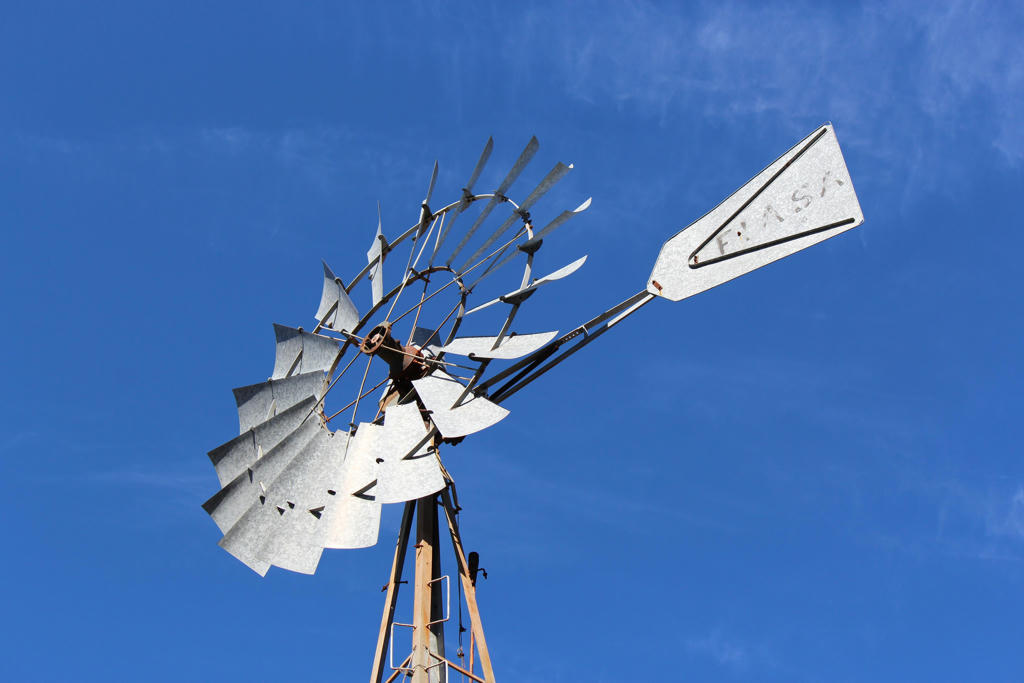 Weather watching
I remember my grandfather remaining resolute that a government subsidy was a bad thing too. He didn't want to be told how to treat his land, in order to be eligible for a subsidy. He seemed far happier for avoiding them.
Whatever he was doing as an experienced cattle man though, it was certainly noticed in the yards, because his cattle were consistently getting the highest prices, even during a drought. He had fewer cattle to offer than some, but you could be sure, ALL were the finest quality. And what would you expect from a man who dedicated his life to living with his cattle?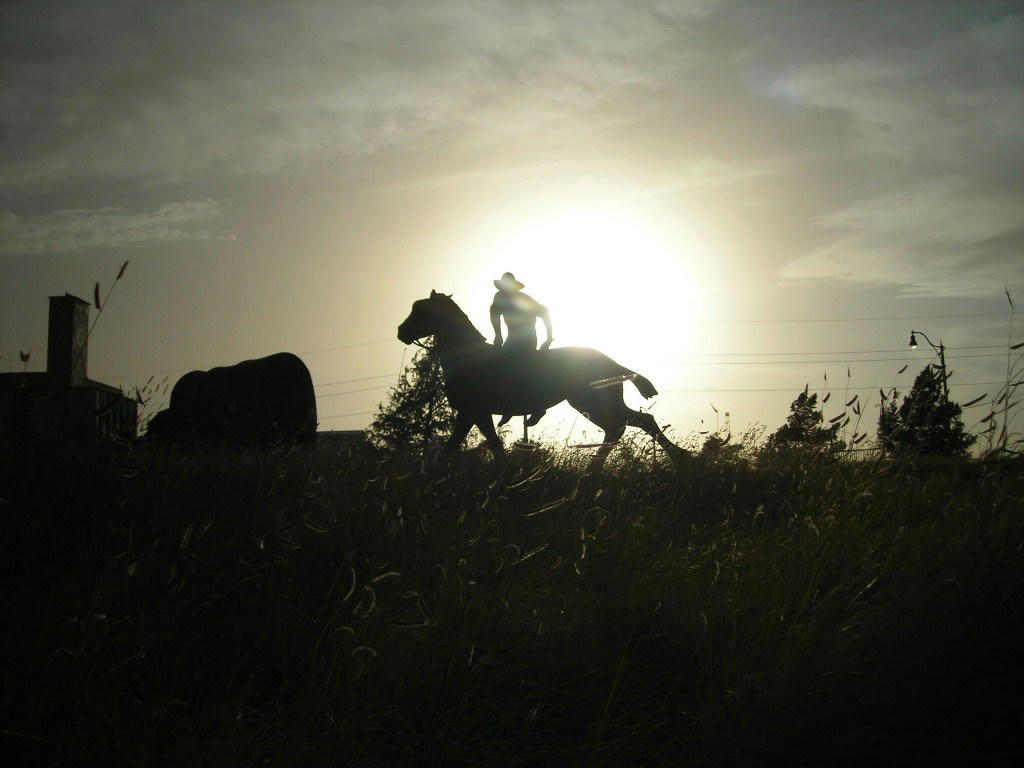 Life in the saddle
From what I can gather from my grandfather's experience droving cattle, is that whatever those animals experienced, he did too. If it rained, he was in it. If it was hot and dry, he experienced it with the cattle. Over the years, I'm sure he must've observed the natural features on the landscape which provided enough protection, shade and water, for everyone to depend on.
Why would someone who knew the value of such features on the landscape, suddenly take a government subsidy to remove those elements and start poisoning his land, as a matter of course? It was the conventional way, but it wasn't my grandfathers way.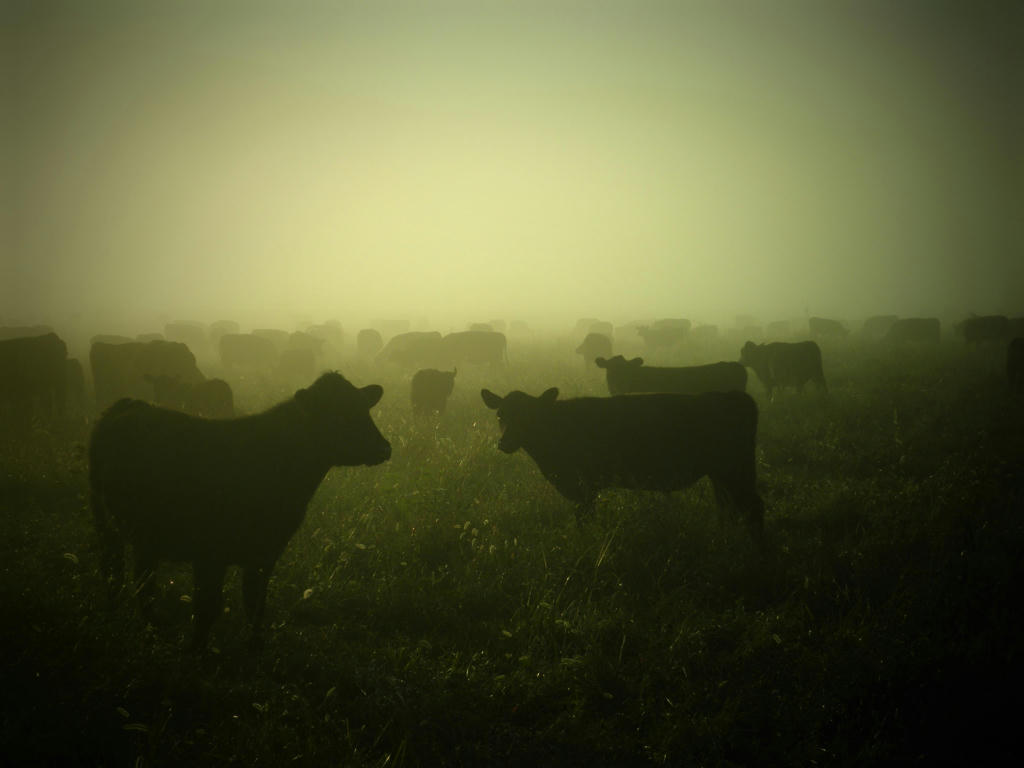 Life outdoors 24/7
My grandfather knew the value of the old ways - tried, true and dependable. If anyone thought him weird, they didn't tell it to his face, because they were too busy asking his advice for the pick of calves at the sales. It didn't matter how good the stock was however, if they were taking them home to conventional land practices.
I remember visiting his land as a youngster and it seemed so messy. Everything was overgrown. But then I was raised in the controlled environment of trimmed hedges and cut lawn. As an adult now though, I can appreciate those overgrown masses, were actually windbreaks.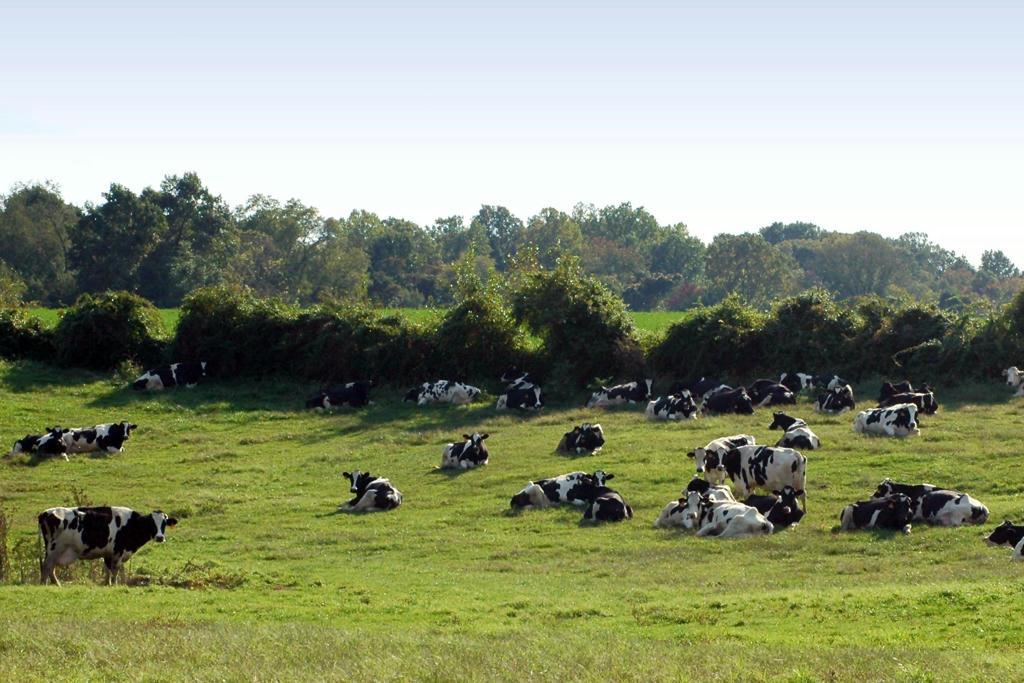 An example of a windbreak
His cattle were never truly exposed to the elements. In fact, they had quite the cozy home for bovines. Whenever they saw his car enter the top paddock, they would slowly walk along the windbreaks to meet him. I was fascinated by their orchestrated procession, and never knew why they preferred that particular course. It seemed to go the long way around. I can hazard a guess now though. Why walk out in the open, with the sun and wind on their hides, when they could walk the cool path beneath their hooves, next to the shrubbery instead?
It took a dependable farmer, who went out into the elements with his animals, to know what had true value on his land. If he experienced the benefits for himself, how could anyone pay him, to remove those things from his animals?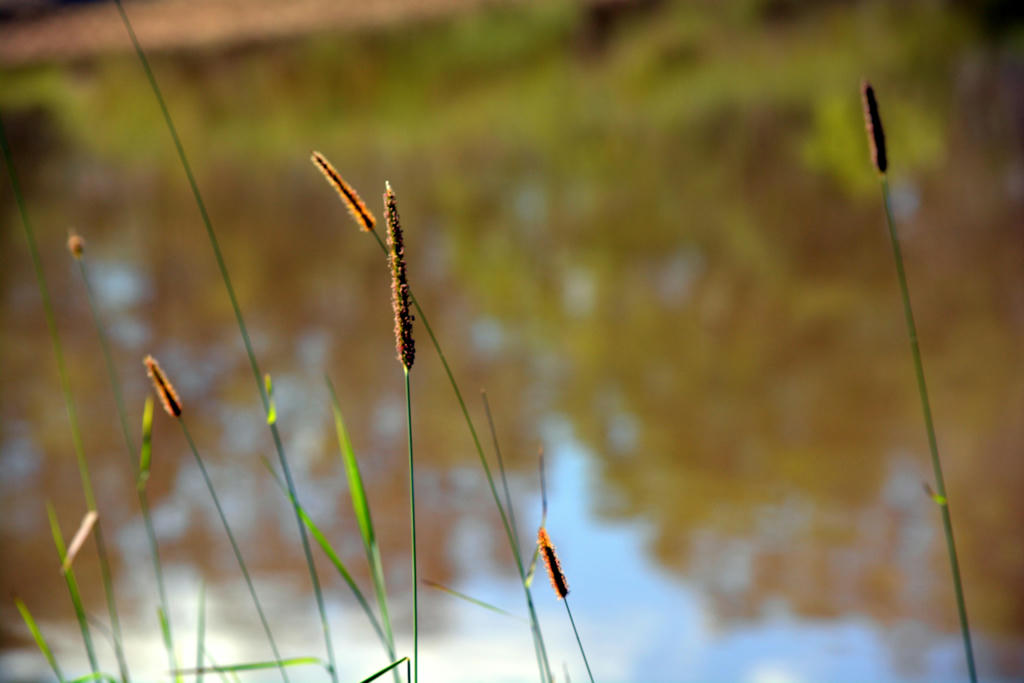 Water is an important resource
In one way, his job was made harder by failing to mechanize and maximize production. On the other hand though, he could spot a problem with an animal early, before it became fatal. That's because he was out in the environment, keeping only what stock his land could handle. He was extremely astute at noticing when the balance became even slightly changed, and it was his responsibility to adjust.
When I read about what is the best land management practices today, I see a lot about what scientists tell farmers is good to plant or remove. Also there's a lot about the importance of yields. All garnered from research conditions dependent on fitting the mould. While these are not necessarily bad things, of themselves (information is not inherently evil) but they seem to have dominated the conversation, so that maximizing production is considered the norm, and sacrificing yield, is considered financial suicide.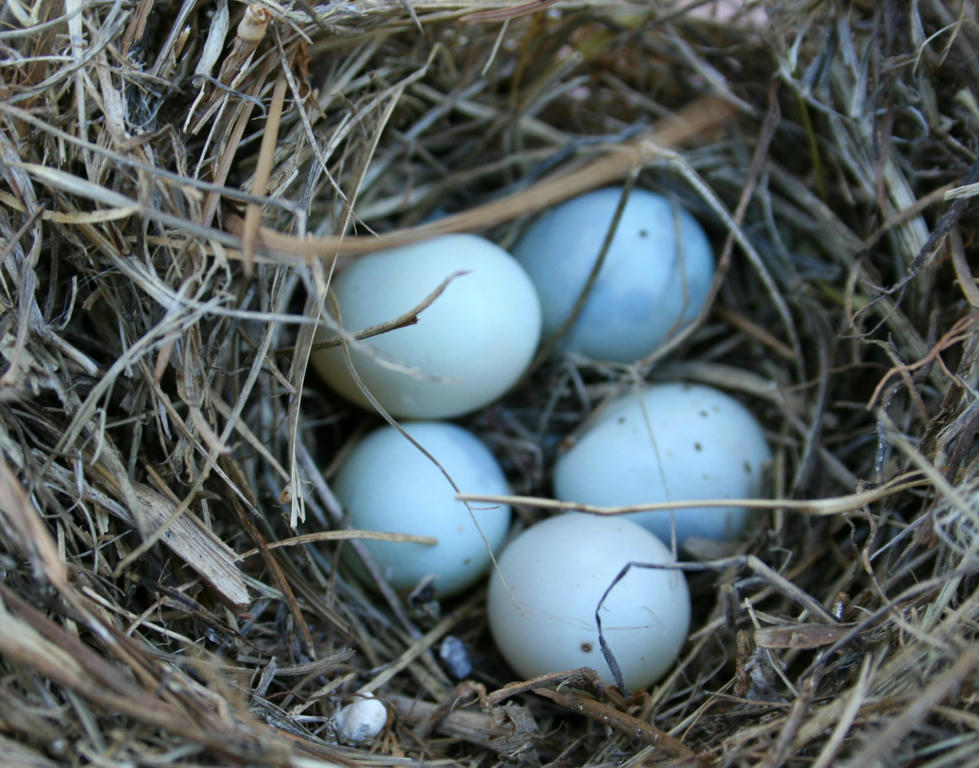 A farmer's companion
Multiple species inhabit the middle ground though. It's where they can advantage each other by interconnecting. Like the messy windbreak my grandfather kept completely dishevelled. He had a multitude of species of animals, living their life cycles around that shrubbery, which ultimately benefited his cattle. Birds are natural pest eaters after all, and lots of birds eat lots of bugs.
But his bovines were also eating food (and medicine) nature intended for them to eat. That's why he always fetched the best prices at the sale yards. He didn't waste his energy fighting the natural elements with poisons. He spent a lifetime, learning to embrace the natural elements to his advantage instead. I guess something only living in a saddle for weeks on end, could teach you?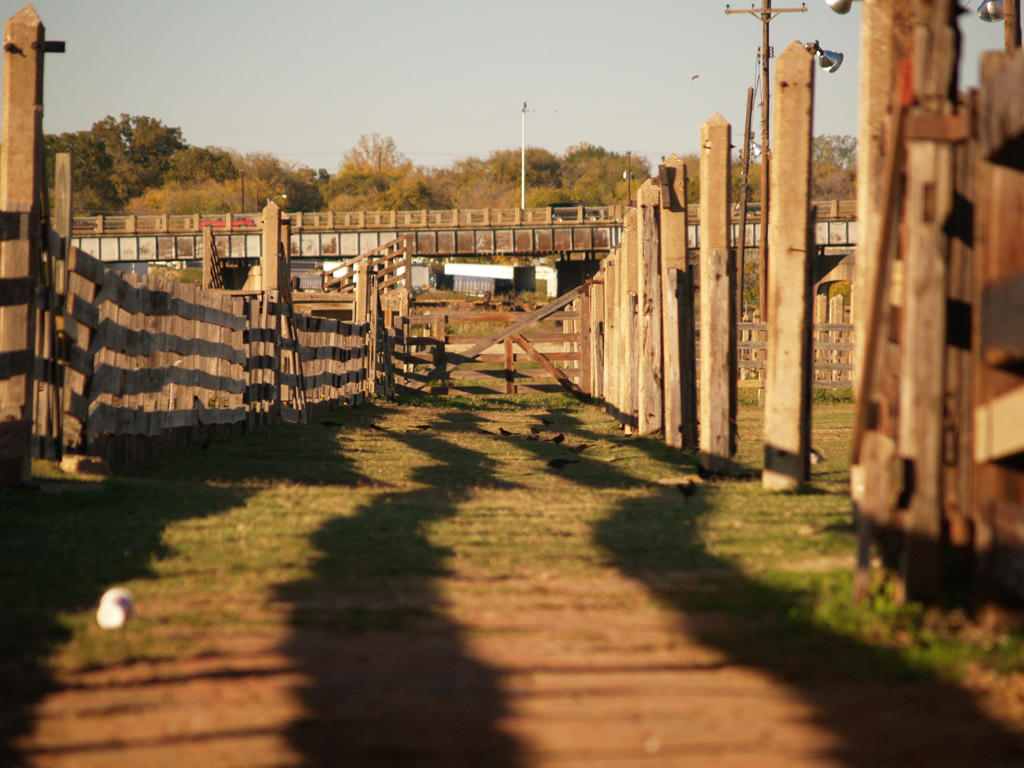 When all is said and done...
My grandfather died a happy and wealthy (though you wouldn't know it to look at him) cattle man. Unfortunately once he died, so did much of what he knew. None of his children wanted a part in the old ways. Not completely.
I wish I could have stolen my grandfathers ear, to ask him about land management though. I was too young then, and didn't know I'd be managing land myself at some point. But I still have the small conversations I overheard and the memories of his unkempt acreage. The old ways seemed to be more about contemplation of a hundred different strategies to manage something, as opposed to only the one.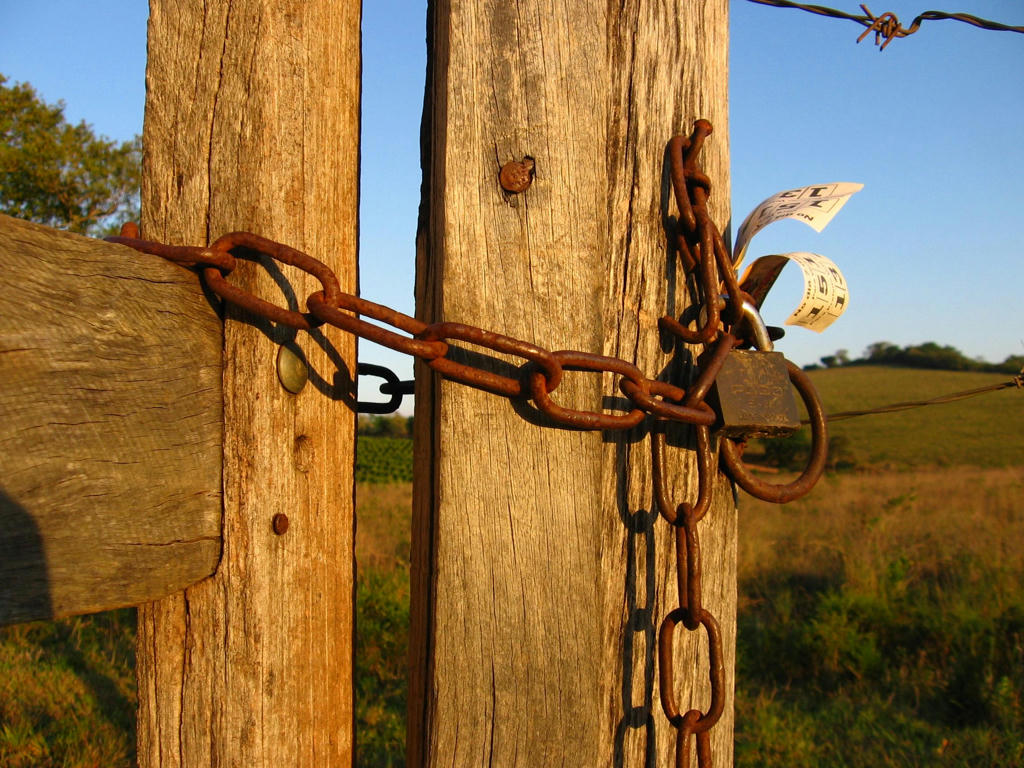 Freedom to choose
Specialization of modern agriculture made everything the same. We've lost a great deal of diversity in that process. So as meagre as my farming experience is, I want to write it all down, as a small contribution to the larger picture. And that picture is all those unconventional land stewards, striving to go against the grain of modern conventions.
It is the unconventional farmer who inhabits the middle ground - where the natural cycles are respected and enhanced. Technology is used only for the benefit of the land, and still allows the farmer to connect on a personal level.
The unconventional farmer will also have more conversations around food, than just maximizing production. We're making and seeing connections in our natural environment, that takes years to practice observing. We're raising families or animal families, that doesn't make our lives picture perfect either.
Talking about it, normalises the natural challenges that comes with our environment of living things. Although he's long gone, my grandfather's memory was a reminder that the old ways, endure, so long as someone sees the value and puts them back into practice. We should be willing to experience some of the conditions we subject our food to, if only to learn how better to protect our investment.
(SIDE NOTE: None of these pictures are mine, they are borrowed from a free photo resource
here
)