Observing and interacting is a permaculture principle, which basically means to look and to act, where necessary. So a couple of days ago, we experienced a mini heatwave. It got to about 39 degree Celcius here, according to the weather bureau - it could have been closer to 40. It was surprising, considering most of spring has been positively delightful.
With that kind of heat recently however, and my vegetable patch receiving some westerly afternoon sun, it obviously had an impact.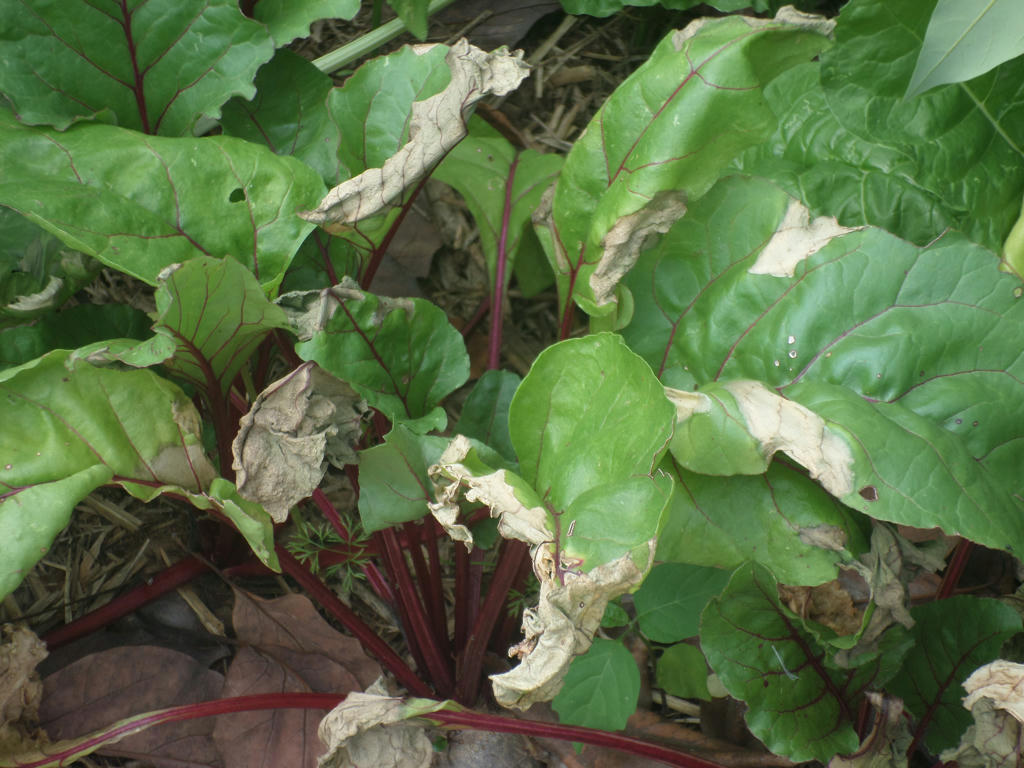 Shrivelled beets
My beets leaves, started to melt, along with some
celeriac
. Both have hardy tubers/roots and should be able to recover. The next day was quite overcast, so they had some time to bounce back.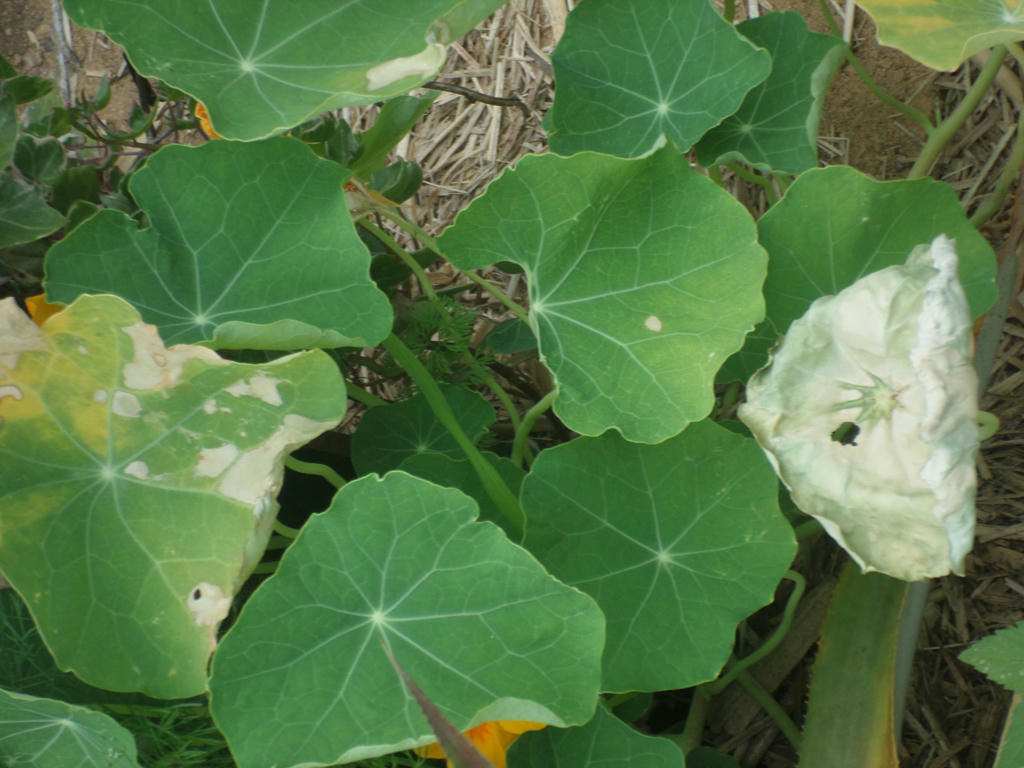 Nasturtiums
I always knew this was a possibility in summer, which is why I planned for shade-cloth. However, the sun was most intense when it was quite low in the afternoon. I'd have to cover the area to ground level, if I want to avoid scorching in summer sun. It may not be practical, given I am experiencing another problem in this area, for quite different reasons.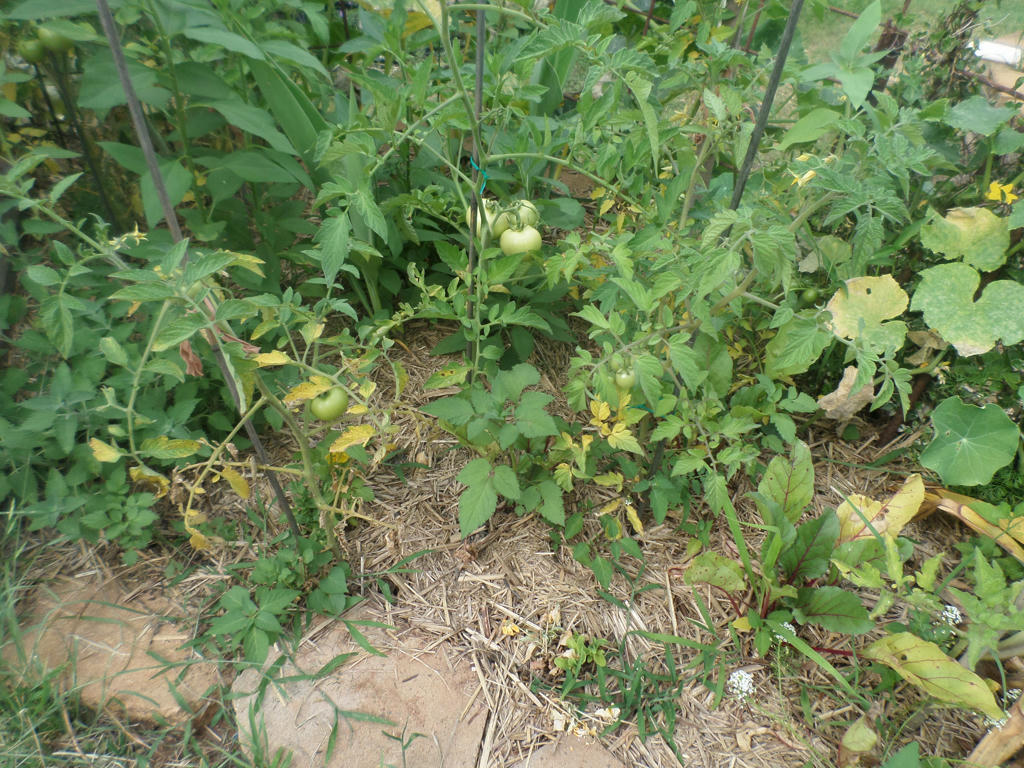 Tomatoes
Everything is starting to turn yellow, and I noticed this with the recent downpours we experienced too. The problem is the clay soil. I have improved this growing area in the past, with organic matter, but there is still quite a large degree of clay. When it gets saturated, the plants cannot take up the nutrients, so they effectively starve as they are growing. The yellowing leaves are a symptom.
That's just one problem which has developed however. I also have a problem with powdery mildew. Which is why I'm hesitant to put shade cloth over, allowing the disease to concentrate and spread further. It really needs increased air flow.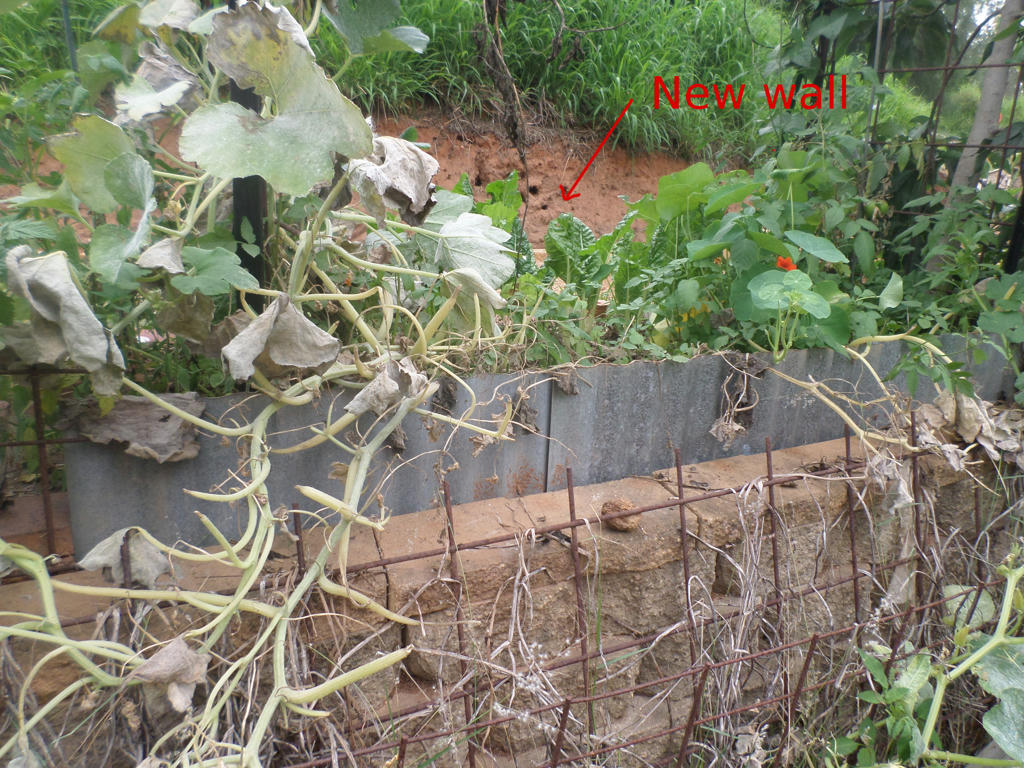 A recent bare patch - click to enlarge
You can see the new wall, we are building in the background, which I will return to later. For now, look at those spaghetti squash vines though. What spaghetti squash vines? Exactly. They were growing over the retaining wall nicely, and things started to change with all that rain we received. The plants weren't able to take up nutrients, got sick, then the powdery mildew spread further, and the vines are now dying back.
Before it got that bad however, I also noticed female flowers either weren't baring at all, or when they appeared, the flowers never opened and subsequently died. Before the rain came, they were blooming and I got fruit, but after the clay got saturated, only male flowers bloomed.
I did some research and applied some milky solution to the leaves to counter the powdery mildew, but also it allowed the plants to take up some much needed calcium. With some gypsum and epsom salts applied to the soil as well, my female flowers started blooming again. They needed access to nutrients, to get those female flowers producing.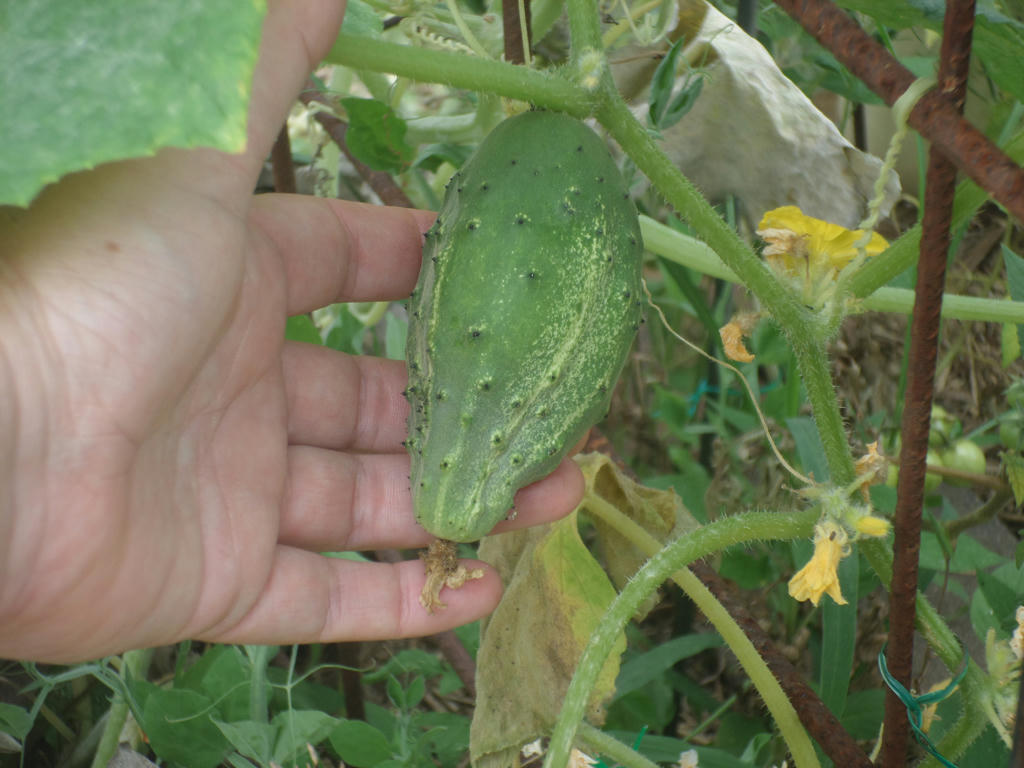 Dill pickle
It's not just limited to my squash, but also my cucumbers. I've gotten a single cucumber, which I won't eat as I will save the seed instead. This fruited before the rain set in, but afterwards, nothing. Since the dry weather, helped the ground to dry recently however, I've noticed another cucumber developing.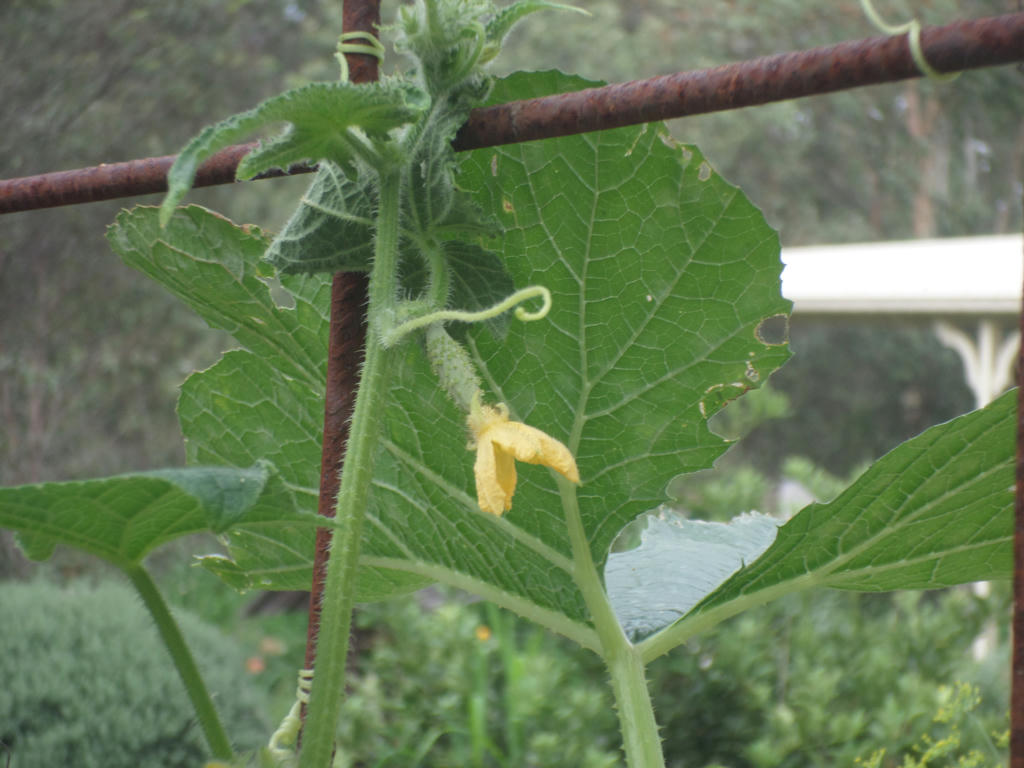 New fruit
So the problem in this particular area, is mostly the clay in the soil. I can't do raised beds, because it's on the edge of a retaining wall. Plus I have the avocado tree to consider. Thankfully my avocado weathered the hot days, without much damage either. I have three fruit developing - the others fell off earlier - probably due to the heavy rain as well. It restricted access to the nutrients in the soil, and the tree sensibly dropped the fruit it couldn't sustain.
What I plan to do for this area though, is to add more organic matter, and apply more gypsum to break up the clay particles. Its too late to do anything now, as summer is approaching, but I will try in autumn to redo the beds.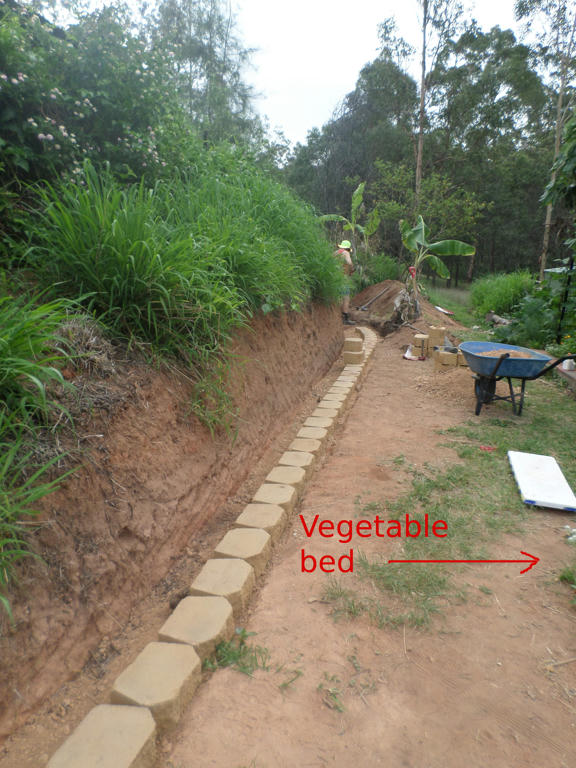 Note the tall grass, above the wall
We are planning to expand the growing area, to the other side as well. The arrow is pointing to the existing bed. With the addition of a new retaining wall, we can add another row of garden beds parallel to the existing one. Thankfully, the base layer is nearly done, so we can then move to the relatively easier task of going up!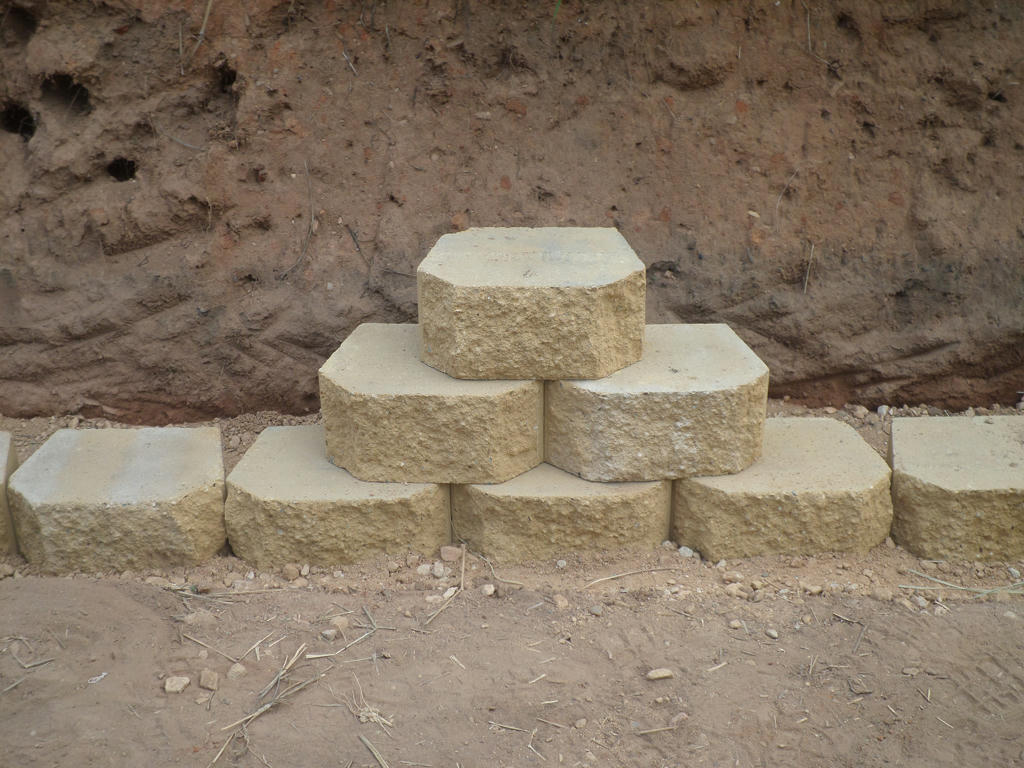 Looking level
It seems like a lot of trouble to go to, for growing vegetables, but this is the only area which is closest to the house. We have tried growing vegetables without the retaining wall, and the grass above the wall (earlier image) will show why its hasn't worked.
The vegetable bed, quickly got inundated with weeds and passionfruit vines, which also grow up the top. A wall will make it easier to prevent the upper growth, from invading the lower areas.
While we have experienced some set-backs in the existing beds, it hasn't all been bad news.
Still a harvest to be had
We're still getting zucchini (enough for us and the chickens) purple king beans and plenty of herbs. The avocado you can see in the picture, was given to us (a whole bags worth) from David's workplace. His employers used to own a busy country store, so made a lot of contacts with farmers. These farmers and friends, very generously drop stuff into their new urban location, when they have too much stuff.
We received a whole bag of avocados and two cos lettuces, recently, for free. So did a bunch of other employees. It's great to see, food not going to waste. We also have an arrangement with the local noodle bar, to collect a box full of outer cabbage leaves for our chickens, and we give them the occasional box of fresh eggs.
This is happening in an urban environment, through David's workplace. It indicates the importance of country and city relations, and the people prepared to nurture those networks. While food is traditionally grown in more rural locations, its the urban locations which can take up excess more readily, because of the population size. It's just about getting that conversation started.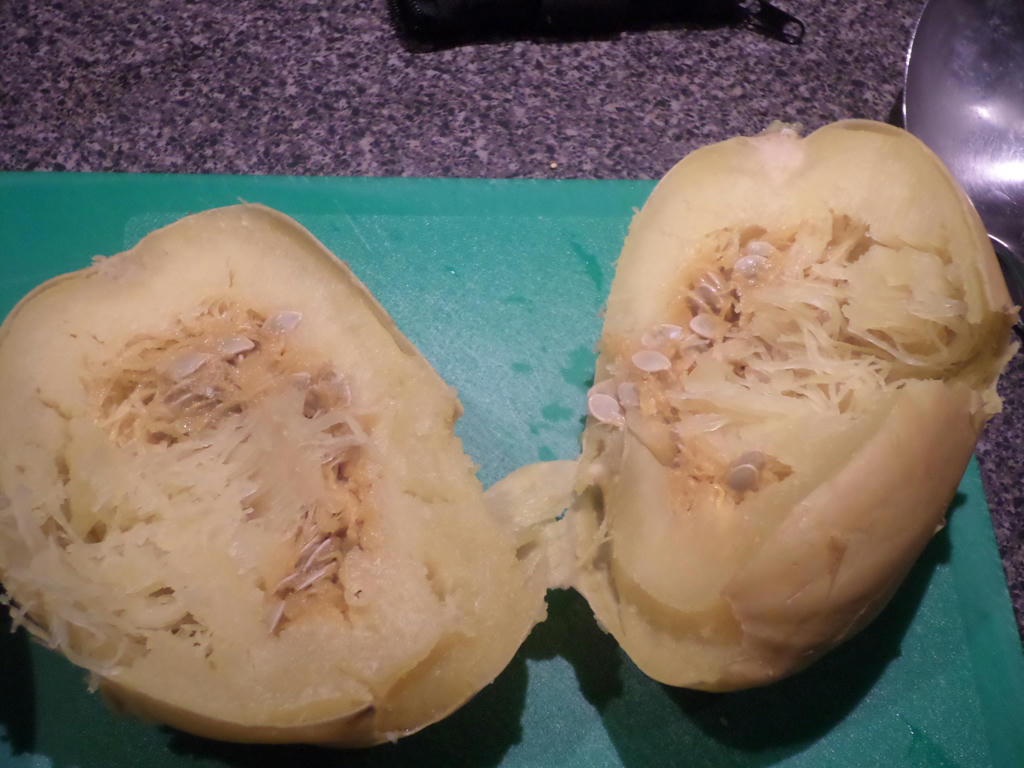 Boiled spaghetti squash
Back at home though, I'm happy to say, we ate a truly beautiful meal recently. Although the spaghetti squash vines are on the decline, we harvested a fruit and tasted it for the first time. What an unassuming vegetable, for such decadent texture and flavour though.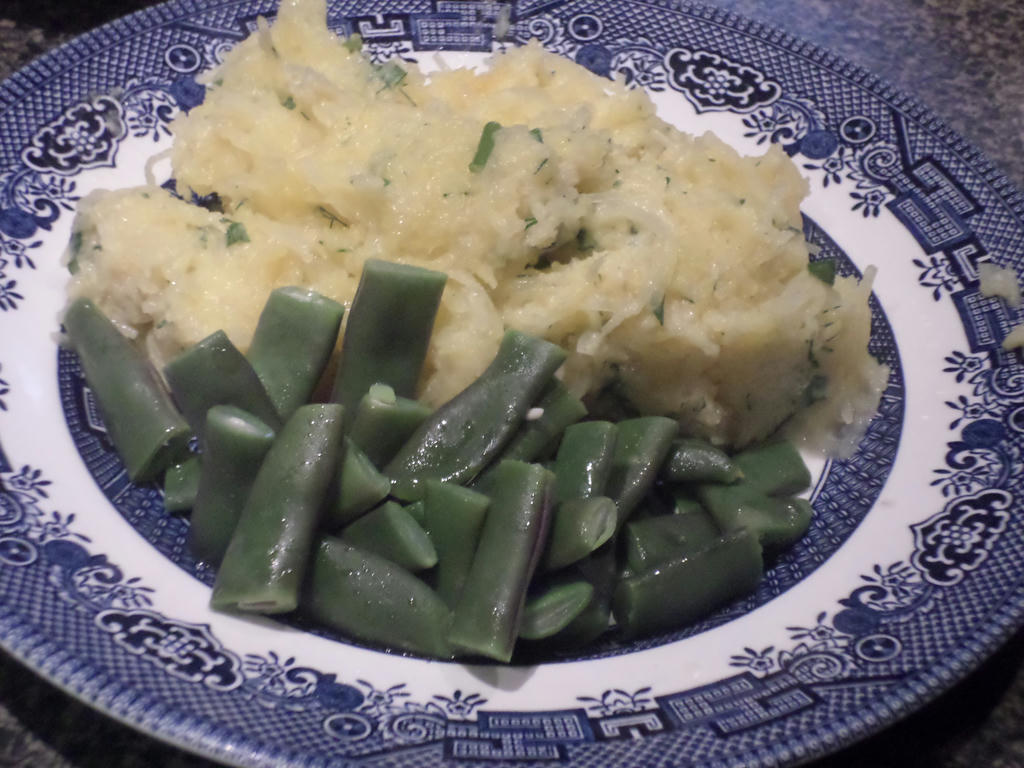 We had spaghetti squash for dinner, stirred with melted butter, cream, mustard and chopped basil and dill. The dill went great with the squash. We also cooked our purple king beans, which turn green afterwards. Not in this image, was the avocado I added later.
We were stuffed after our plate full of veg, and could feel the molecules in our brains doing back-flips. While we didn't churn the butter and scoop the cream from our own dairy animals, we're happy to say, this is one super meal, packed with nutrients, and all grown or sourced, locally.
I'm looking forward to expanding our growing area, experimenting with different shade techniques, and basically producing more of our food. Without observing and interacting though, I'd feel like my thumbs were inextricably brown and never to be cured. Thankfully, it just requires a different way of looking at things - both in how we grow our food, but also how we source it from elsewhere.