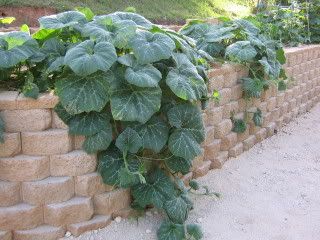 Our very first, Windsor block, retaining wall
So we've built a few retaining walls at Gully Grove - enabling us to create flat land on our slopes. That first Windsor block wall, was to become our vegetable bed area, and was worth all the effort. Concrete blocks should outlive timber retaining walls, indefinitely. So we still expect it to be standing, long after we've been consigned back to the soil ourselves.
They aren't exactly cheap though. Which is why its taken us many, many,
many
years, to build the walls we have. But apart from buying them by the pallet, brand new, we've also come across our Windsor blocks, in other ways.
Advertising
We looked through the local classifieds, under building supplies, and found an ad selling 20-30 Windsor blocks, leftover from their garden project in town. It was a simple matter to collect the blocks with a trailer, and they were even kind enough to throw in some building bricks they had leftover from their house build too, for free.
Our second, Windsor block, retaining wall
I think we paid $50 for those blocks, which saved us well over half price, of what we would have paid new. But there's also another way you can buy cheap blocks for retaining walls.
Visit the manufacturer and see if they are selling seconds. We have collected seconds from them previously, to finish other projects we miscalculated how many blocks we needed. What are seconds? Well, I can show you, thanks to our recent wall project.
Spot the difference
Seconds have cosmetic damage, but don't alter their ability to do the job they were designed to do. In the above picture, you can see one side of the brick (right) is smooth and straight. On the left side, however, its jaggered and not straight. The block on the left, had too much of the facing taken off and consequently, sheered off some of the straight edge. You may notice, a little bit remaining down the bottom.
Minor gap
Same bricks, with a slightly elevated view. You can see the blue-metal (aka: gravel) we backfilled between the blocks. This is part of the process for creating drainage in the wall anyway, but it also ensured the damaged brick, could still hold the soil back.
It's an example of what a "second" would look like, if you purchased them from the manufacturer. Others may have chips the customers didn't want and returned them. They still work, they're just a little damaged and can cost less to buy this way.
We didn't buy these seconds, they came in our new pallet of bricks. We could have returned them for better ones, but we decided they would still do the job.
Uneven front, base
These are blocks we did reject though, but it can also give an example of what "seconds" stock, could look like. This block should have a flat base, but some of it has been knocked off. You could easily put this block down in the first course, and it wouldn't be noticed. We discovered this one after the first course was laid however, so couldn't use it in the subsequent courses, which had to sit flat on the block underneath.
Broken off
The block on the far right, has had its ledge taken off. This isn't good to use on any course, because it wouldn't lock into the road base, or any corresponding blocks it was laid on. But some have only a little bit missing on this ledge, and would be sold as a second. So long as most of it is there, it can be used in a wall. If you were to use them in a wall, just space them well, between good blocks.
If you only wanted one course of bricks as a raised bed however, then it shouldn't be a problem to use. Once you go above two courses, it starts to become unsafe. Because that ledge, is part of the engineering of the blocks to hold the weight of the soil back.
No hope for this one
In all the years and times I've laid the first course of bricks, in our walls, this was the first one to split. I barely tapped it with the rubber mallet, and it split in half. Obviously it has a fault in it, and cannot be used at all. But I thought it was worth noting, as its never happened to us before.
If you wanted to build a wall on a budget and have a means to collect small amounts of blocks over time, this is the best way I know how to do it. Scour your local classifieds, maybe even put a wanted add in, and you can visit the manufacturer to see if they have any seconds to sell.
Do you have any suggestions for sourcing second-hand building materials in your area?