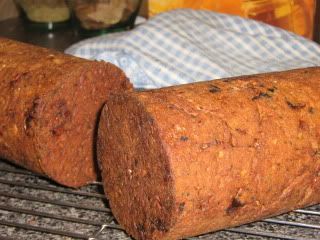 I personally haven't made this recipe before (until today) but I have glorious memories of eating this loaf with old people. It always seemed to be the elderly who knew about this particular recipe and took the time to make it. I suppose it has to do with the cylindrical baking tins. If you haven't seen them before, they could look like some weird kind of storage tin with two lids. They aren't that common nowadays.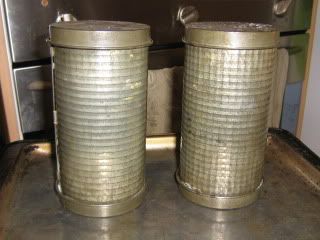 Ready to go in the oven, top and bottom lids on

So imagine my surprise when I was looking through the Op Shop recently, and found a couple of loaf tins. They were five dollars each but were in excellent condition. I took them home with me and here I sit today, with that satisfied feeling in my stomach, after eating the classic Date and Walnut Loaf...
mmm
...
I'll share the recipe so that others may start a new tradition - but don't worry, without the two loaf tins you can still use an oblong (4 cup capacity) loaf pan instead. Here are a few images of the classic nut loaf tin in action, first.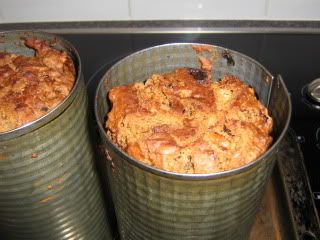 Top lid comes off to check with a skewer, to see if it's ready

This has almost risen to the top after baking, which is why you only ever fill the tins a half to two-thrids full before going into the oven. Another tip with filling, is make sure the base is on securely, place it on a baking tray (standing up) and don't ever lift it to meet the spoon as you're filling - or you'll loose the lot on the floor or bench. Carry the tray to the oven and slide it (with the tins) in together.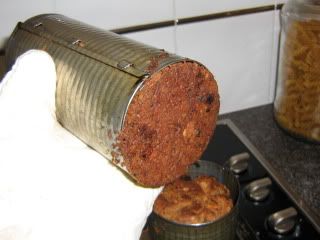 The base will always be more flat than the risen top

Here is the base after baking, when I removed the lid. Do you see the seam on the side as well? It has three clever notches which hold the tin together, then only releases once you remove the top and bottom lids. Like so...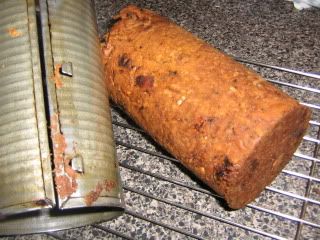 Cake comes away easily from the greased tin

This smelled so good when I removed it from the tin - kind of like sticky date pudding, only more nuttier. The reason these tins are so good with heavy cake mixes however, is they steam as well as bake. You end up with a really moist cake. For this reason, make sure at least one of your lids has a small hole in the top, to help some of the pressure escape. All my lids had a small hole.
It's important to note when setting your oven, to also make sure you have enough height for the tins to stand up. I had mine on the lowest shelf level, and removed the second shelf entirely.
Oh yes...and best served with lashings of fresh, cold butter, on the warm sliced loaf.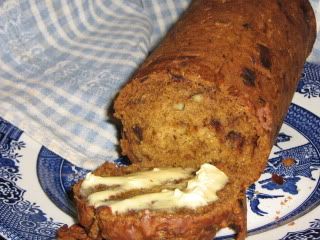 ~ Date & Walnut Loaf ~

1 1/3 cups chopped pitted dates
1 teaspoon bicarbonate soda
pinch salt
1 1/4 cups hot water
~
2 1/2 cups self-raising flour
1/2 cup (100g) butter
1/2 cup chopped walnuts
2/3 cup dark brown sugar
1 egg, beaten

1. Oven setting 180 degrees celcius/350 F/gas mark 4/fan-forced 170 degrees celcius.
2. Grease 2 x cyclindrical loaf tins or 1 x 4 cup oblong loaf pan with melted butter, fat or oil.
3. Put the dates, soda and salt into a bowl and pour over the hot water. Set aside until cool.
4. Sift flour into a bowl, rub in the butter, then stir in the walnuts and sugar until well mixed.
5. Mix the wet and dry ingredients together roughly, then add the beatn egg until combined.
6. Separate evenly between the 2 loaf tins, or place into the single pan.
7. Bake 1 hour or until skewer comes out clean. Bake another 15 minutes if required.