Continuing the theme of accumulative work, there's a relatively new project we've been working on lately. It does involve a retaining wall, but not building one! Thankfully. It's the retaining wall, below our hugelkultur beds.
During the warmer months, those blocks, heat up something terrible. Hardly anything grows in the beds. While the avocado tree sprouted near the wall, is helping reduce SOME radiant heat from reaching the blocks - it's certainly not enough to cover the span of wall, during the day.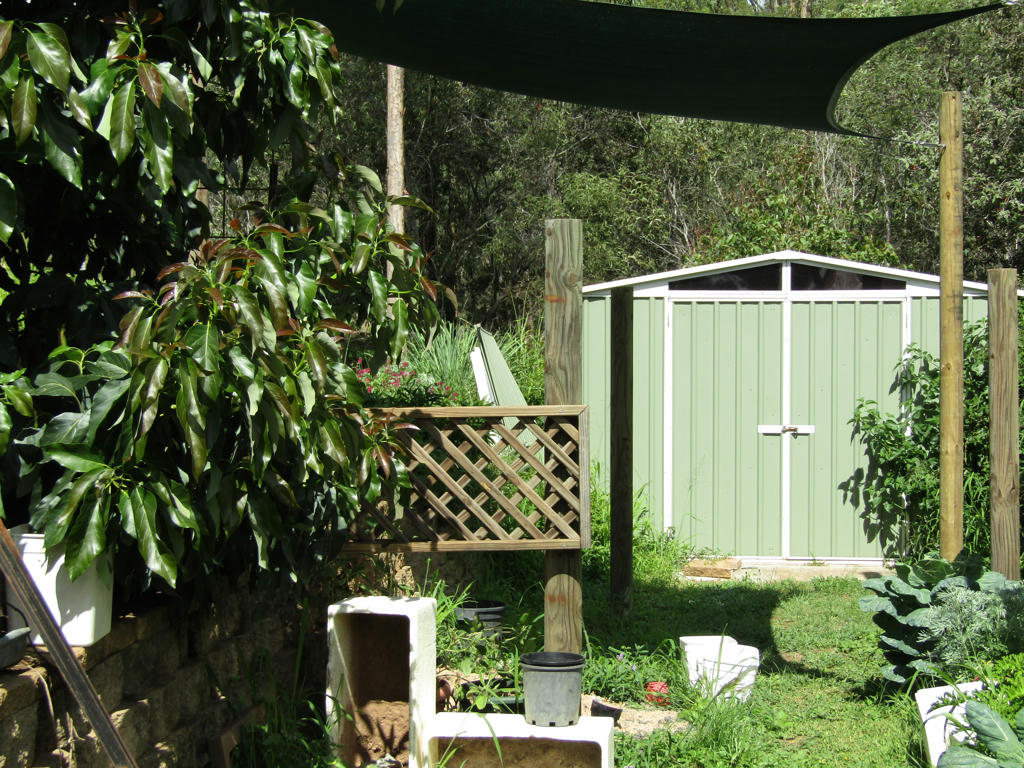 Avocado (left) shade sail (above)
So we installed some treated timber posts, and a single, 3.4 x 3.4 metre, shade sail. During sumer, when the sun is high, it will shade approximately 3 metres of wall. But it will always creep in, on the east and west side, as the sun rises and sets.
To mitigate this, we're building screens on half the sides. You can see the lattice, installed recently. It was a gift originally, and I was tired of storing, instead of using. While it's not entirely big enough, I intend to add some mesh above it, with a pot underneath, to grow climbers over. That should provide better shade cover. I will do something similar on the west-facing side.
While it looks kinda junky right now, everything in the image above, has a purpose. The styrafoam boxes under the lattice, are shading a couple of pots I have potatoes and jerusalem artichokes, growing in. The plastic pot, on the styrafoam box, has a rock in it, to stop the box from blowing away. The white buckets in the middle, catches the rain which drops from the shade cloth. I then ferry that water, to the hugelkultur beds.
Best pepinos I've ever grown, over the retaining wall ~
now receives morning shade from the sail
The goal here is to create more micro-climate, for growing plants. Mostly edible ones. Also, to use the man-made infrastructure, as a means of capturing energy where I need it (ie: water harvesting) or deflect energy where I don't - radiant heat.
It's another work in progress, as funds and time become available. I intend to use more recycled materials to complete this shady area. In the meantime, we make do with boxes, buckets and other bits and pieces we can find. It's kind of ugly, but progressing us towards meeting our goal of more food production. Which is kind of great!