The one thing I have managed to grow without much tender loving care, despite drought, flood and weed infestations - is sweet potato. It's so abundant, that until the native rats found them recently, we never had to buy sweet potatoes.
The downside to them however, is they take over land, anywhere their long tendrils can make contact. Water isn't a problem either, as they can even sprout roots in it too!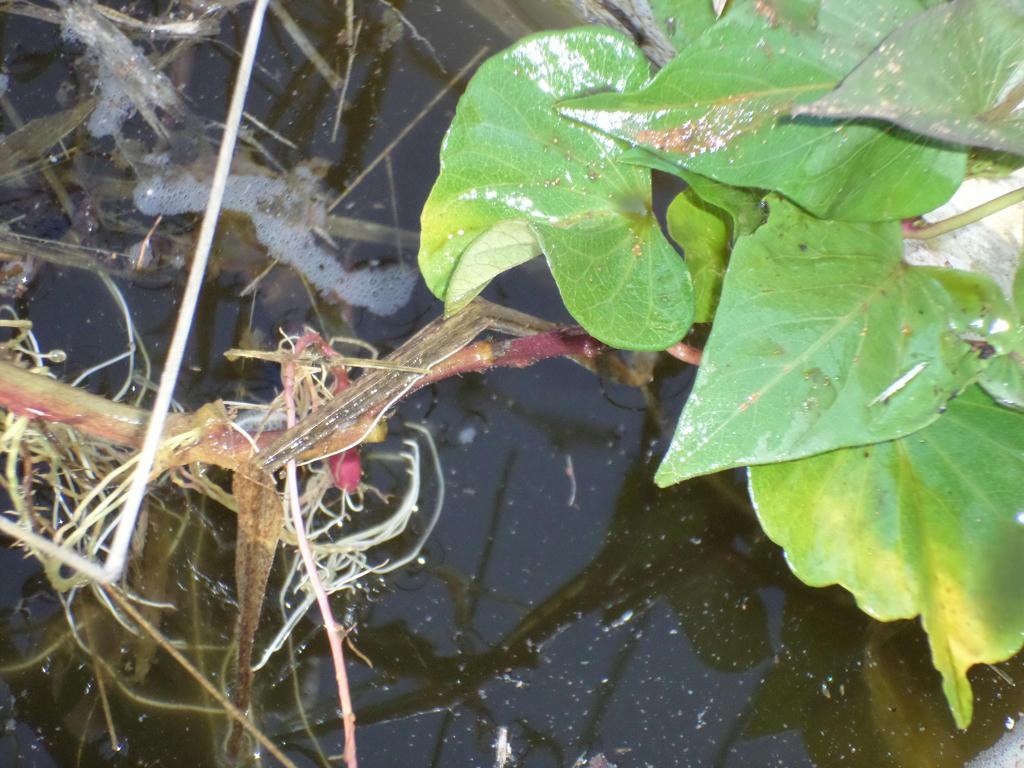 Add water - will travel
I had a styrafoam box near the sweet potato patch, that collected some rainwater. The tendril found its way into the water and started growing roots. I'll have plenty of propagation material to transplant - not only, water grown slips with roots, but I also have unearthed roots which are starting to sprout as well.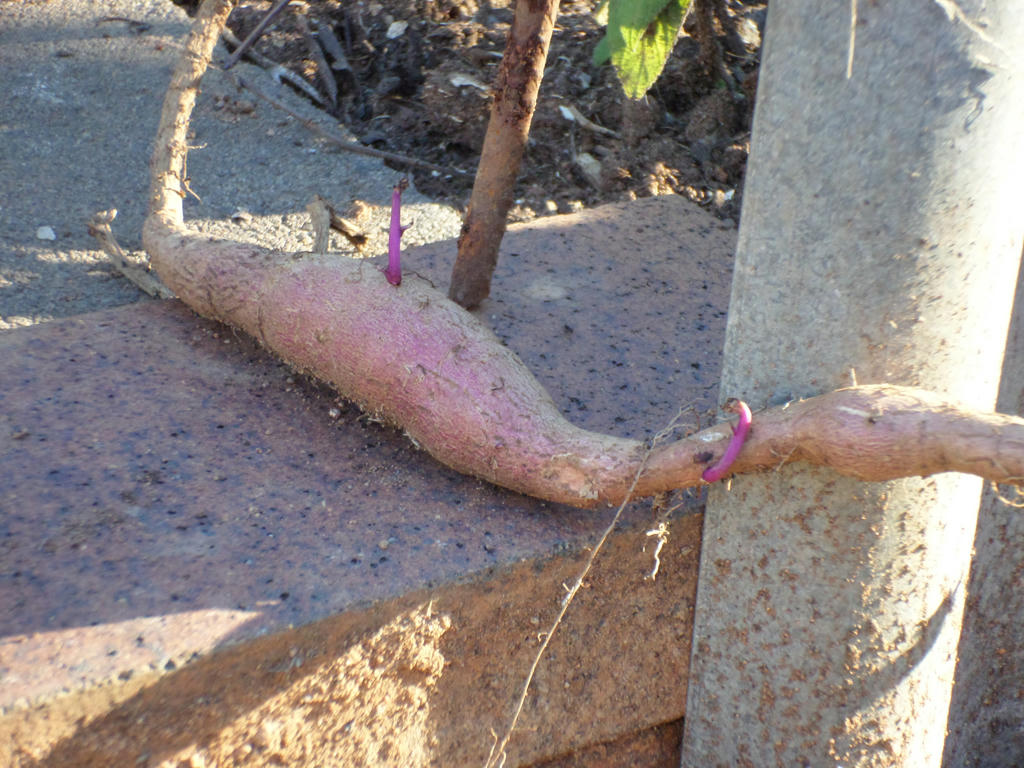 Loves to grow!
I suspect I will be plucking sweet potatoes in the newly renovated garden beds, as I wouldn't have gotten every single piece. Sweet potato is like comfrey and horseradish. Once you break off any part of the root, it regrows! I will just have to be persistent in plucking it out, as it appears.
But where to grow my sweet potatoes in the meantime, that wouldn't be so problematic with spreading? I had the perfect spot, right next to a swale. The tree branches are laying in the swale, waiting for us to break them down and remove them somewhere else.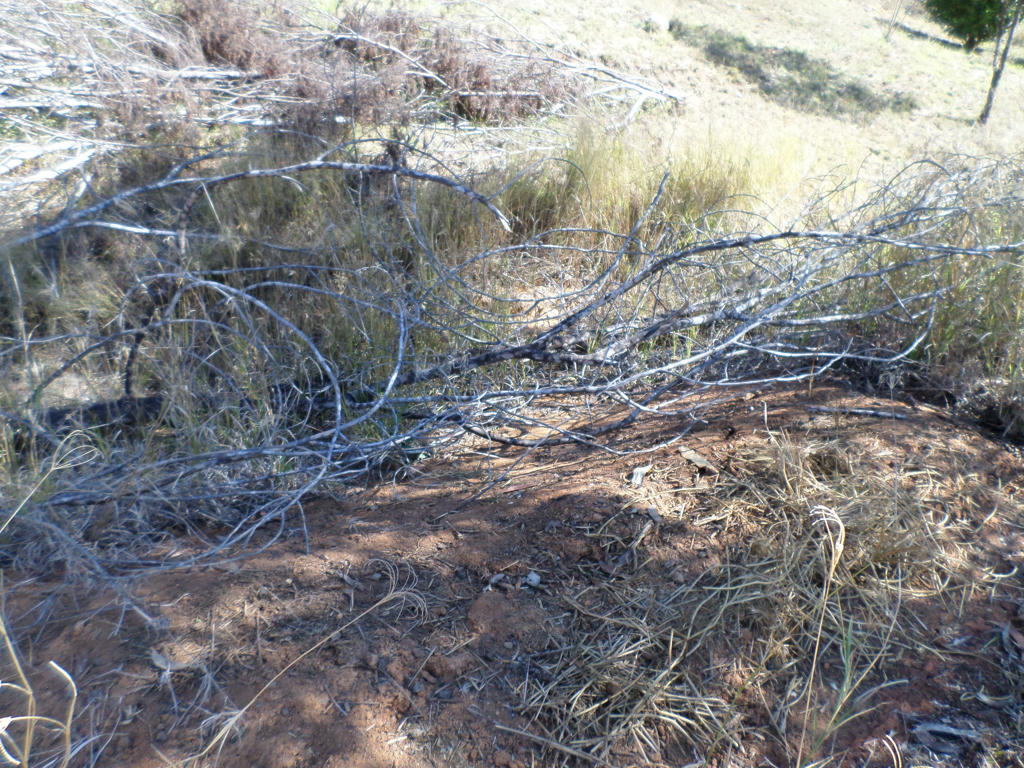 The new area
Gosh, but the soil is awful here. Compacted clay for the most part, with just a hint of bush debris, trying to pretend to break down. It's been there for years, under the weed mat and pallets, we put down a long time ago.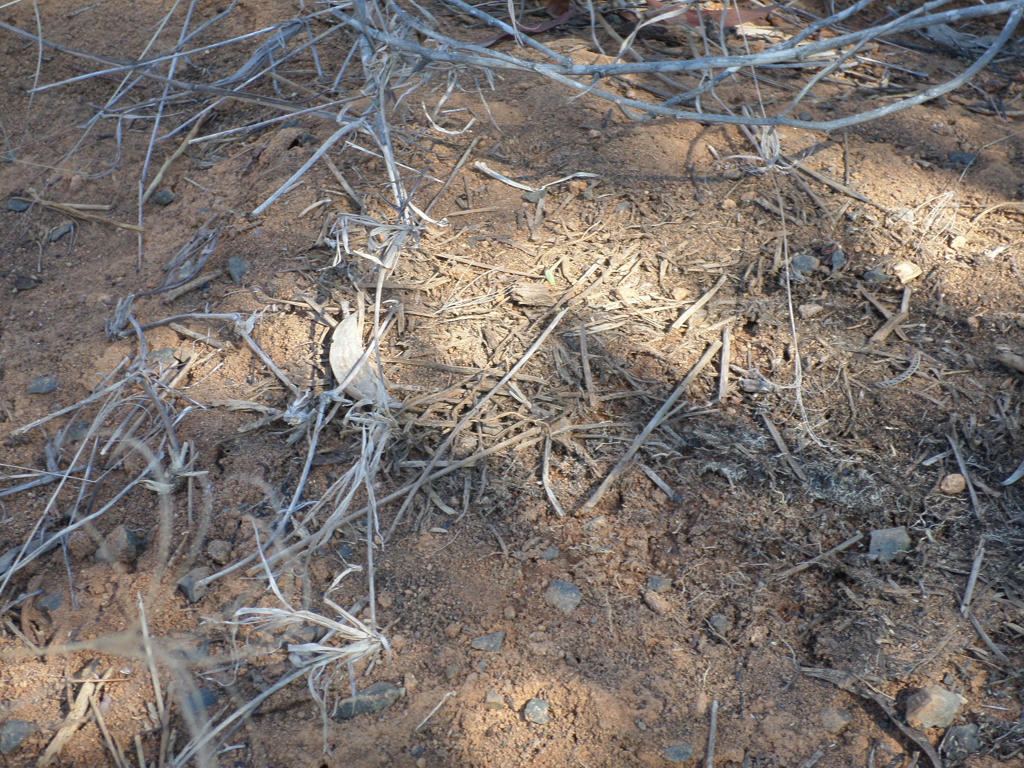 Under the weed mat
And did I also mention it was compacted clay, so extremely hydrophobic? The natural tendency is for the earth to become so dry, enormous cracks appear, to catch any moisture that might come its way. Once filled with water (generally when the rainy season arrives) the cracks then close up, until the soil is drained of moisture again. Then the cycle repeats.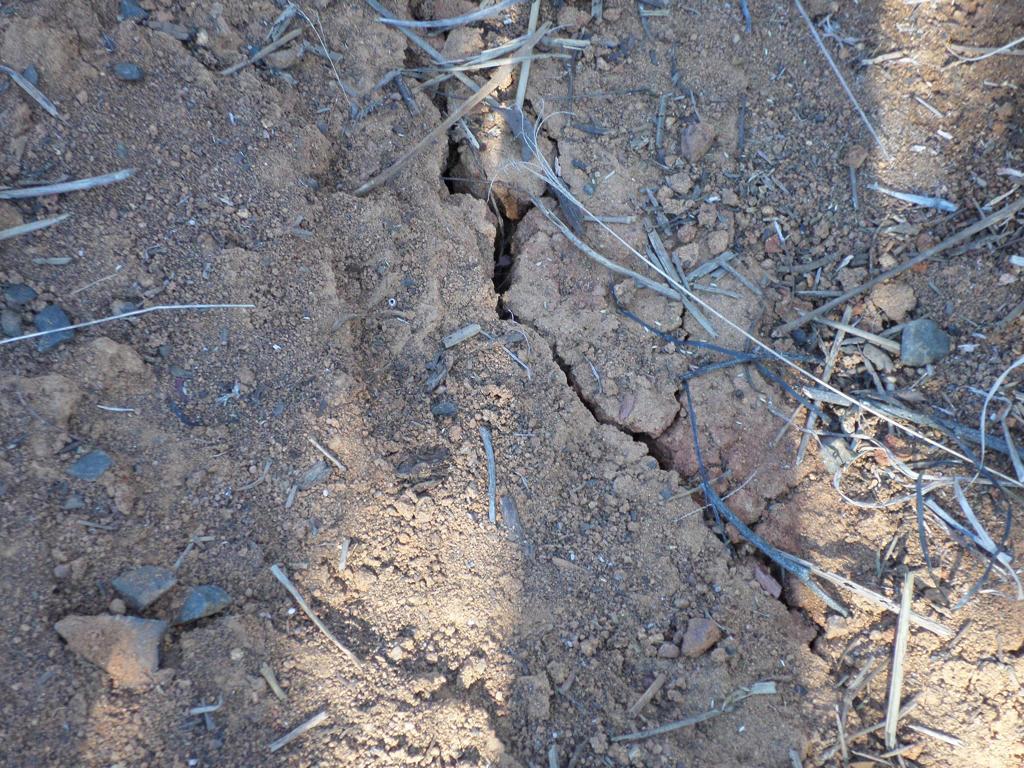 Cracks
It's a terrible, and yet perfect area to grow the wandering sweet potato in. Any escaping tendrils, have no hope of penetrating the soil, to root and spread again. This is my dry land, Alcatraz!
But I did need to improve the soil in the bed, where I intended to grow the main crop of sweet potatoes in. I also needed to elevate it, so the roots wouldn't be swamped when the swale did eventually fill with rainwater.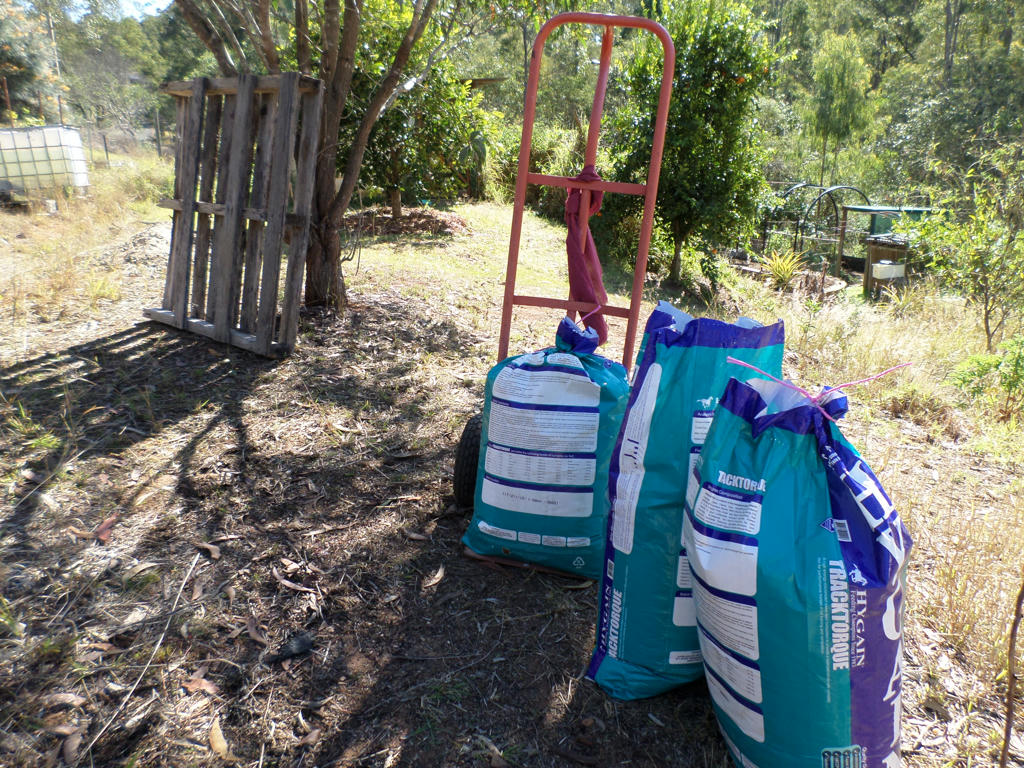 Local fertility
Enter a local entrepreneur with stable stalings for sale at the farm gate. Cheapest price I've ever seen it anywhere in this region, at $1.50 a bag. It's a few minutes drive down the road from here. Once I got it home though, I realised my wheelbarrow was full. Thankfully, my trolley was on standby and could cart the bags for me instead.
Can you see, one of the newly removed pallets, now leaning against the tree (above)? Any guesses as to where the second pallet might have gone?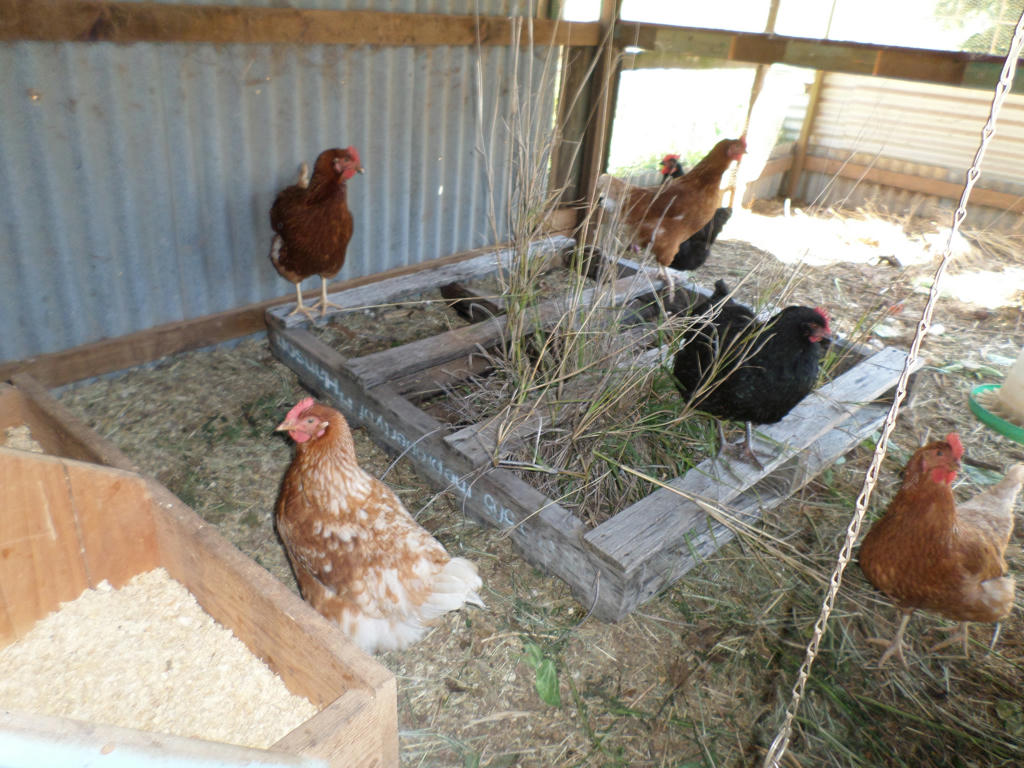 A chicken thing
Is there any problem a chicken cannot solve on the farm? I couldn't get the tufts of grass, which had managed to grow on top of the weed mat, and through the pallet. So the whole lot went into the chicken coop. I'm glad I renovated the coop, to allow me accessibility like this now. It's priceless!
I have an update on the chickens, and their coop, to write about later. But they enjoyed the strange, new platform, they could stand on, nibble at and basically "own", as new Hilltop real estate. And I don't have to feel like an old lady, wrestling a wooden pallet, in need of a lawn mower.
Luckily, my brain remembered, the only reason I kept chickens in the first place, was to do all my problem solving for me!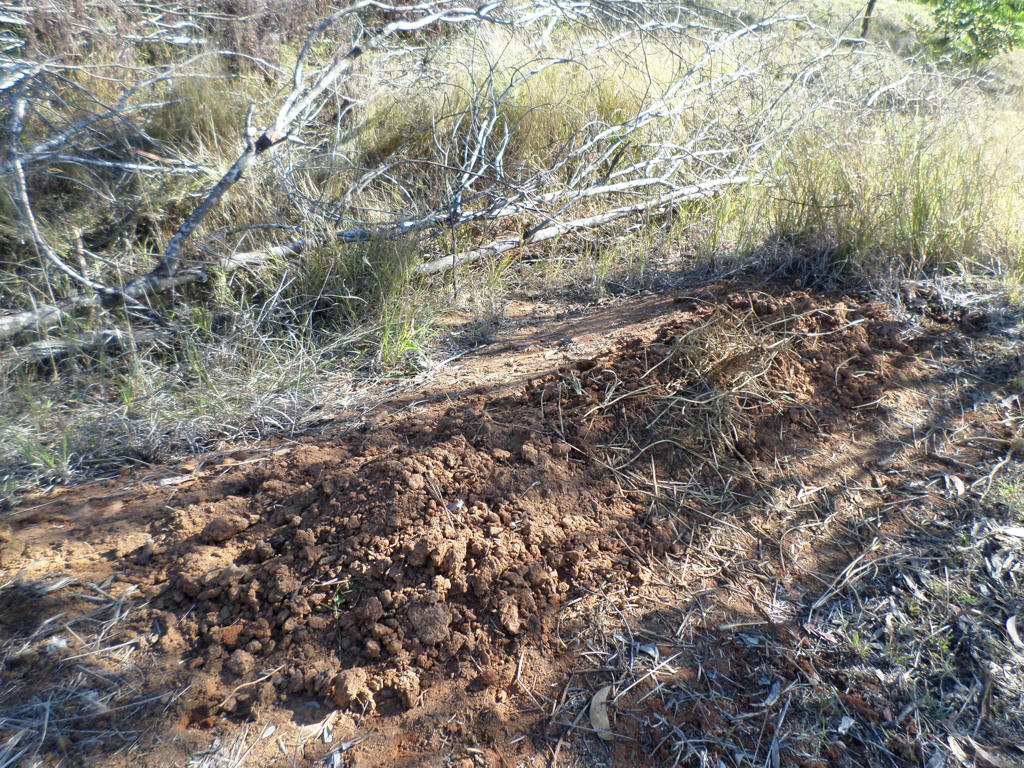 Break it up
So back to the sweet bed. After removing the weed mat and relocating the pallets, I broke up the clay with a mattock and added some gypsum. If you're trying to grow anything in clay, gypsum is your friend. It helps to separate the soil particles and allows water to penetrate, rather than run off the surface.
I used several handfuls of gypsum. Plus I added the three bags of horse manure, and 20 litres of spent coffee granules, from David's work. After I mixed it up with a fork, mounded as high as it would go, I finally watered it well.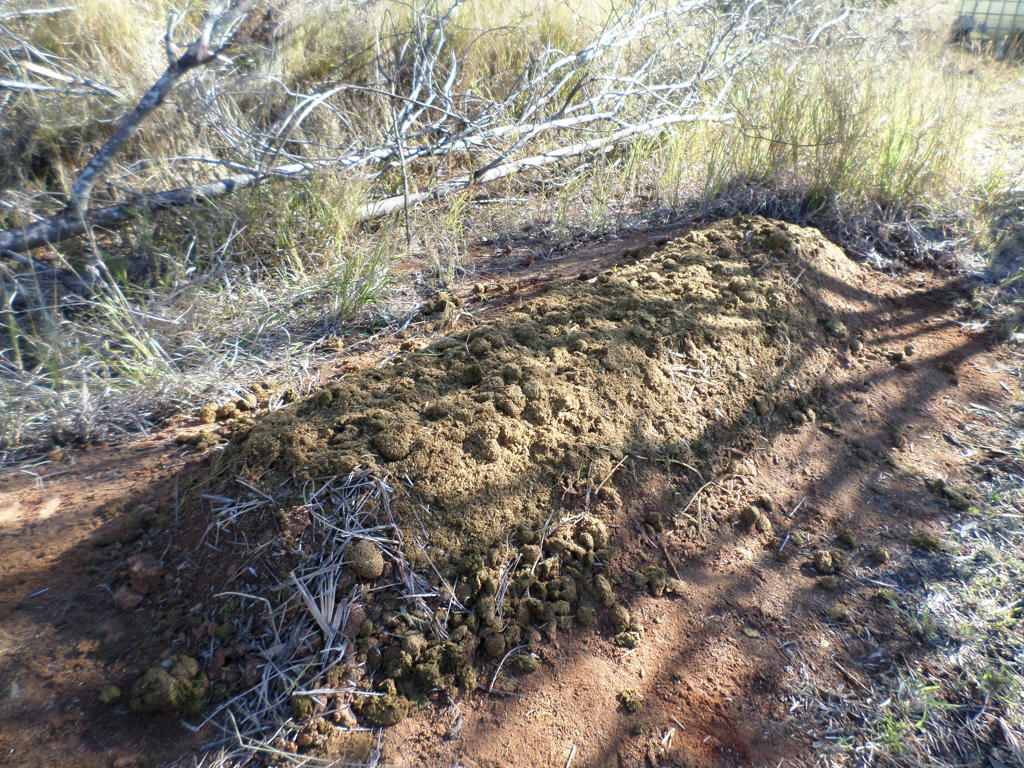 Build it up
I'll give it a turn every three days or so, and in about a month, it should be ready to transplant my sweet potatoes in.
It will be interesting to see if this new arrangement works, come next autumn, and whether the chickens will have dismantled the pallet for me, by then too.
Are there any unique tasks, you've engaged your chickens to sort out for you?