Like the bush rats, digging through our vegetable bed, I've been busy lately too. This post is all about that particular vegetable bed, but also our daily reality of doing anything around here.
I want to start at the
very beginning
of our vegetable bed's journey though. It started with something, a little like this...
January 2008
We didn't know it was going to be a vegetable bed (left of the wheelbarrow) because we were just keen to get some flat land happening. Like the complete novices we were, we grabbed some hand-tools a wheelbarrow, and started to remove vegetation and chip away at the dirt. Our daughter was a wee four year old, and my mother helped by distracting her.
April 2008
My husband and I were determined in those days. We could erect a
retaining wall
in a few weeks. Every day off from work, my husband was bringing home trailer loads of gravel, to backfill the walls. More about that gravel soon.
But after we got that wall built, we finally had some flat land to run our new chicken tractor on, so we
put it to work
.
June 2008
With those first sprouts of green appearing, after the chicken tractor passed over, we started to wonder if this could become our vegetable bed. That was back in 2008, and we got several years of vegetables and flowering plants, out of it since.
January 2011
The day
this post
went up (the picture above) little did we realise, it would be just under a week, until the 2011 Queensland floods, would hit our region. That day, changed our lives in substantial ways. It changed the nature of our marriage, forcing issues we had to deal with and fix - plus it also changed how we saw ourselves here.
It wasn't anything we could see at the time, because we were too busy in survival mode, thanking our lucky stars, the damaged caused was minimal. But the damage still had to be repaired - both in the landscape, and ourselves.
Only since getting back into the vegetable bed, recently, have I realised the extent of what we were dealing with, back then.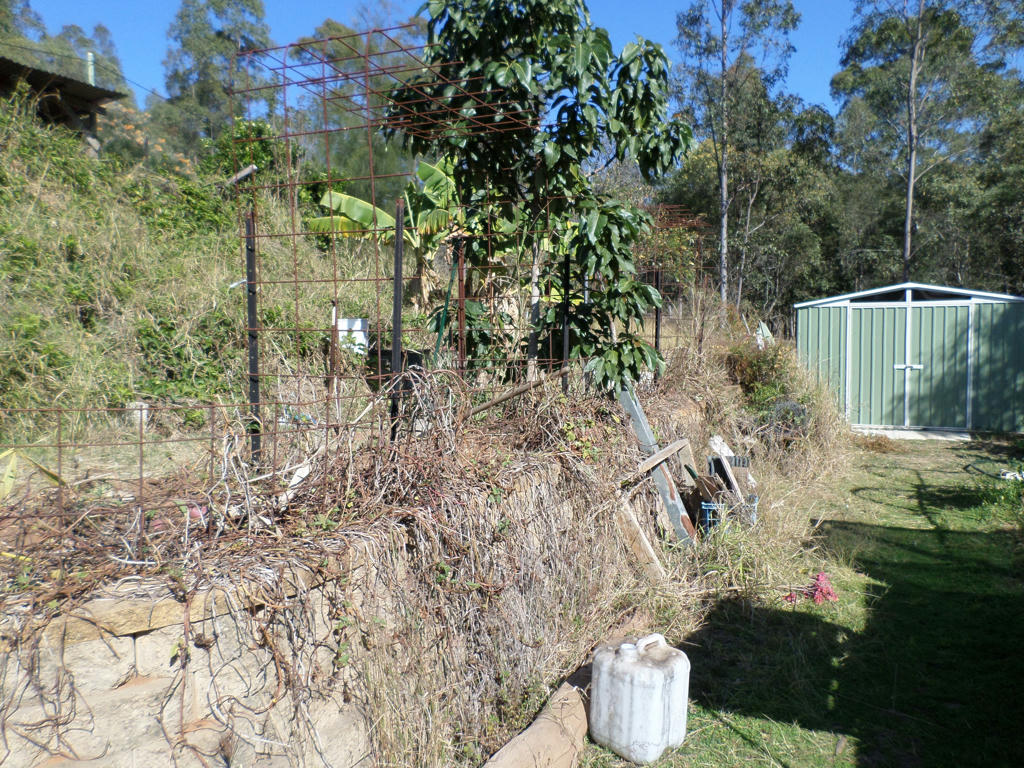 August 2015
Because this is the state of our vegetable bed today. It had been overrun by sweet potato - our most successful crop, but it made weeding difficult and it even started to push up the blocks. The sweet potato vines have died back, over winter (hanging over the wall) so its easier to get in and see what I'm dealing with.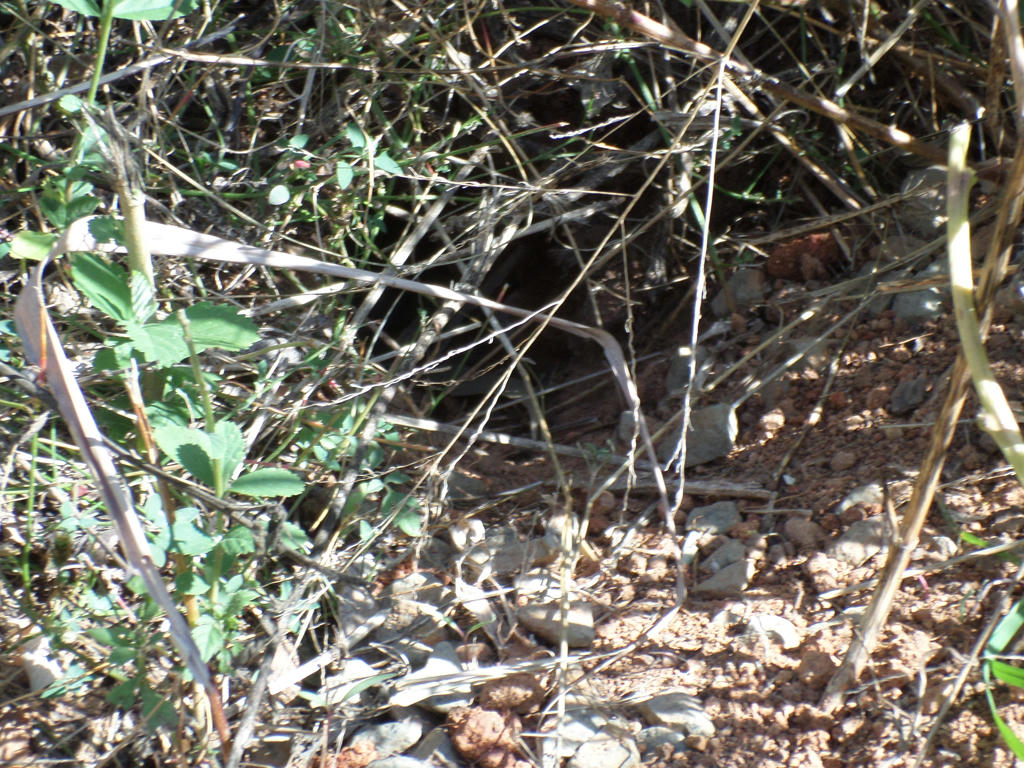 Rat tunnel
I've seen the evidence for quite some time, but native bush rat tunnels, were everywhere in the vegetable bed. Do you see the gravel, they so kindly removed from behind our retaining wall? They burrowed to get at the sweet potatoes you see. Makes for a good meal during winter.
I managed to get some sweet potatoes out, but they weren't in very good condition.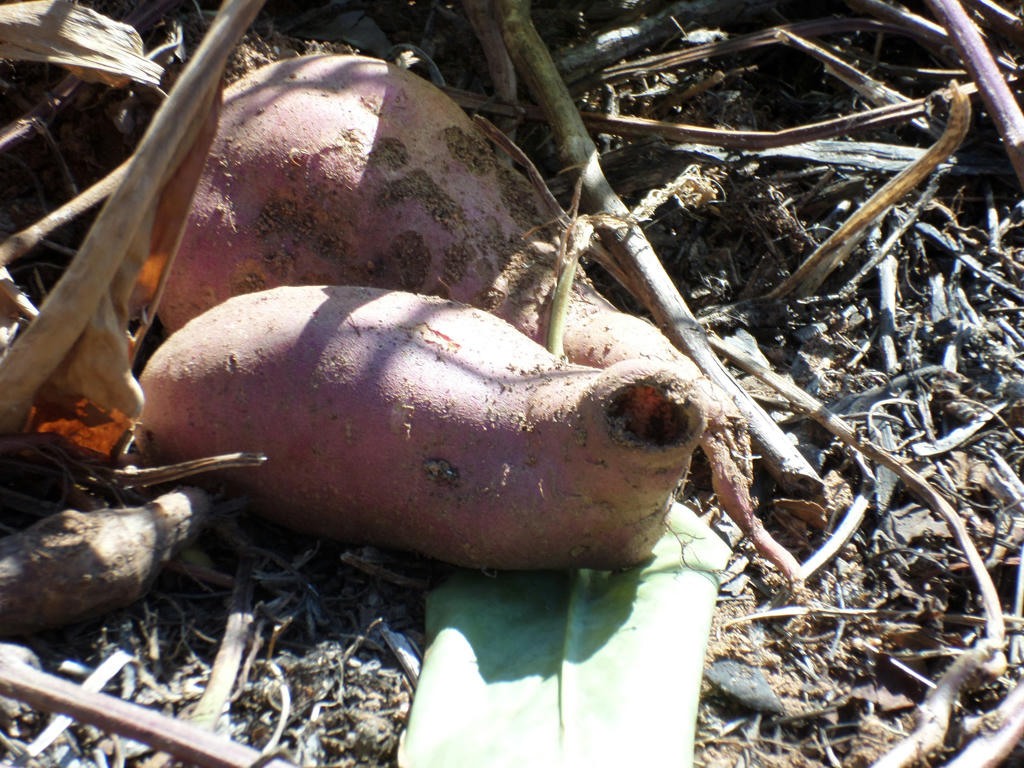 Sweet potato
This is the Japanese, white flesh variety. Not as sweet as the orange ones, but they do very well in our climate. I will find another place to plant the sweet potatoes, where they will cause less problems.
I had known about this stuff happening in our vegetable bed for quite some time, I just didn't deal with it. Part of that being, because the children need attention, oh yes, and that pregnancy thing and rebuilding retaining walls, the flood had damaged - but there was one more thing, preventing me dealing with it.
I was missing my husband. He had taken on other activities, outside the home and they were constantly calling him away. Then he changed jobs again, and we got to see him even less. Just recently (as in, the past seven months) my husband has achieved one of his goals - to join the Army Reserves. This will hopefully lead to a change in career - though, we've still got an incredibly long way to go!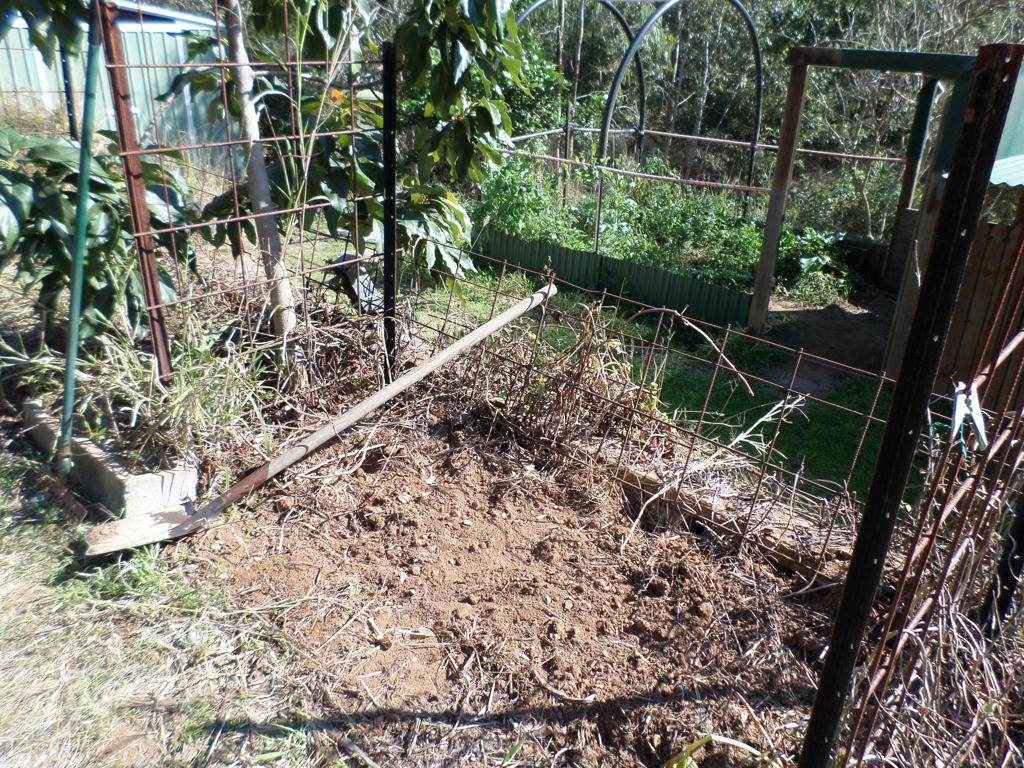 Work begins
A garden, seems much smaller, in comparison. It appears insignificant, but we both know its not. So with my husband, otherwise indisposed, I got to work on our old vegetable bed. It was like revisiting a forgotten dream. I remember putting in those star pickets, and the rebar wire - only David was there to help me.
I even remembered that tree (do you see it in the picture above) which I'm pretty certain is an avocado?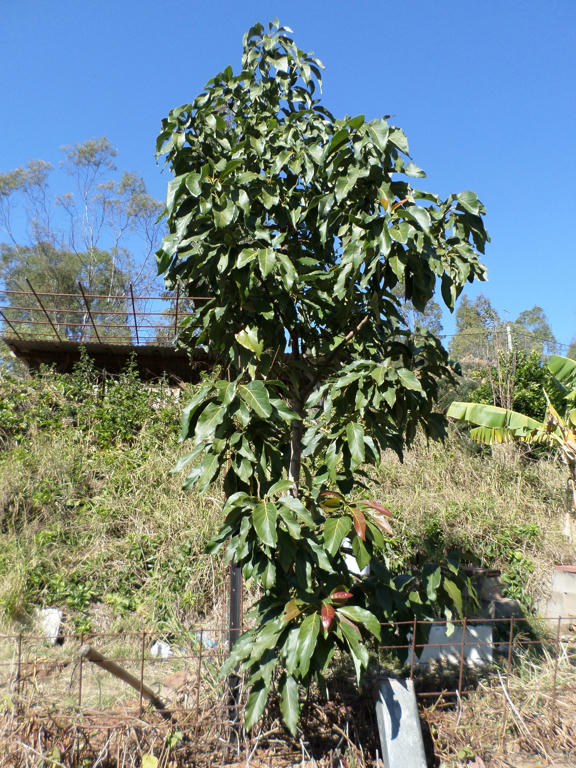 Avocado or mango?
It sprung up from the compost we dumped in the bed, once upon a time. It must be at least four years old now. I'm torn whether to remove it or not. It will surely suck any moisture I put in the bed, but its an avocado (I think) and I love avocado!
It hasn't fruited yet, but it will stay until I decide its fate. I hate removing trees, because they're such givers. It even shaded me on the days I was working on the vegetable bed.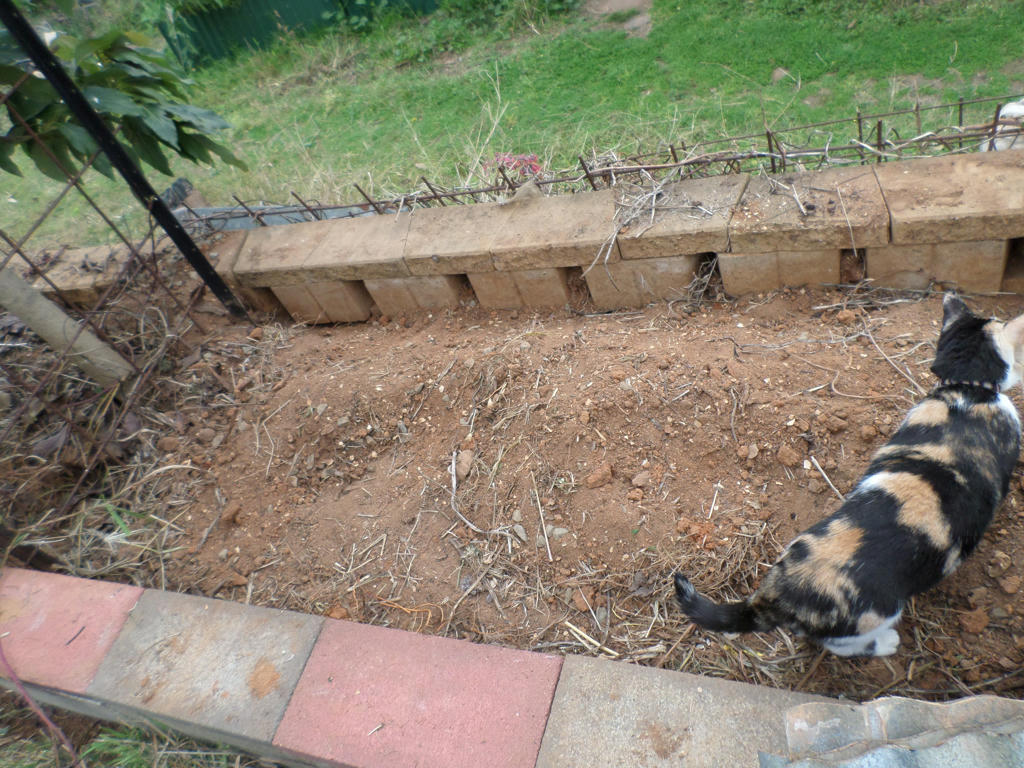 The supervisor
And I certainly worked on that bed! With my little toddler by my side, playing with the sweet potatoes I'd removed from the bed, I was able to dig in the Besser blocks, as they had formerly been before. As edging. I even had to remove some of the original retaining wall blocks on the opposite side, and reset them, as the sweet potatoes had pushed them out of alignment.
I needed a straight wall, because I intended to reuse some roofing iron, left over from my chicken coop renovation.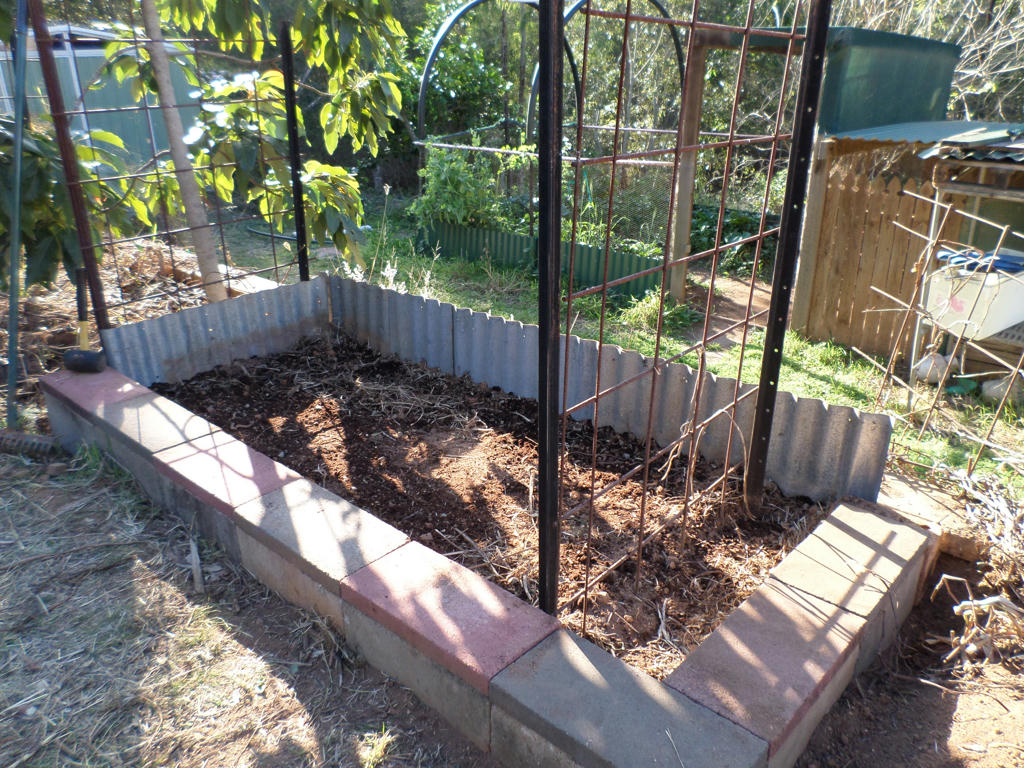 Mission almost complete
Once again, it started to look like a vegetable bed. Something I can use in a substantial way. I have seeds in mind, and some transplants. I want (and need) to see productivity here. Because while I may have had other things to attend to, I very much believe in growing our own food.
It was far easier to attack this small area, rather than approach the whole length of the wall. If my husband was helping, we could have done it all, but that's not our reality at present - and I'm sure, this reality, isn't unique to our marriage. Sickness, jobs, hobbies, family commitments, volunteering (sadly, even death) there are many reasons, one partner finds they have to work alone.
What my husband has contributed to this vegetable bed however, is an endless supply of coffee grounds from his work place. I felt like I was standing outside a coffee bar, after I sprinkled them on the ground. And I thought of him. The soil will be much sweeter!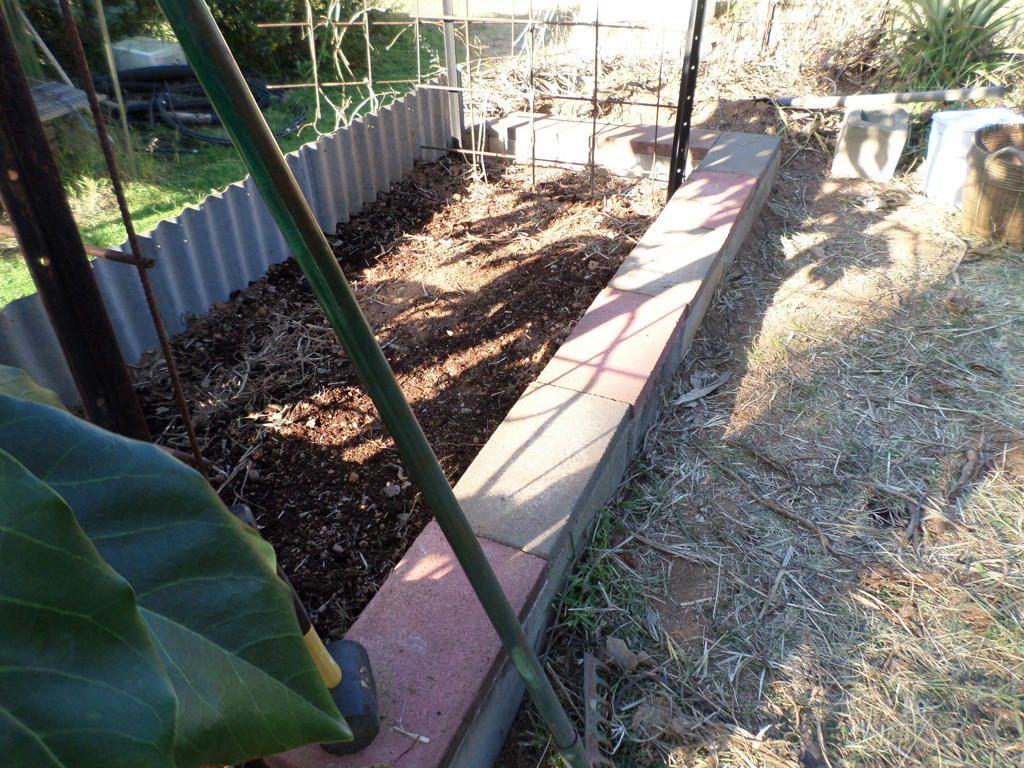 Shade of the avocado tree
I even sat on the Besser block edging for a while, being shaded by the avocado tree. My toddler came to my lap, and we pulled faces at one another. Giggling under the shade of a tree, smelling that sweet aroma of coffee and simply stopping for moment, reminded me of why I needed to be here.
It started as a wall, which became a chicken tractor landing, which eventually became a vegetable bed. Many more things happened in our life in the meantime. Challenges came and went, but we still have our vegetable bed. Even if it did become overgrown for far too long, I returned to it anyway. And that's the trick. Returning, when you get the chance. One of you, or both of you, but someone has to return.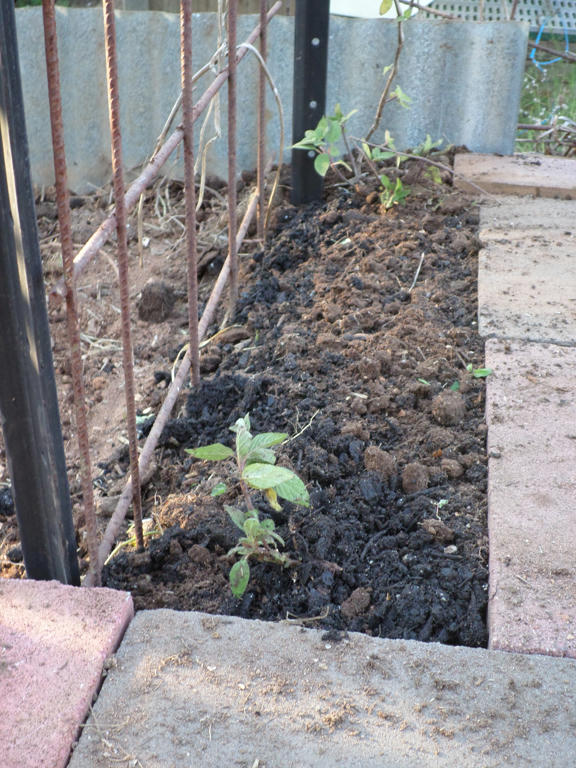 Pineapple sage
I transplanted the pineapple sage, roughly in the same area I had dug them up from. There was just enough soil/compost, to fill in this little section - I will fill up the rest of the bed later. I also hope to plant a choko in the middle, if I can find one this late. It will climb up the wire, and over the top of the bed - helping to shade it during summer. Or, at least, that's the plan!
We made quite a few plans since moving here in 2007. We weren't planning on the Queensland floods however, and we've been playing catch up, for four years since. While I've spoken about the fragility of our relationship in this post, it's more about continuing the journey, despite imperfect situations.
Much of the life portrayed out there, seems to be about getting ahead - when I think much of life is lived, just trying to catch up on unexpected things. Life is an unexpected thing. It happens, regardless of what we want of it. I want a lovely vegetable bed, full of abundance (with my husband by my side) but I'm likely to experience a fair share of pest attack, overgrown beds and native critters eating what does manage to flourish. Plus my husband, will more than likely, still be indisposed.
Does that mean, I do not return? I hope not. I hope I don't leave it that long again - and I know in the future, there will be days to share in the garden with my husband again. It's what we do in the meantime. What can be done? Even if the work crew is halved - or, the work is being done elsewhere, earning income. What can each party, still do? It may have to change to fit into your current life, but growing our own food is important - so even a little, achieves a whole lot.