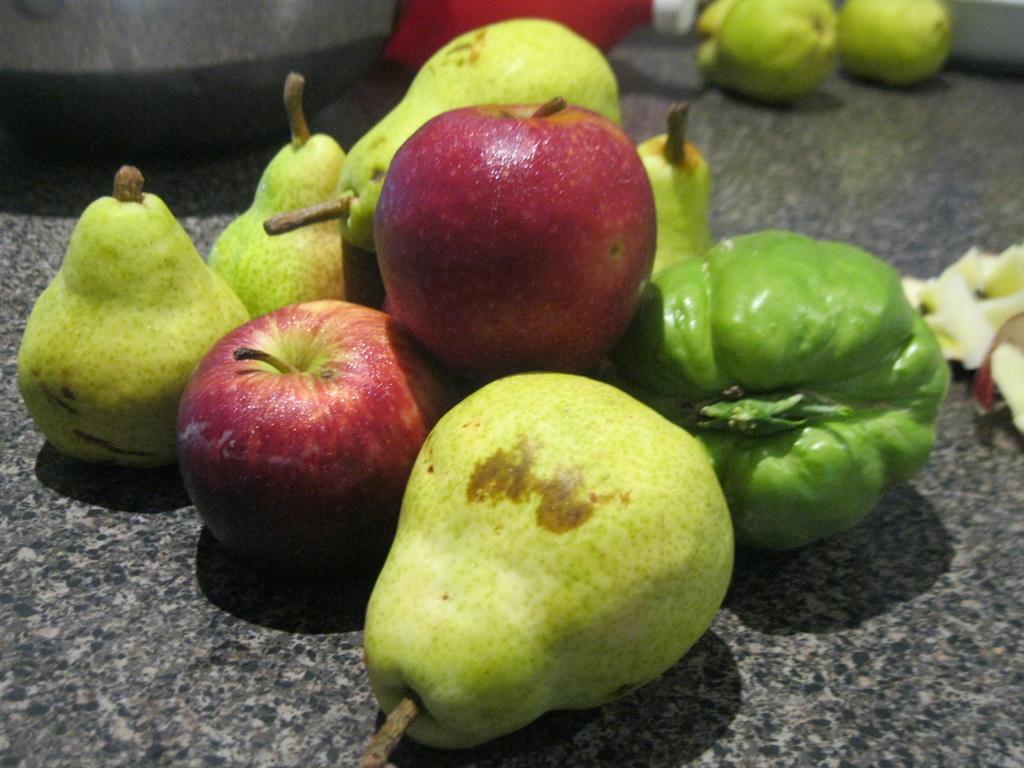 Apples, pears and choko
Since putting in our choko vine, about 4 years ago, I started making choko chutney. Not only is it a tasty way to use up choko's, but it also reminds me of my youth, when my mum used to make it.
It's thick, spicy and great with meats and cheeses. It's also great on sandwiches, toast and a favourite for making curries around here.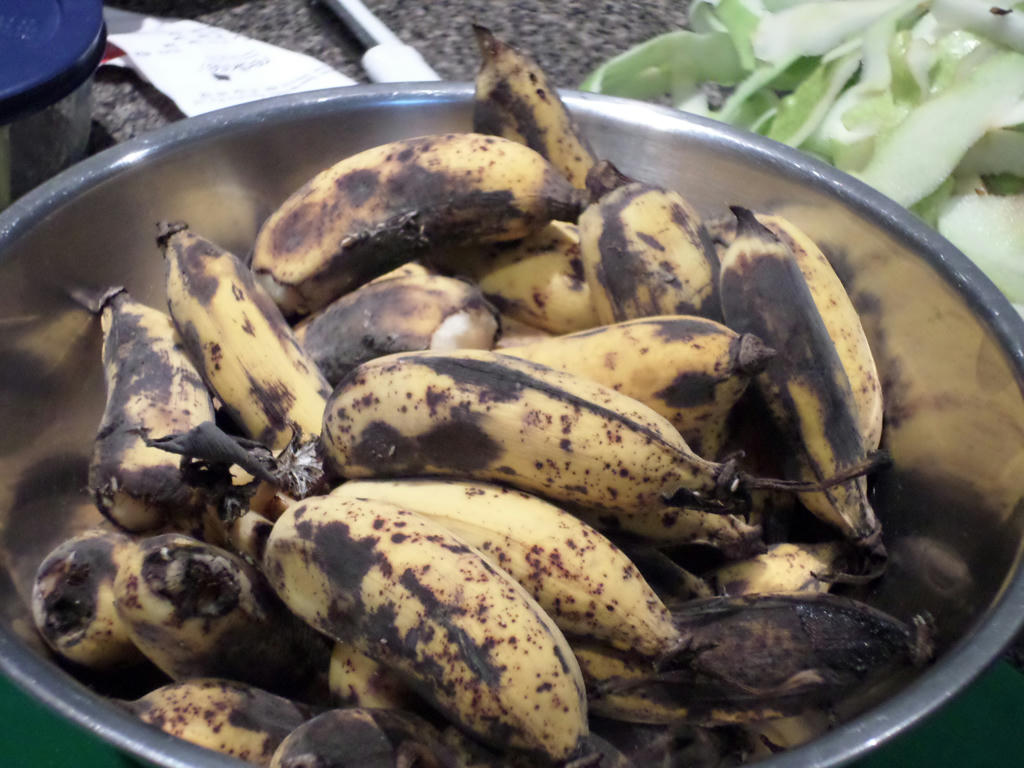 Ducasse bananas
Then one day, I ran out of choko's. But I did have a ridiculous amount of bananas left over from our tree, that we didn't manage to eat in time. So I thought, why not make a fruit chutney, instead?
I just substituted choko's for bananas, and also some apples and pears that needed using up too. The recipe I'm sharing, is the same as my choko chutney recipe, only the fruit has been changed.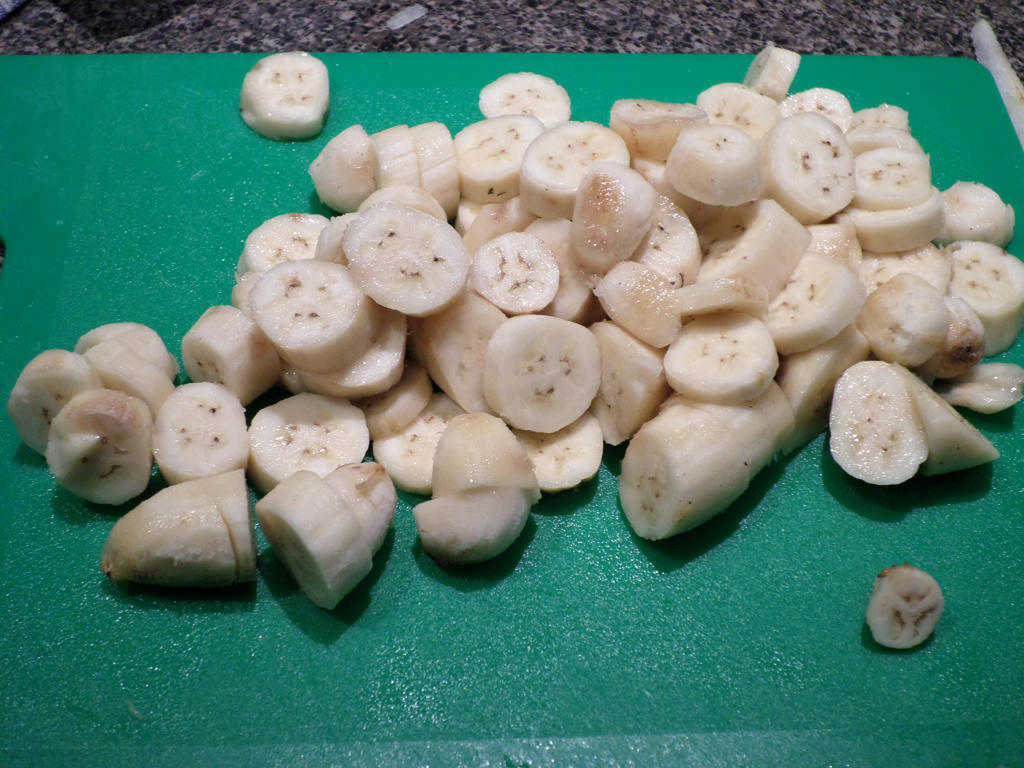 Chopped bananas
What I like about the bananas and spices though, is it makes an almost like BBQ sauce condiment. You use a hand blender, to chop everything up, so its spreadable and easy to use. So while I remember the delicious choko chutney my mother used to make, I hope to start a new tradition with fruit chutney.
I give a guide for how much fruit to use, but substitute weight and fruits of whatever you have, to make a total of 3kg.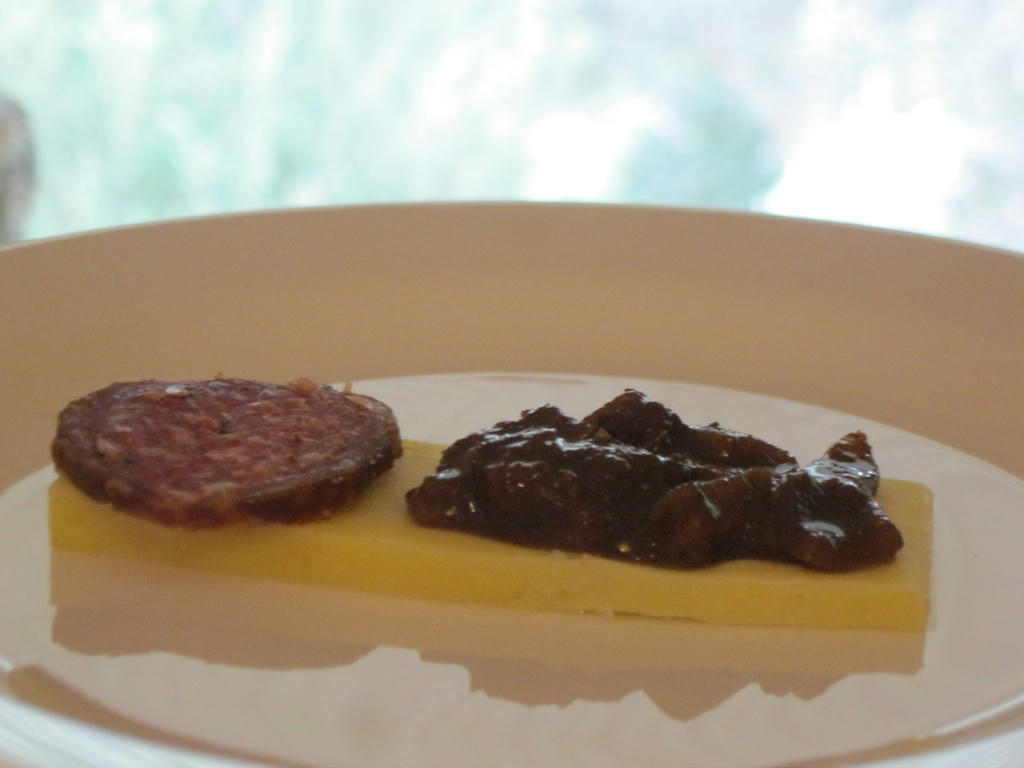 Displayed with cheese and salami
FRUIT CHUTNEY
Ingredients:
2 kg cooking apples (you can sub in cooking pears too if you have them)
1 kg soft bananas
1 kg onions
1/3 cup salt
1 1/2 cups sultanas
1.5 litres brown (or malt) vinegar
1 kg brown sugar
1 tablespoon curry powder
1 tablespoon cumin powder
1 tablespoon dry mustard powder
1 tablespoon mustard seed
1 tablespoon tumeric powder
2 tablespoons mixed spice (or all spice) powder
6 tablespoon cornflour
Place all chopped fruits and ingredients (except cornflour) in a slow cooker, or in a large saucepan on the stove top. You need at least 6 litre capacity, minimum, but use larger if you have it. Cook in slow cooker on high for 2 hours, once a rolling boil is achieved, or until fruits are tender. Simmer gently on the stove top for approximately 1 hour. Be your own judge in time - you want to cook the fruit and permeate the flavours.
When almost ready, mix cornflour in a bowl with a small amount of cold water, until a paste is formed. Gradually mix into chutney, stirring continuously. Once the cornflour is incorporated, simmer for another 10 minutes (stove top) or 20 minutes (slow cooker).
When done, whiz with a hand-blender until smooth. I have a metal stick on my hand blender, so I can mix straight away. Consider cooling a little if you have a plastic stick on yours (not completely if you're canning). You can have it chunky if you want, just be sure to chop your fruit the size you want it.
I preserve mine in jars in a water bath for 20 minutes each batch. You'll make around 6 litres.
This tastes even better if you leave it a week before consuming. I never can!
UPDATED TO ADD: I'm assuming everyone would remove the skins and seeds, which is why I didn't originally write it in the recipe. But I figured afterwards, I really should. :)
Also,
a link
which explains the role of certain foods in food preservation, as a question about salt was raised.