We've been doing something for years now, which barely feels like mentioning. Only because it's pretty basic stuff. But it occurs to me that anyone who wants to start planting a food forest, should know about it.
We had problems initially, getting fruit trees established in our clay soil, lack of rain and oppressive heat. That's when we got lazy, and decided to borrow a leaf or two, from the native trees. Literally.
Click to enlarge
Above, you can see the mulberry tree, which (when first planted) sat under the shade of those native eucalyptus trees. Only they were a tad smaller then. There were other natives which sprung up, on the other side of the mulberry too. Popped up, just as nature had selected them to do.
We didn't have to mollycoddle the native trees. They were somewhat like weeds in fact. We were tempted to pull them out, as we didn't want them close to the house. However, we noticed how they made a lovely shade canopy for the new mulberry. So we kept the natives in place, with a plan.
Now look at the mulberry tree! Dwarfing the native trees which used to shade it.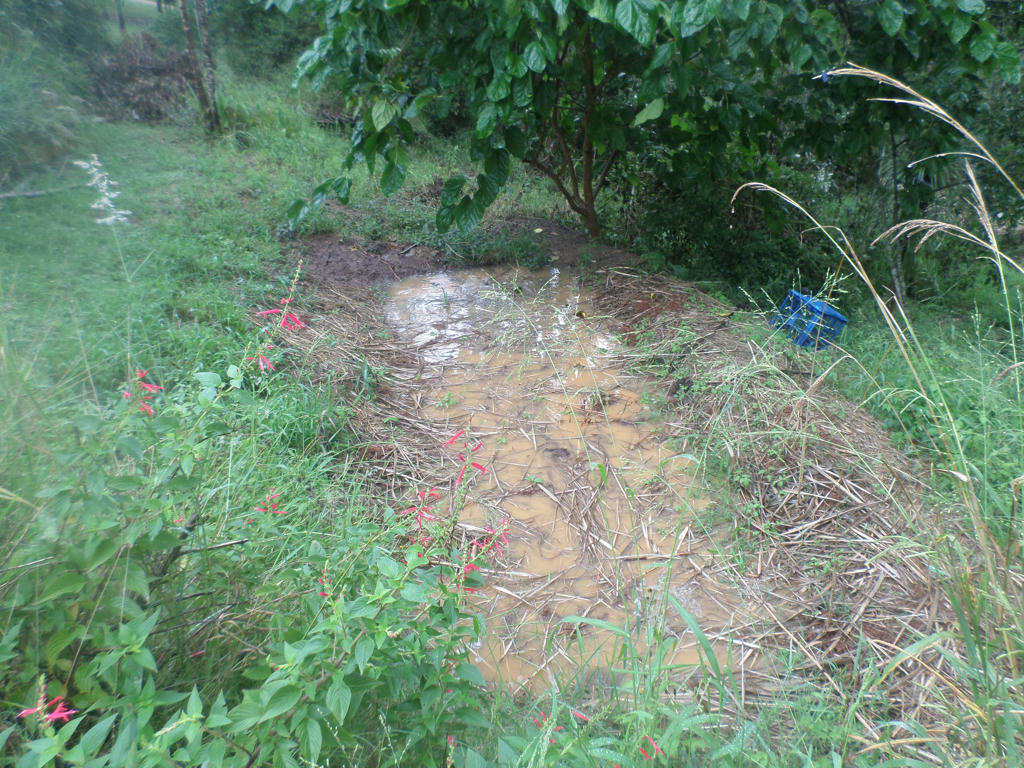 March 2015 - Mulberry in background
We also helped this particular mulberry along, 2 years ago, when I installed
a new swale
. The idea was to help capture water on the slope, to hydrate the mulberry. Otherwise, I think it would have survived, but struggled immensely to produce fruit. And really, that's the best thing about a mulberry tree!
Only now we have another fruit tree in need of some assistance. Our Brown Turkey, fig tree.
Fig
Can you see that white twig on the right? That's our fig, and would you believe it went in the ground, not long after the mulberry? Now fig are traditionally hardy, and this one has done well to survive. But it's not exactly thriving. It's produced fruit once.
Can you see that mass of leaves on the left of the fig? That was another nursery tree, which got too big. Our plan with nursery trees, because they are normally eucalyptus and grow to 30 metres high, is to take them out, once they get to 10 metres. It's dangerous to have them near the house, any taller than that.
So those tufts of leaves, now indicates the tree stump we left behind. That was back in spring. Now it's re-shooting again.
New shoots
Somewhere in there, is a stump. This is what normally happens when we cut down a nursery tree. A lot of new branches shoot from the stump, and hope to become trees. Unfortunately, that's not what we have planned for it.
After all, this is free mulch! And it's conveniently located right next to the fig tree.
Tender new growth
Normally, eucalyptus leafs and woody material, don't make good mulch. That's because they're laden with oils, which make them difficult to break down.
However, when it comes to new shoots, it's not the case. It hasn't had enough time to collect a lot of oils in its leaves yet. So they should break down, pretty quickly. Which is just what I had planned for under the fig tree.
Recently mulched
I've edited the above image, so you can tell the difference between the recently chopped shoots, and the grass. Because the recent rain has brought abundant growth!
I chopped most of the new shoots off, using my secateurs. Of course, I piled a few buckets of coffee grounds under the fig first, then covered it with the shoots of the native eucalyptus.
Old tree stump
I left some smaller shoots on the stump, because I'll chop them back once they get more size. So what used to be a nuisance problem, with eucalyptus seedlings popping up everywhere, and pulling our hair out, trying to get fruit trees established - well the problem soon became the solution.
Anyone who is attempting to establish fruit trees in a predominantly native area, I would recommend to use the natives as temporary nursery trees. Use them for shade, and when they get too big, chop them down. Then keep chopping back the shoots, and use it as mulch for your fruit trees.
Now nitrogen fixing trees, like pigeon pea are even better nursery trees, but they couldn't compete with the natives, for hardiness. This was a clay slope, and it needed something with a substantial root system to hold the slope together. That's another reason, we're not quick to remove the native seedlings that pop up. They preserve the soil for us, until we get the fruit trees established.
New project
That red soil, is another swale we've been installing, just bellow the fig. It runs parallel to the mulberry swale too. Only the weather has stopped that particular project from going forward. Even the short length we have managed to add, is beneficial to the fig. It's more captured water, than it had before.
The grass is getting tall with all this rain about. We'll slash it into the swale, and on the berm, so the soil will be covered again.
We don't have a lot of money to buy mulching material, in the amounts we need. But nature has an abundance, most of the land produces. We just have to time everything correctly. Once the rains arrive, our pruners and brush-cutter, quickly follow behind. It all gets put back on the surface, to protect the soil and retain the moisture. Because soon enough, that sun will come out again and we've missed our window of opportunity.
It takes so long to implement these projects, but it's incredibly worthwhile too. I hope to have a new system up and running, that was better than before. All using (mostly) what was already here.When gardening in difficult terrain, use what naturally grows there, and protect your weaker, establishing plants.