So I've been doing a mad clean outside, in readiness for Christmas. Hello spiders and all manner of crawly things! I normally like to leave the spiders, as the mud-wasps are collecting them by the dozen at this time of year. They paralyze the helpless arachnids and seal 'em up in their mud nests, for their emerging larva to eat later on. Mmm, right?
Er, well, maybe not!
Anyway, I left all the higher up spiders and just cleared the webs around the ground (and windows) for my lovely plant collection, which seems to be multiplying. It was during this activity I got the idea for container planting. I normally use pots, but I started thinking innovation and unique design ideas. The kind of stuff which is quirky and frugal, rather than the veneer of brand-new. So hello Google, and all manner of pretty things at my fingertips!
Some of these ideas are way OUT THERE and utterly gorgeous in their ingenuity. I love old things. When they outlive their usefulness, just plant something beautiful in them...
Now you know what to do with broken watering cans and buckets laying around the yard. Lovely vertical planting idea too.

Don't let your spare tyre collection become a breeding ground for snakes. I can see a much friendlier lizard and frog habitat in there. They like warm spots to sun themselves, with foliage to cool or hide in.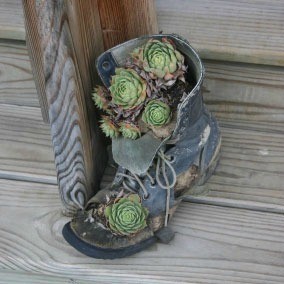 These boots were made for walking, and that's just what they'll do...one of these days, these boots are gonna...okay, they've stopped walking and started sprouting blooms instead. It's a beautiful, if not rustic, planter. But 'Oy, the shoes I could plant!
Try these on for size. I've always thought I'd look great in a size 9 galoshes up a tree. No? Who knew gum boots were so fashionable, and very handy in the garden too, I hear.
It might not be sifting flour any more, but it has the perfect drainage holes for planting. As they're succulents too, they won't mind being neglected if you happen to forget to water.
I wish all my junk around the yard, would spontaneously bloom like these magnificent bicycles. Someone must really love those planter boxes to keep them in such good condition.
If you click on all the "source" buttons underneath the images, you will see a wealth of planter and re-purposing ideas too. Utterly amazing how junk can be made to be useful again.
Are you a clever green thumb?