The other day, I picked some food from the garden, which I was quite chuffed with. It has only taken a lot of work to get our vegetable patch back in order, but the food production is starting to trickle in again.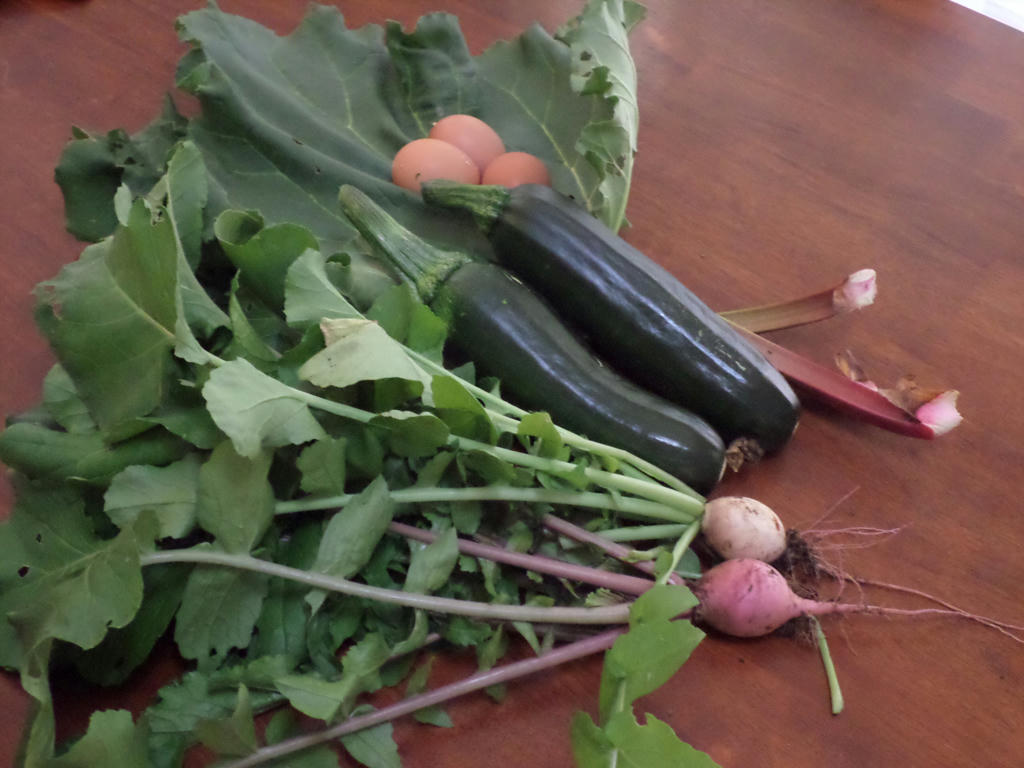 Garden produce
Two monster zucchini, three stalks of rubarb, two radish (different varieties) and three eggs from the chickens. I actually got four that day, but the last one hadn't been laid when I took the photo.
What I also love about the eggs in this picture is, I also fed the radish leafs back to the chickens, which will produce us more eggs. So its not just food for us, but its food back into the system to keep it producing.
Dissected radishes
I mentioned two different varieties of radish. I'm not sure what they're called, but I purchased them in a mixed bag of seeds They were mild tasting, plus they were quite beautiful to look at too. I ate them, cut thinly, with a piece of cheese. It subdued the sharp flavour of the radish. I like radish as a side to something, not really by itself.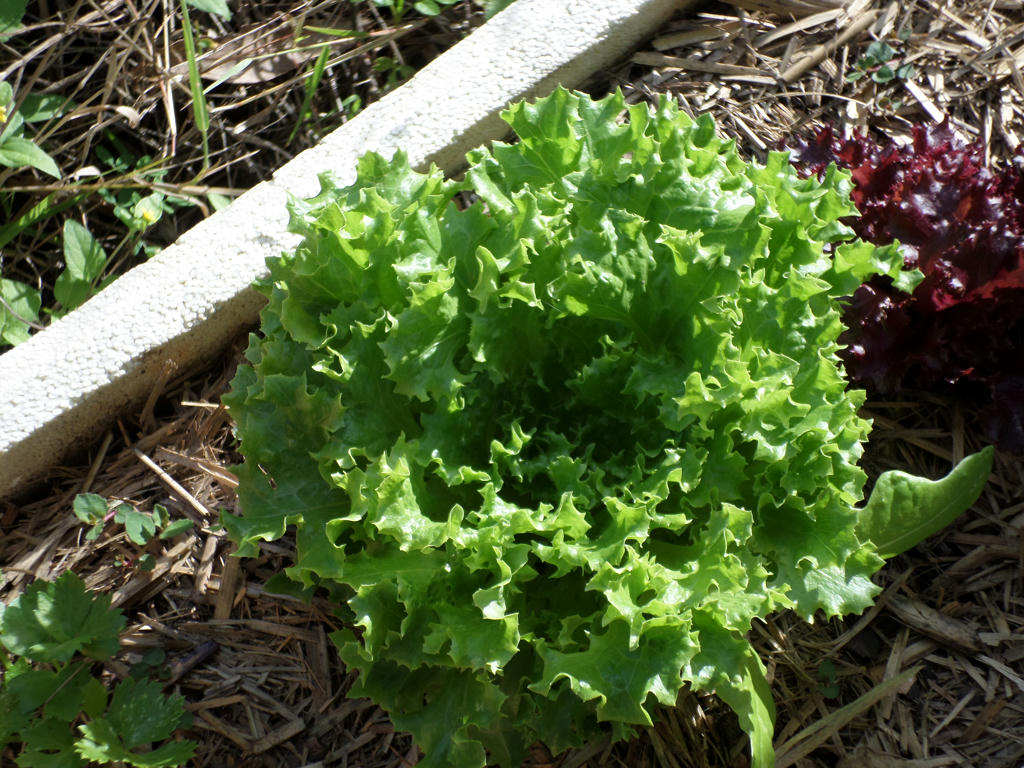 Leaf lettuce
I also have lettuce to eat, which has been nice with bacon and egg wraps, drizzled with Caesar sauce. Of course, what goes better with lettuce than tomatoes? But I am eagerly awaiting their blush of red to show.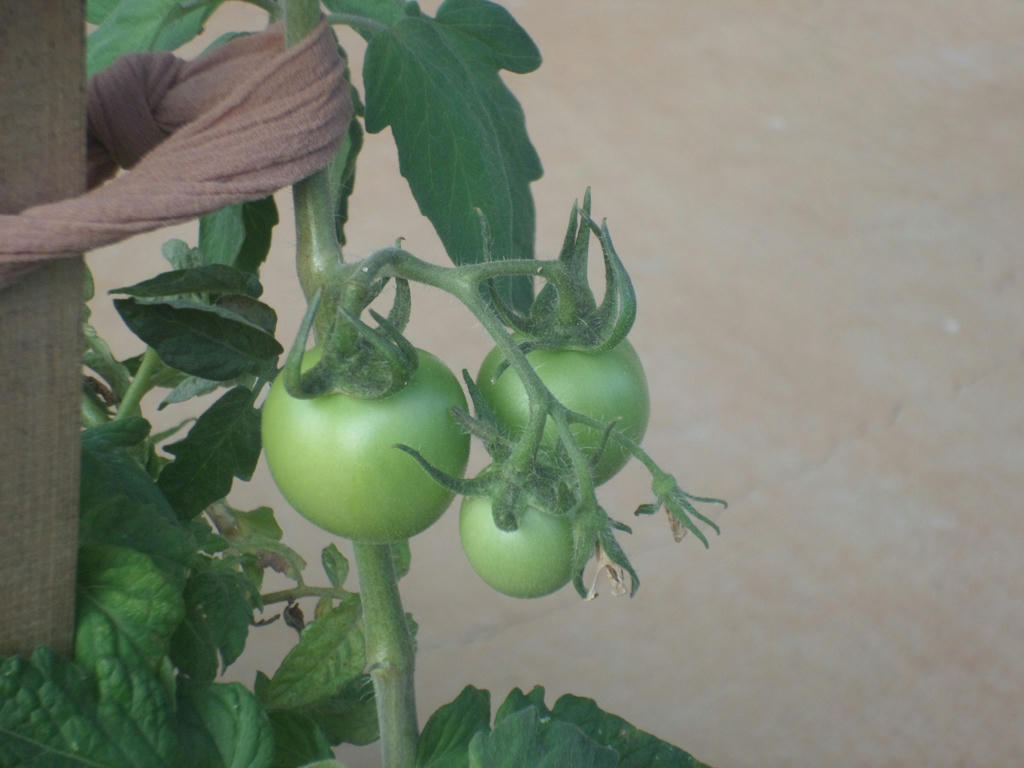 Volunteers
All my red tomatoes this year are volunteers. I transplanted a few into containers, like the one above, but many have sprung up in the vegetable bed all by themselves. If they weren't in the way of something else, I simply staked them, and waiting for their plentiful bounty to start flowing.
Speaking about volunteer plants however, I have a really interesting one to share.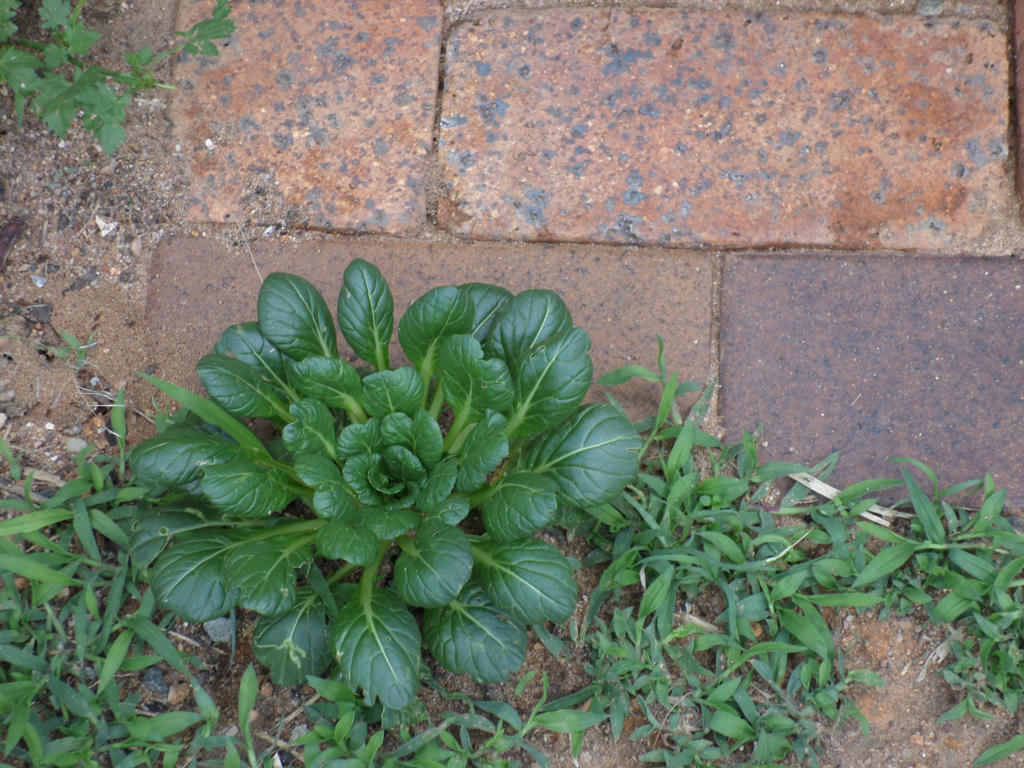 Another volunteer
This is Tatsoi, and it sprang up near the paving I laid a few months ago. It's a very strange thing for Tatsoi to be growing this time of year, without going to seed. All my others have. I'm amazed how this one plant popped up, by itself, and it doesn't even get watered. Plus it also gets the hot western sun in the afternoon.
Needless to say, when it does go to seed, I will be collecting it! Growing at the corner of the paving, made it so much easier to avoid walking on it too. What was that permaculture principle, about edges? Was it use edges and value the marginal? Well yes, this Tatsoi, certainly seems to be exploiting that principle.
I love volunteer plants and I especially love collecting their seeds. More on seed collecting in another post.