If there was ever a lesson plan 101, of how to make a mountain out of a molehill, the first chapter would have to be titled, "simple life". This quaint, little molehill is inconspicuous at first, giving a sense of security, that molehills aren't that big of a deal. Unless those molehills are attached to a warren of holes, and you have to dig them up, one by one, leaving a huge pile of dirt afterwards!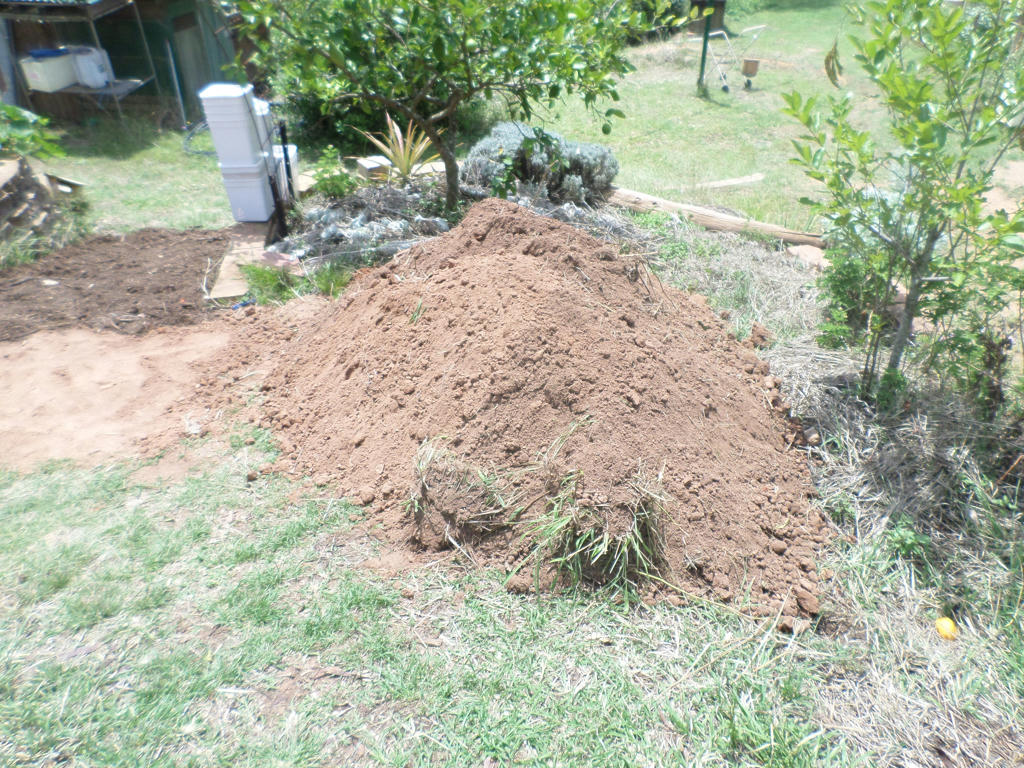 Start with a pile of dirt
Take, Exhibit A, for example. We are not digging up molehills, but displacing excess dirt from Exhibit B, instead.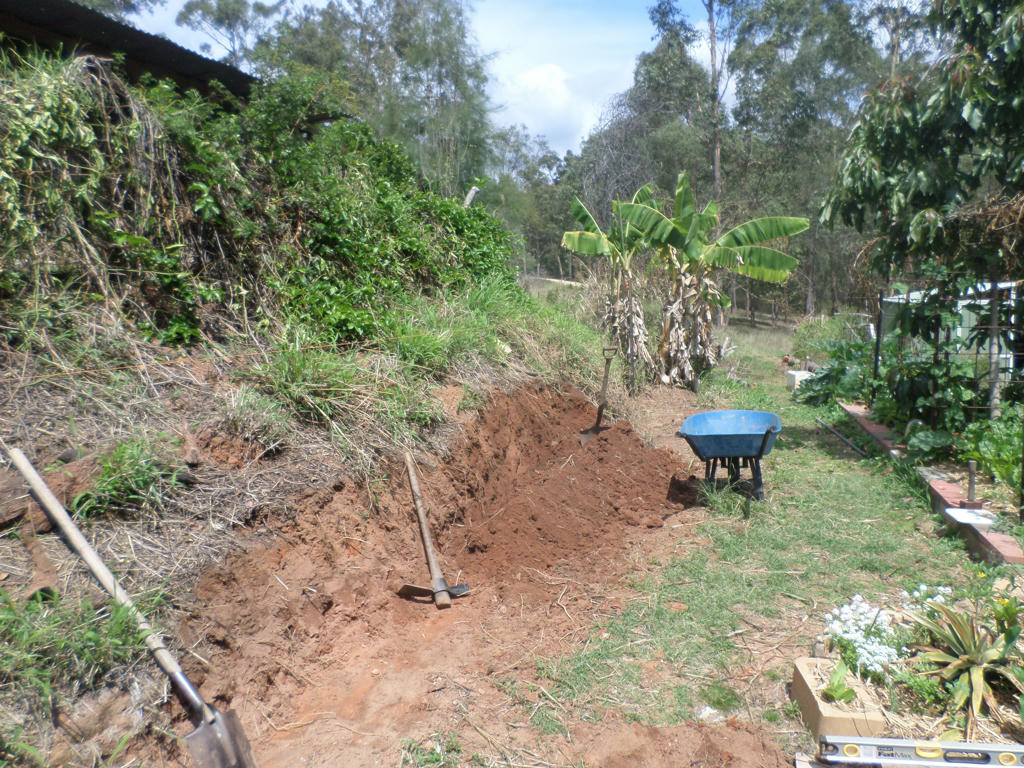 Then add a wall
What is Exhibit B, you may ask? It's where we are starting to build another retaining wall, so we can expand the vegetable growing area. This alone, would be simple enough to deal with, but then enter, Exhibit, C: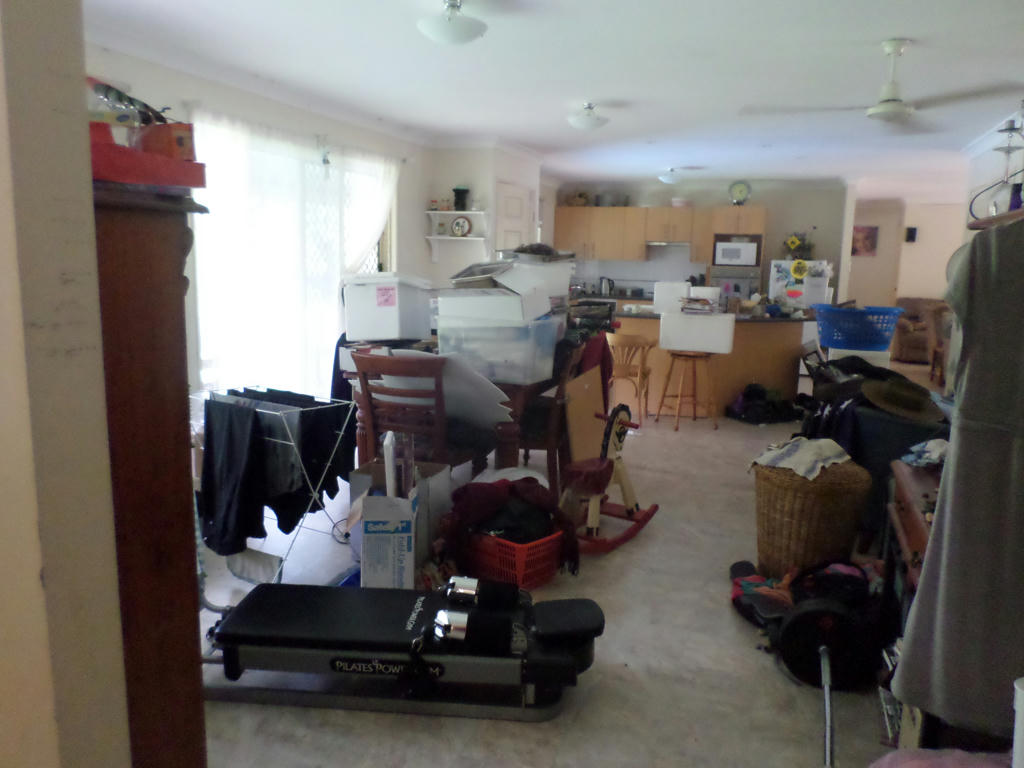 Mix in, the spare room
This is the mother of all molehills, because Exhibit C, is the contents of the "spare room", spread around the rest of our house. Oh, this "spare" room is cleverly deceptive, as its where you tend to keep all your "spares", that won't fit anywhere else in the house. They're harmless, so long as they remain in the spare room. But if you ever have plans to use these rooms again, out comes another pile of proverbial doo-doo to deal with.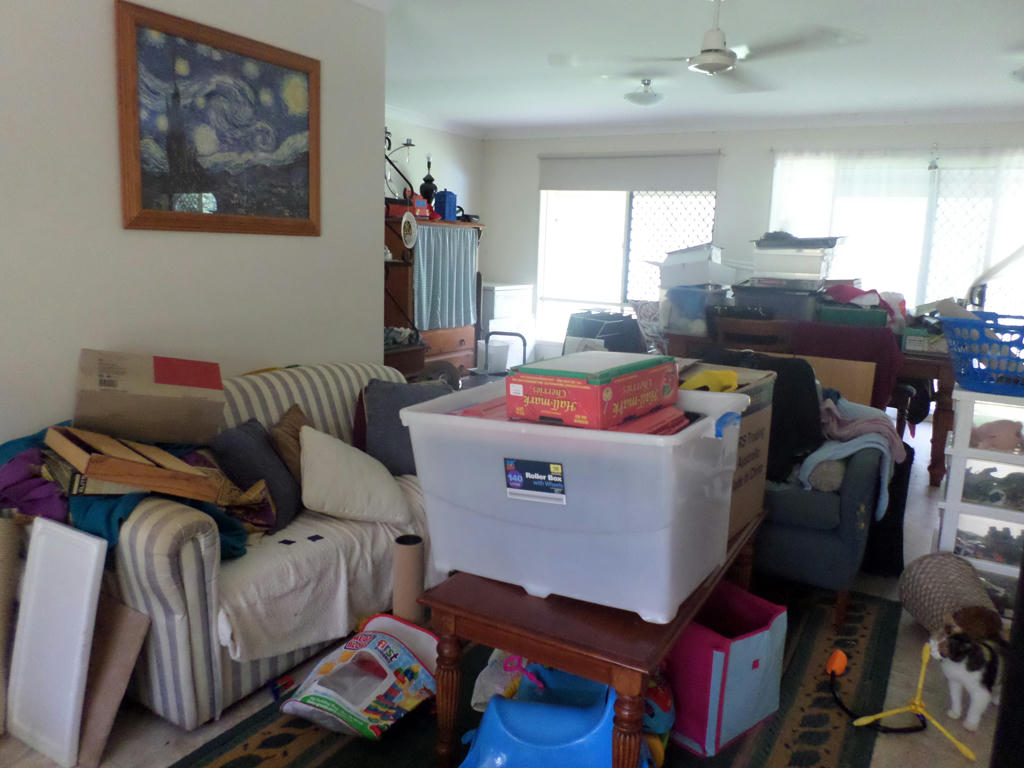 Line the rest of the house with "spares" too
This has been the reality of our household, since early November. We started the wall project first, then the rain set in, which put those plans on hold. So we started to remove the contents of the spare room, into the rest of the house. Why would we suddenly decide to do this?
Well, the spare room, is not all we're dealing with. That would be too much like a quaint molehill. This has to be a proper mountain, something you need climbing gear for.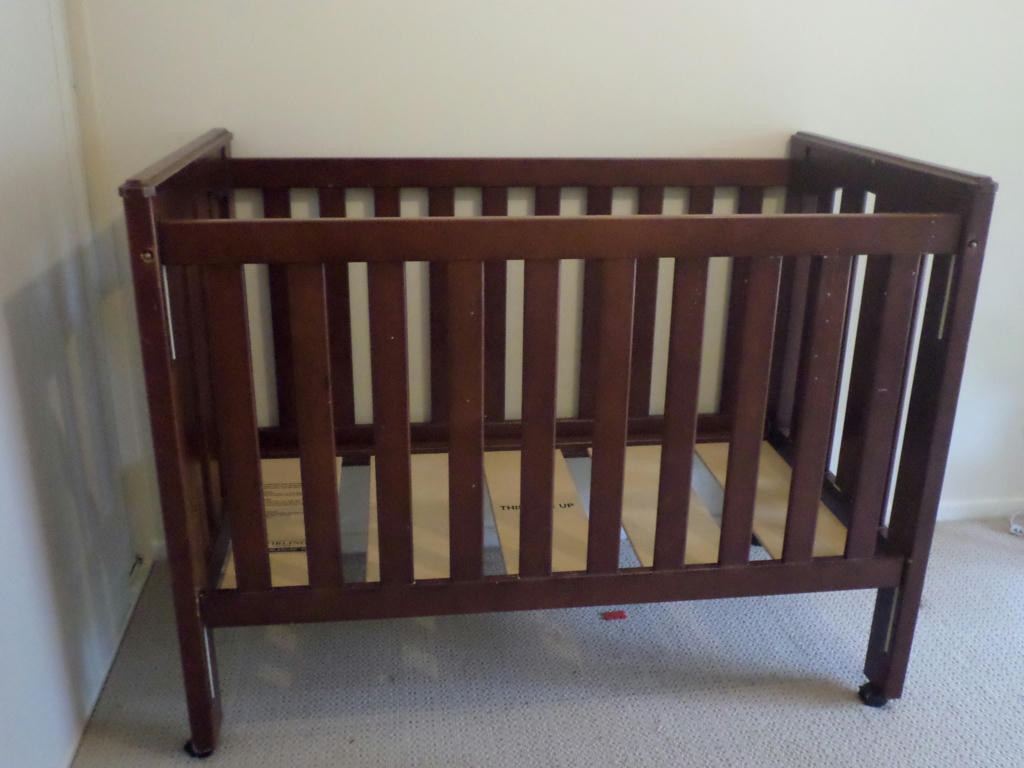 The lynch pin
Maybe that's something us parents have to concern ourselves with (climbing gear, that is) because our son has now developed the skill, and curiosity, to climb out of his cot, all by himself. What did we expect, at two and a half, years of age? Because with this new dexterity our son has discovered, comes the reality, he's sharing the room with my sewing/crafting hoard.
I've seen pins, needles and scissors dragged out, and I count my lucky stars he didn't decide to stick them into the power socket. This situation had to be addressed in a serious way. So two rooms had to be gutted and reorganised, leaving the rest of the house in chaos. But haven't we made some progress though...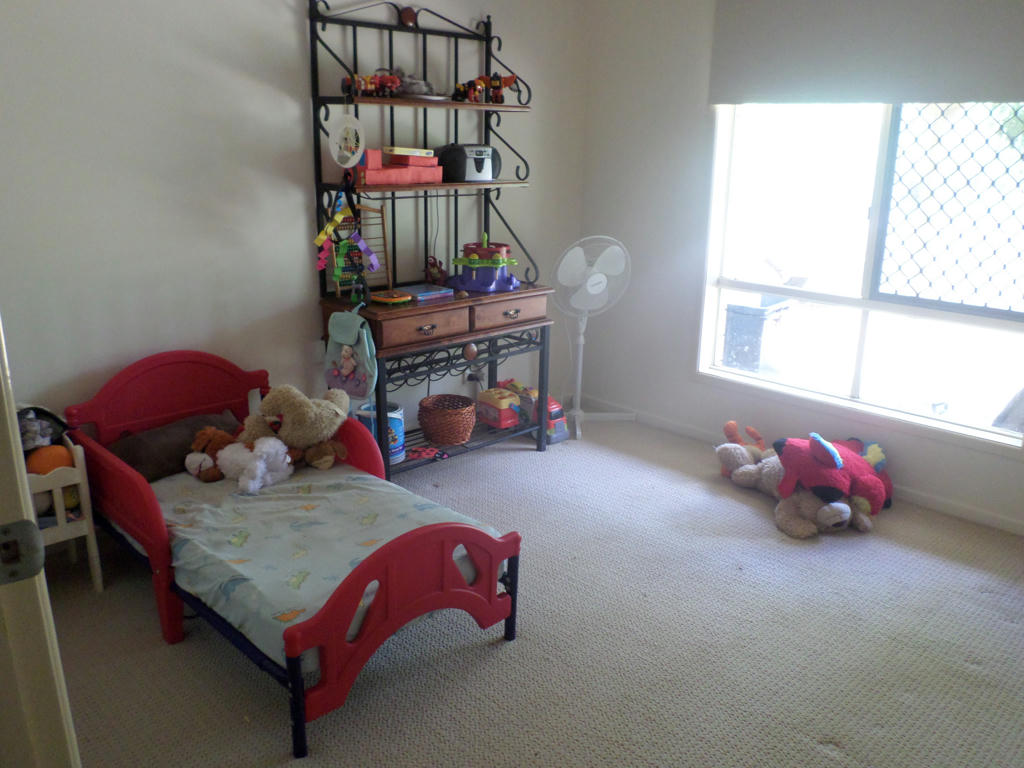 A safe place for little people
Our son, has the most spacious room in the house at present. He loves it, as we hear him waking in the morning, with a squeal of delight, that all his toys are in his room now. There is no longer a hug pile against the wall, which he knew wasn't allowed to be touched. We feel relieved too, he can now escape the confines of his new toddler bed, and be curious without too much risk involved.
Don't ask about the rest of the house though, as its still a work in progress. But this is the reality, I'm sorry to say, of living the simple life. There is no borrowing money, to build an extension or a much needed garage space. We could really use these right now! Truly, everything is piled upon everything. You've just got to live in a rollicking mess, from time to time, and still find a way to go about your daily business, like a sane person.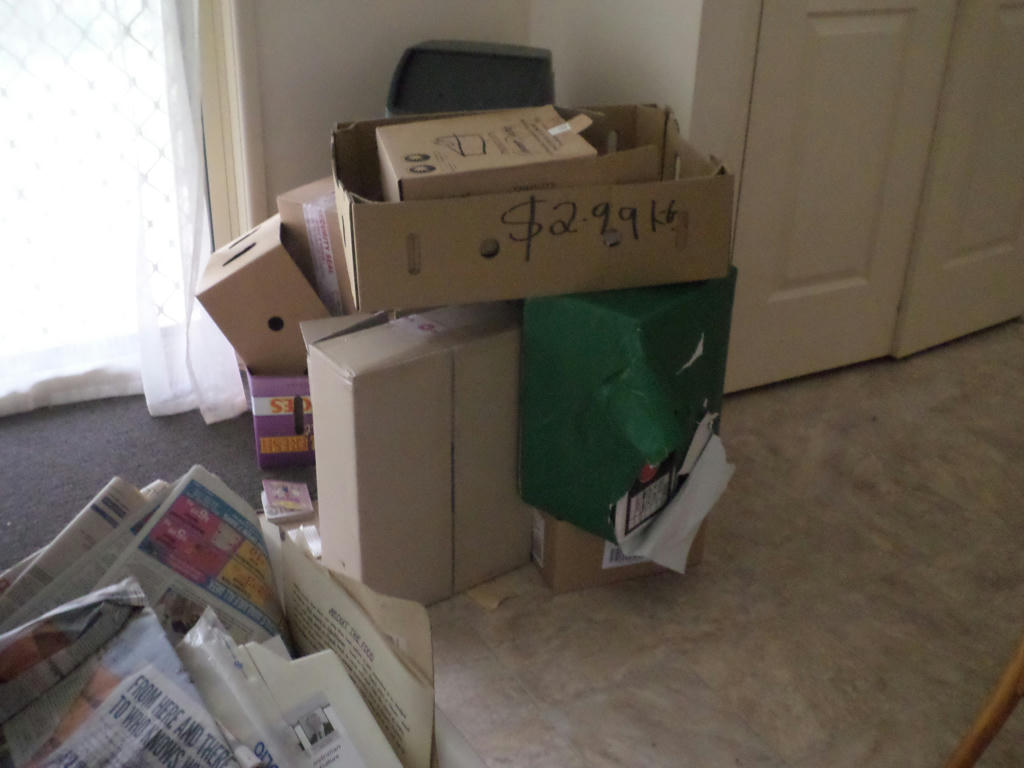 Things to be recycled
We've had to share the dining table with stuff, until we've been able to sort through other stuff. Sometimes I just want to make dinner, without something falling off the bench. Or if I'm in a hurry to get things done, I hate having to play dodge the boxes and still find I collect something with my toe anyway. This is not my element. But its the necessity, dictating terms at the moment. There are plenty of good things to come out of this process though.
Like the realisation, the "spare room" was really being used to put things, we didn't want to deal with. It kept our inner hoarder appeased, even if secluded to one room. We fed it occasionally so it didn't have to leave completely. Well, there's nothing like running out of space, to force the choice of what's worth keeping in your house, and what isn't.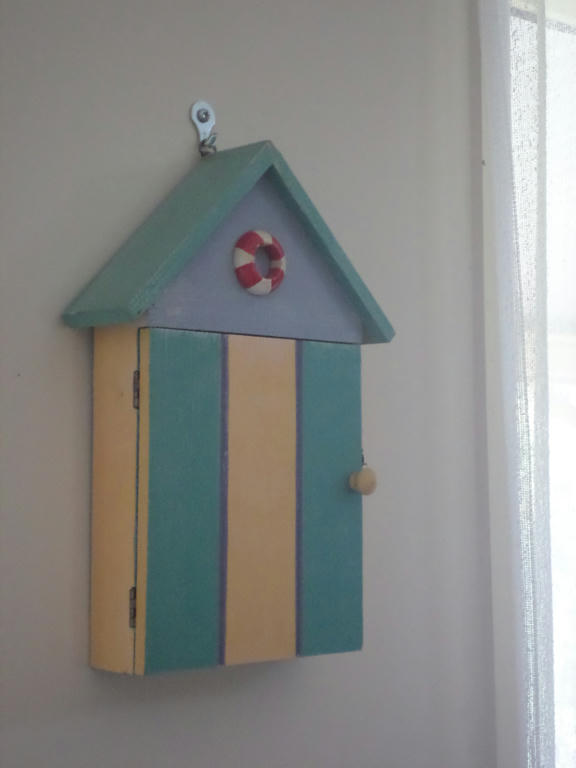 Go up!
So as I search for more room, I find I am hanging things which have never seen a hook before. This is a spare key holder, which holds all our spare keys. Not for the house or cars (those keys live somewhere else) but all those spare ones which came with other items.
I don't want to throw those keys out, in case they open that stray box or padlock which suddenly turn up. This key holder, formerly took up bench space, I no longer have available. So up it goes.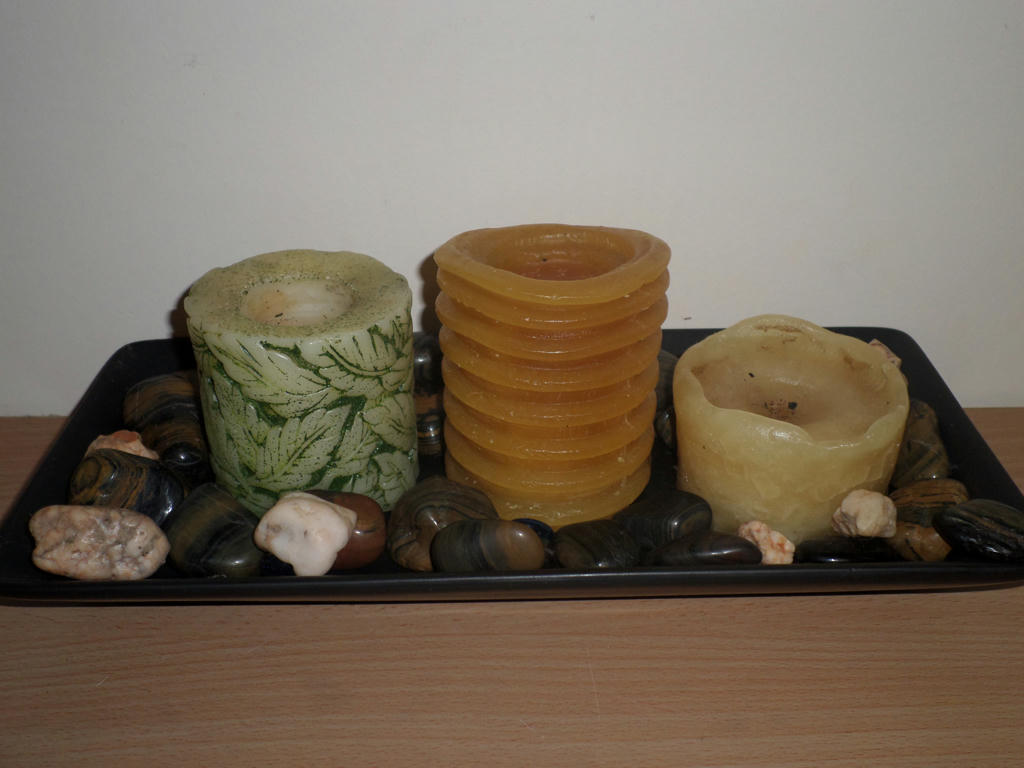 Practical items
I have also discovered I prefer the large candle holders, as they're more economical. Tiny tea lights, while cute and romantic, don't throw a lot of light and run out, relatively quickly, for the price you pay. In a power outage, you want something to throw enough light to prepare food by, and last a while.
So I've ditched all my tea light holders. Some were beautiful, bent wire sculptures, but just not practical or economical in the long run. If I'm going to live with limited space, I want it for things I actually WILL use, not what looks pretty on a shelf.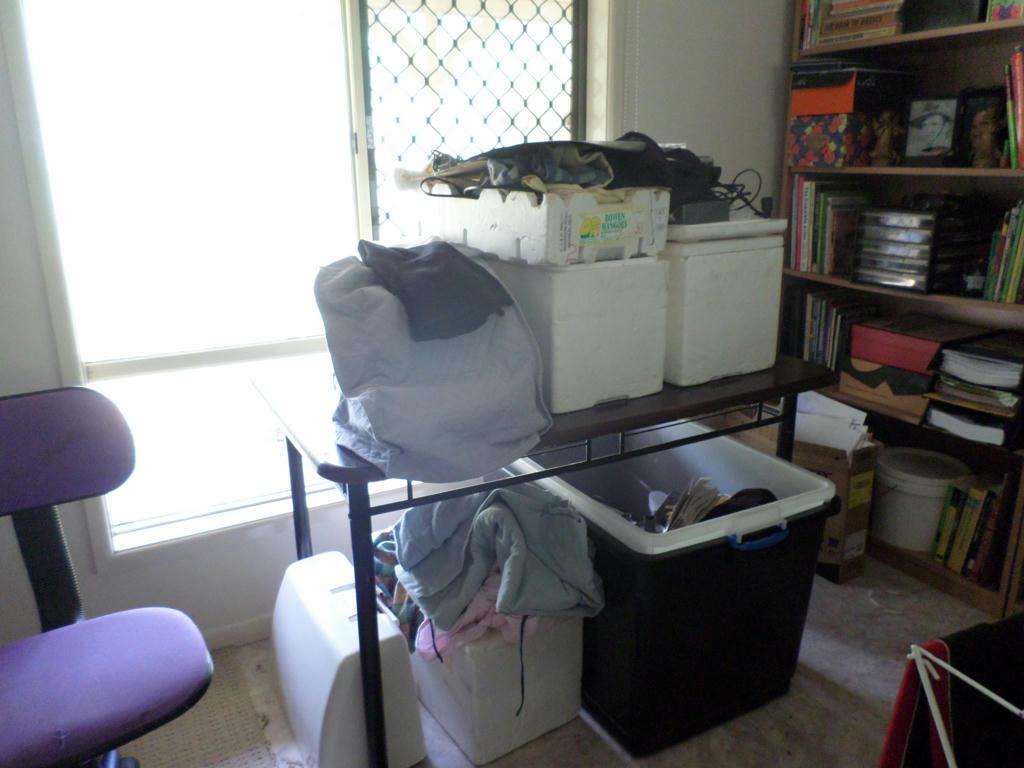 Some sewing stuff
I've also learned, that since all my sewing gear has been brought out of hiding in Peter's room, I am sewing more. I repaired some of my husband's work aprons recently, and I have a pillow re-covering project, in line, next. This has made me rethink how I had my former sewing room, before Peter came along. It was too small, for what I had to do. I remember bumping into things, just to move about.
It makes sense therefore, to use the living area as my new sewing space, with a dedicated cupboard for all my gear to live. It gives me incentive to keep the dining table clear to use as well.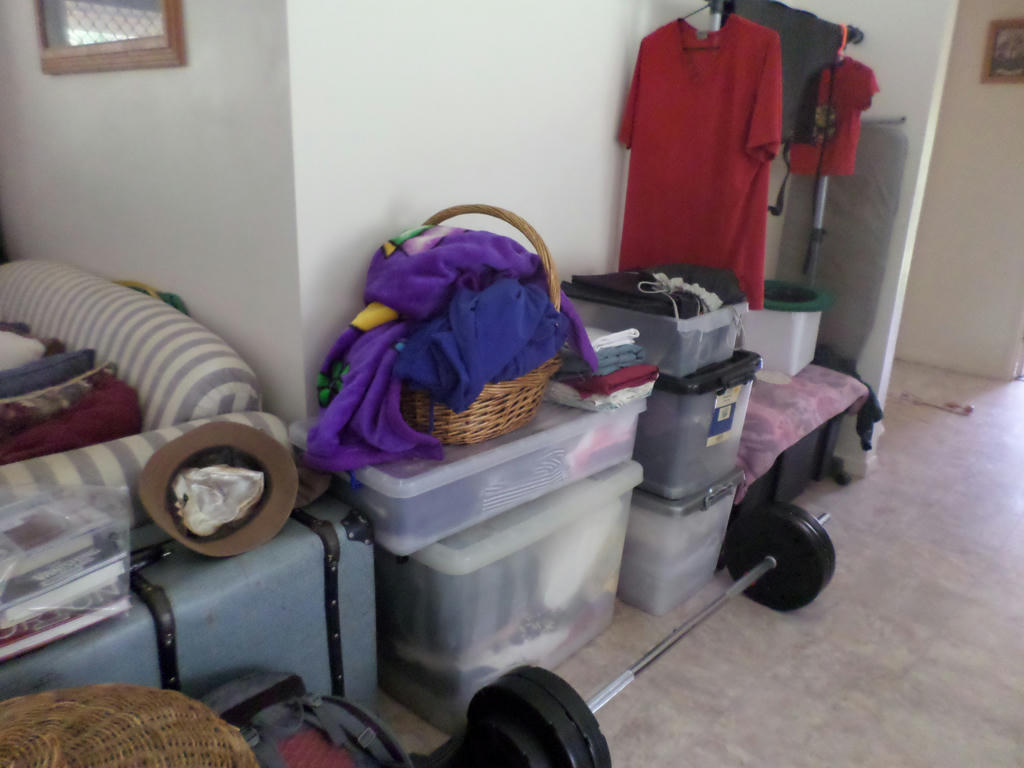 More sewing stuff, where the new built-in, will go
Realistically, we can spend the money building a built-in cupboard, instead of considering extensions or garages. It would be nice to have those things, but they aren't a high priority, compared to the vegetable growing area. Besides, I only want to keep things I will use, and a four bedroom house,
should
,
be large enough to accommodate our growing family. We will reorganise until it works.
So my ode to the simple life is this...there will be plenty of time to uncover a lot of mountains under those molehills. But they shouldn't set you back,
completely
. We're two weeks into this particular mess, with no real end in sight. But we're dealing with the pieces as we can manage them, and its a life not wasted on wanting more. We're together, we're happy and sometimes exhausted too - but isn't that diversity, what makes for a rich life anyway?
Did I mention we're hosting Christmas in a months' time too? Christmas is the perfect time for miracles, though, right? ;)