My name is not Wally, and I don't have a red 'n white skivvy on. But there has been some serious mojo withdrawals going on lately. Perhaps it had to do with the fact, David and I planned to have a sloooow two days off together. Sarah is on holidays so no school-hour rush, and we're stocked with food, so no trips needed into town for groceries. We were going to spend those two days, David had off work, planning how we'd spend Easter.
Well, David's car got a flat tyre on his first day off. No problem, we'll deal with it the next day - when we also had an appointment with a solar specialist at home. We're not getting panels installed, just doing research. But then our cat got attacked by another cat in the afternoon, and David had to now get his car tyres replaced, take the cat to the vet and I had to try and cancel the solar specialist appointment.
Of course, I wasn't given a contact number and I forgot to ask for one. Nothing showed up on the google search I did on the company, until 10 minutes before they were due to arrive. I had to search for about an hour on the internet, while juggling a rambunctious baby and a cat that was demonstrating more distress, as David and Sarah tended to her before rushing out the door together.
David's one flat tyre, became 4 new ones. Our cat was mercifully treated and able to come home, and I managed to juggle a rambunctious baby (will he ever sleep through the day again) while trying to pay attention to the solar specialist I couldn't cancel the appointment for. Oh and there was the major clean-up of sawdust shavings Peter managed to get all over the floor and himself, from the guinea pig cage, whilst I was distracted with the aforementioned specialist. I looked like a petting zoo keeper, as I saw the lovely visitor out the door, with my sawdust covered skirt and baby animal clambering at my shirt.
I'm not complaining, but piled up like that, life can sometimes suck the mojo right out of you.
I think I'll try curling up in the corner to recuperate with the cat. She probably had the worst day of all.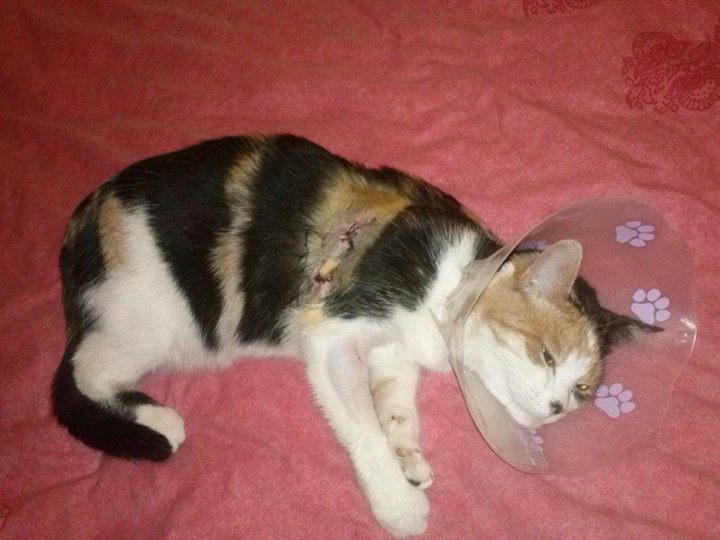 Click to enlarge image, if you're not squeamish
Love you lots, Muesli, our miracle cat with a thousand lives. Now schooch over for some cuddles.