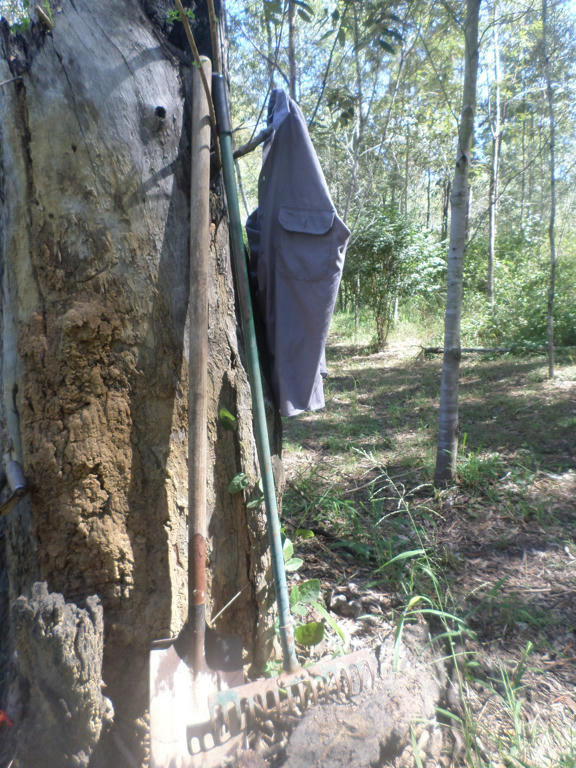 Click images to enlarge
So what can you do when there's not much money, but land is at your disposal? Well, you can make dirt, or you can just as easily, move it. I can't think of anything more enjoyable. And that's exactly what David embarked on doing today, with his trusty hand tools, a bit of sweat and even the shirt from his back!
We like to keep our work simple.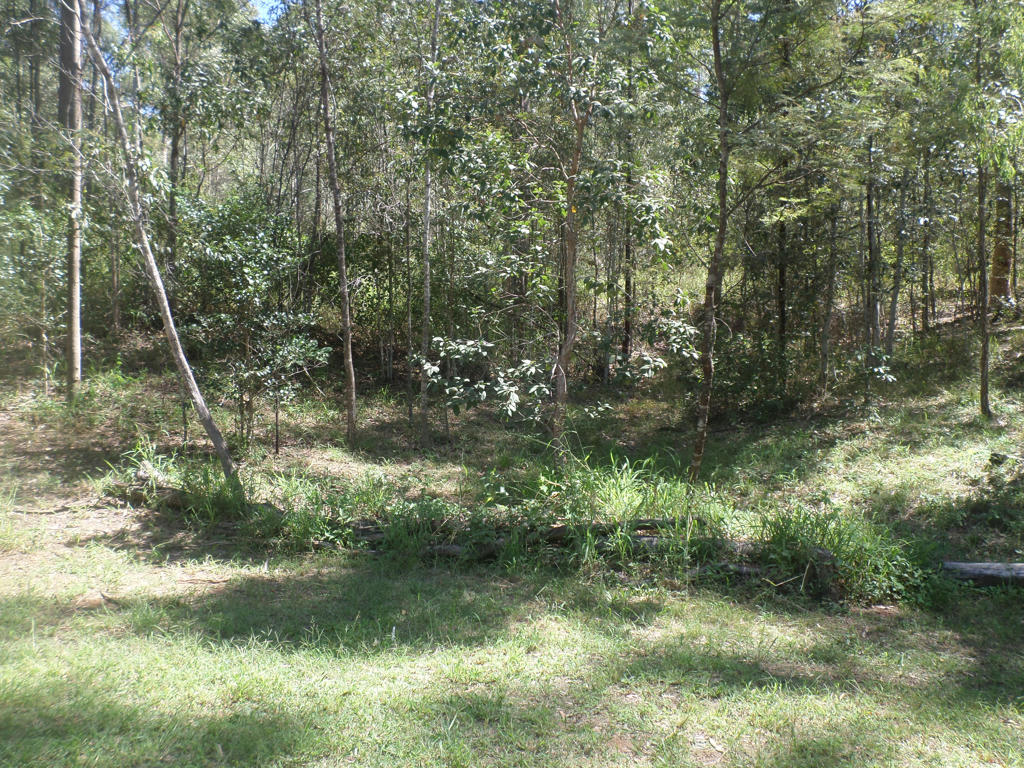 The beginning
We're renovating a patch of land, which we originally dumped tree trunks on and attempted to grow some volunteer plants from our compost. It made some lovely soil, grew some grass and even sheltered insects from the sunlight, but nothing which originally sprung from the compost, actually lived very long.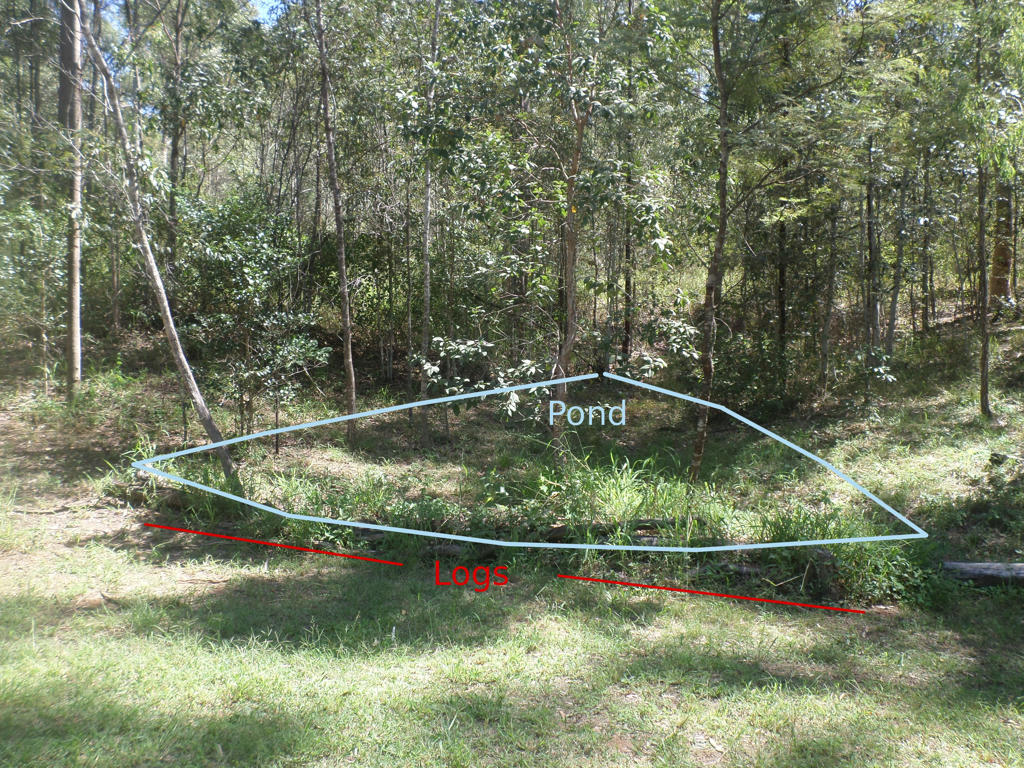 The plan
That experiment was a dud, but we realised the area would make a great pond - something we could direct water from the main gully to. But first we had to pull up those decaying logs. By we, I mean,
David
.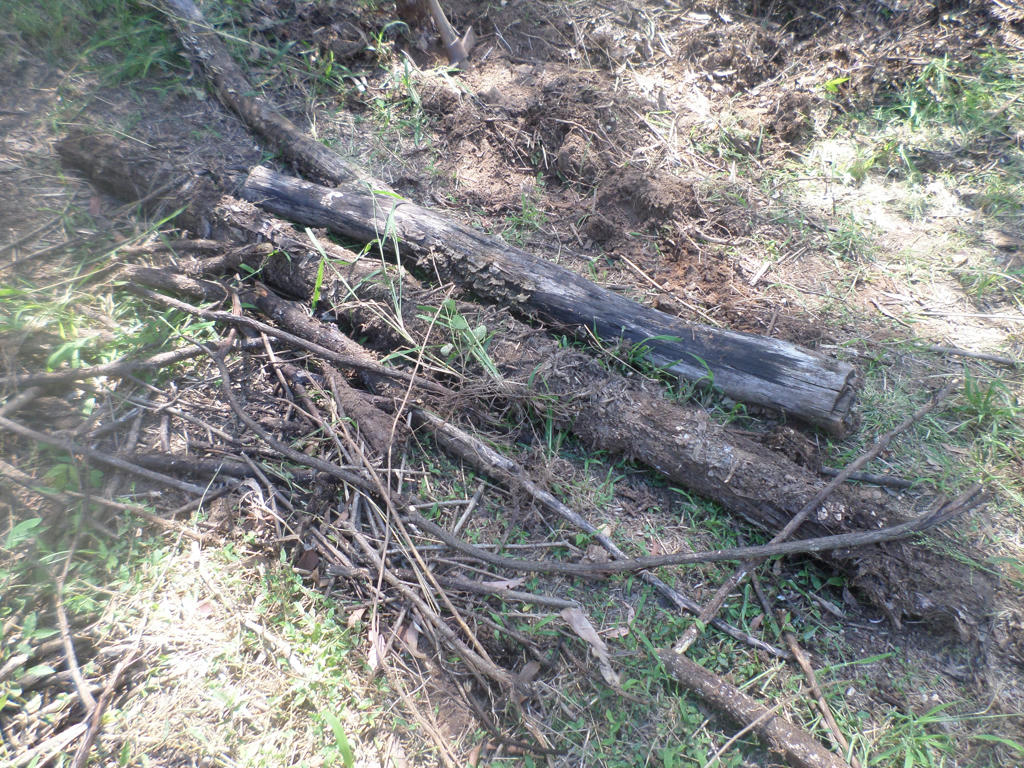 Termite candy
I was able to steal a few moments from Peter napping inside, to take some pictures of David's handiwork. There were logs in various stages of decay, as well as plenty of broken down sticks. There were even some amazing fungi growing on some of the logs. So many things happening in this area we disturbed just a few years ago.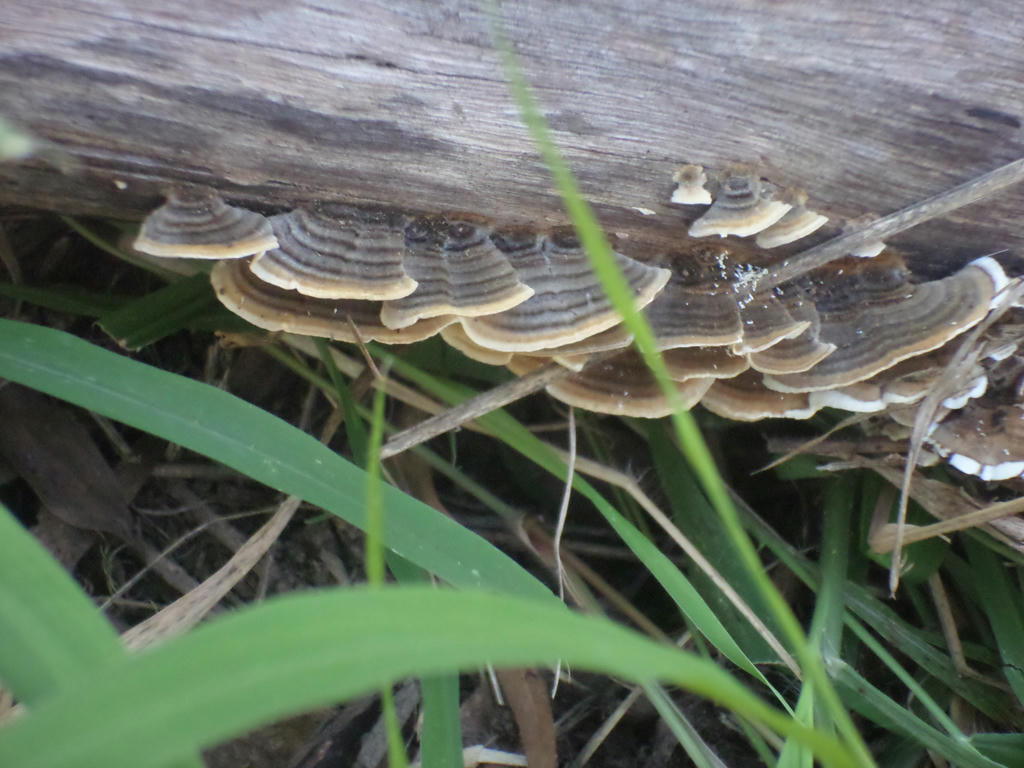 Natural bling!
As David moved the logs out of the way, there was some fairly good topsoil to put aside for later.
I like how we mostly use hand tools in our land work though. It takes a lot of time, versus the mechanical methods available, but its cheap and if you look after your tools, they never break down.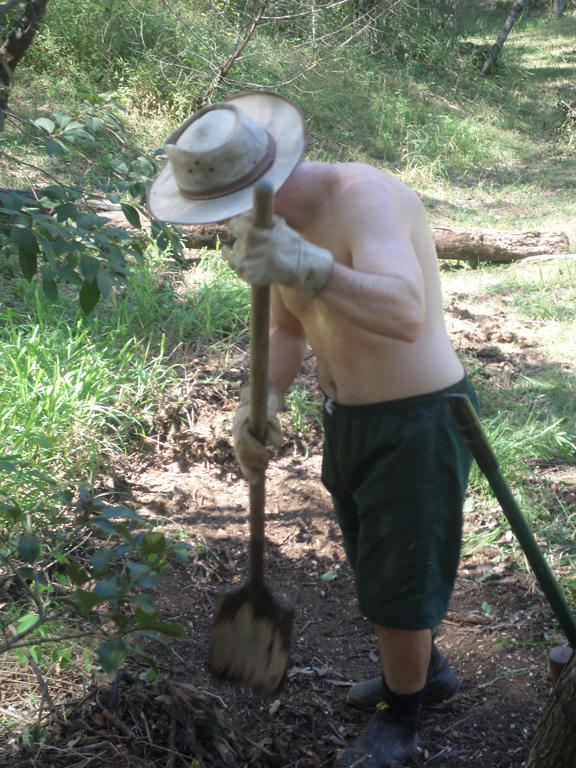 A great way to spend the day
The other benefit of using hand tools, is that it helps keep your own organic matter, maintained. We once used hand tools because we didn't have the money for mechanical ones, but now its something we're happy to adopt - not as an inferior substitute, but as a means to connect with the soil, and our own bodies.
In turning the soil, we turn our muscles and both are the better for it. I get my workout, when I dig the swales.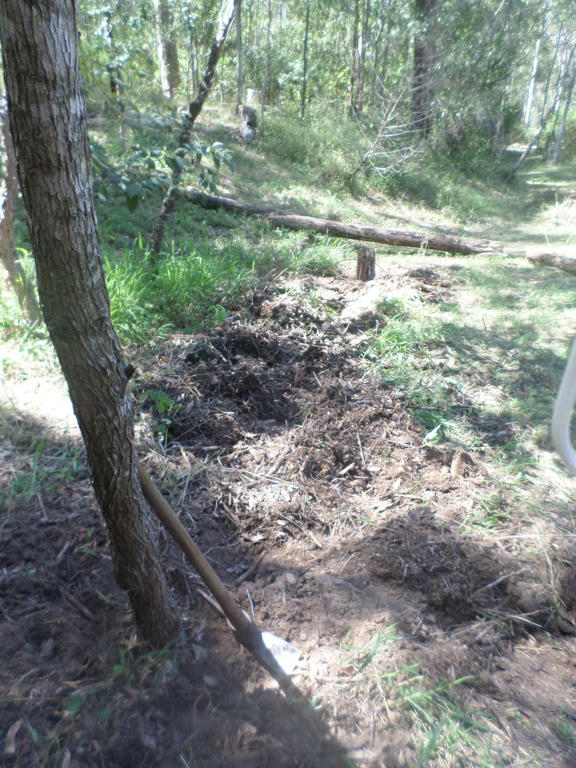 Before
So this is what the area looked like, once the pile of logs was removed. David got busy with the shovel and carted that topsoil away. Then it started to look a lot more civilized.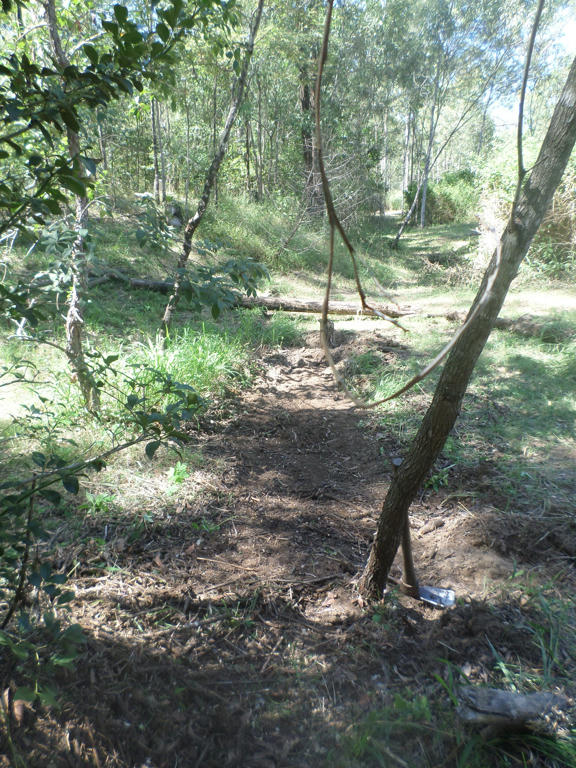 After
Because we're digging this area down, to make a pond, these small trees will have to go. In fact, quite a few trees, outside this picture has to go. But its all for the purpose of making something better. We'll plant more trees of course, and building a place to hold water, will increase the network of living organisms.
The tree leaning in the foreground, was the first one to meet David's
mattock
.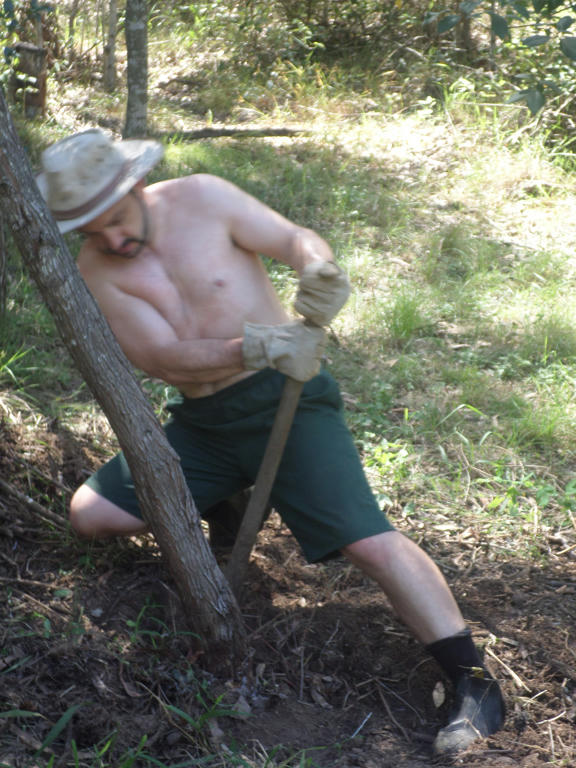 It was the second tree, I have since been informed, was responsible for breaking the mattock! Its not called Australian hardwood, for nothing. What was I saying about hand tools never breaking down?
That mattock has seen some mileage though. We bought it, when our first mattock split its wooden handle. After we got it repaired, we had two invaluable devices for moving dirt with. They helped build the many retaining walls around the property. It's done some serious dirty work!
But now it seems we're back down to one. I know any mattock we buy to replace it though, will be money well spent! David's back out there with some shovels an axe, and determination to take out one more tree, before the day's through.
As an interesting side-note, when I looked for labels to put on this post, I found Health, Land and Water management. Seeing those three things together, I realised, that's what its all about - our health and that of the land and water. We come outside, nearly every day, for those very things.