As to be expected, my summer garden isn't as promising as my spring one was. Everything is dying back, due to sporadic watering, bouts of heatwave, and pests who see the stress of plants, and move in. So my garden beds went from looking like this, in the second month of spring...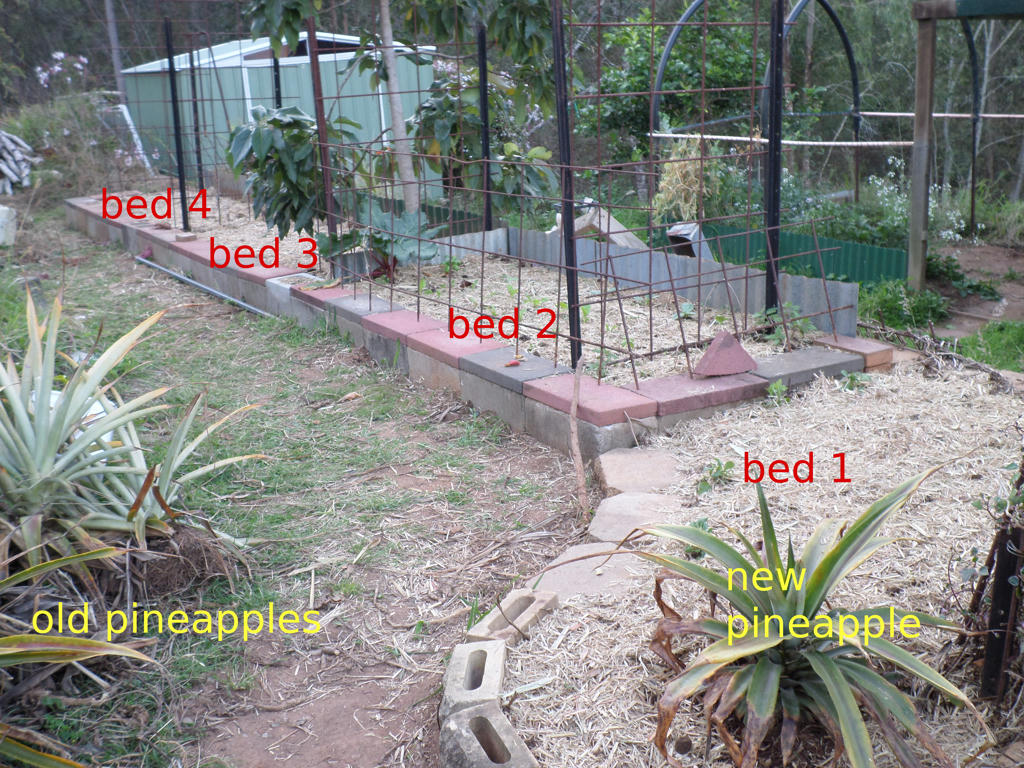 Neat and tidy in October
To looking more overgrown, but surprisingly, with very little produce to show for it now.
Same row of beds in February
I harvested sporadic tomatoes, beans, beetroot, radishes, rubarb, zucchinis and some beautiful spaghetti squash, as well as herbs, over the growing season. But it was a battle all spring and summer to keep the garden hydrated enough.
What you can see in the image above, are the flowers of my Jerusalem artichokes.
Jerusalem Artichokes
The rhizomes, of which, will be ready to harvest in late autumn/early winter. I will also have my Yacon, which will be ready to start harvesting around the same time. So there's more to come from my vegetable garden, but this season hasn't been without its problems either.
Pumpkin on a hot tin roof, to cure the skin
This is our Kent pumpkin and is one of our favourites to eat. This was the largest one to be produced. I have another four smaller ones to harvest, and that is all I've managed to grow, on three separate vines. If I were to boil it down to the major culprit of such a dismal crop, it would be a lack of balanced nutrients in our soils. My cucumbers barely managed to produce two fruits, on 4 separate vines, either.
So my task is making better soil improvements, but also exploring a better way to water - as it was a full time job to cart water by hand, to the garden every day.
Spaghetti squash vine
These are the last of my spaghetti squash, and I will be sad to see them gone. They were a delicious meal to have with a white sauce, made from coconut cream and chopped home grown herbs. This will be a stayer in my vegetable garden, for years to come. I just have to work on improving the soil, so I can get more to produce on the vines.
Blossom end rot, was the culprit. I was actually able to get these two remaining fruits to produce, after delivering a milk spray to the leaves of the vine. I also added some magnesium, by watering the base with an epsom salt solution. That intervention, saw these two fruit emerge, which makes me very happy. Especially since I'll be having spaghetti squash, for dinner tonight!
Nasturtiums
My nasturtiums are still producing flowers, which is great to see, in an otherwise shrivelled bed. As the season has progressed and I've gotten busier, I haven't been able to water as regularly as I was. Even the rains we received, while welcome, wasn't enough to water deeply into the soil.
I'm going to completely rethink this area, as some interventions are required, if I want to produce food on a consistent basis.
Summer fruits
Here is the spaghetti squash for dinner tonight, but also two mangoes I picked from our tree. Its a tiny tree and I wasn't expecting much from it, but its produced 3 fruit. One is already ripening but the other just fell off the tree, as I went to inspect it. It may, or may not ripen on the kitchen bench.
I will give the other mango a try, after a few days on the bench. This was a lovely surprise to find in our garden. Especially since our avocado tree, managed to drop all its developing fruits.
Space invaders
This is why we had problems growing vegetable beds in this particular area, before we put in the retaining wall. The passionfruit vine would invade from above. We keep saying we're going to take out the passionfruit vine, but it does give us food we can eat, as well as the chickens, so its tough to consider its demise.
Maybe this winter? I have plans to put in beds under the wall, but hopefully they won't be ordinary beds. I don't want to soften the soil under the wall. So it will have to be raised beds, with a barrier, to suit this area.
Bananas and herbs
The banana plants we rescued, from having to cut the
parent tree back
, have gotten so big, I've had to transplant some into boxes. We should be able to get these in the ground, in the next few months - hopefully. We have to cut out some lantana first!
Banana trees cut back to make way for retaining wall
Overall, if I hadn't decided to tackle the overgrown garden beds,
back in August
, and turn them into vegetable production areas again, I wouldn't have grown anything. So that can be considered a success! However, what I was able to produce, was sporadic and while utterly enjoyable when available, it wasn't enough to justify the labour involved.
When you tend a piece of land, you have to be able to expect a reasonable amount of calories to come out of it - to compensate for the expended energy. I don't feel I've achieved that. Not YET anyway. But I've learned a lot from this growing season, and hope to change our system to better meet the conditions.