I've been quiet on this blog lately, but it doesn't mean we've been taking it easy. In fact, we have a few projects in the pipelines, which mean deadlines have been set and targets planned. So maybe you can guess what's going on here?
Work site
Obviously something is going on, with that rickety ramp. Maybe another picture, will provide more clues?
Ground zero
This is the close-up of what we're doing, but it's not entirely confined to this place alone. But this is where we have to concentrate all our efforts for now. At this point, November 2nd, is the deadline we have to meet.
Step by step
Of course, with a toddler on site, who'd rather play and help occasionally, it makes sense to build an obstacle course into ground zero. It keeps them entertained indefinitely. Who could resist climbing those stairs and traversing that bridge?
We have David to thank for this brilliant idea, as he remembers loving to visit construction sites (when he could find ways to be undetected) and making a game out of the piles of rubble. So he channelled his inner child, and got creative. It has worked, keeping Peter out of the way of a swinging mattock! Well, most of the time.
The land iceberg
David needs to excavate these tree roots, so he can remove them. We don't trust an excavator so close to our infrastructure, and we wanted to remove the tree roots carefully. Besides that however, it saves us money and we get a little fitter working as a team. We carted 20 barrows of dirt, today! But we've been doing this for several days now.
Making channels
Of course, you've figured we're moving dirt, right? But why are we doing so? I'm happy to report, we should be taking receipt of a second 5400 gallon, rainwater tank in the first week of November. Which will double our rainwater supply.
When rainwater is your only water supply, it's important to have enough. In the nearly 10 years we've been here, we've only had to call a water truck in twice, but we'd like not to do that in future. As the truck has problems getting down our driveway and they don't have a hose long enough to reach from the street.
But we also have two kids, which in next to no time will become young adults. One is already knocking on the door of that venture. While we've always taught them to conserve water, the clothes will only increase in size (meaning more washing loads) and the need for showers will only increase too. So we're excavating, to be ready for November - it all has to happen.
In the meantime, what to do with all that extra dirt? Well thanks to these guys...
Late September 2016
...all fourteen of them, and growing bigger every day! We needed to make some more flat land, to run another tractor on. Logistically, we need to move this tractor twice a day, at the rate they're eating and compacting the ground underneath.
Making flat land though, we can do now!
Facing east
This is just below the house, and it has a gentle slope. But it has dips and plenty of uneven ground. The rain doesn't stay long enough on the slope to sink in, but with the addition of more soil, to level the slope, we can ensure the water doesn't run off as quickly. Maybe then, we can grow some feed for another chicken tractor to run over.
Facing west
I'm reminded of the permaculture principle, to have more than one purpose in your design. So it was nice to realise, as we knuckled down and moved dirt to meet the deadline for our rainwater tank - we were also making flat land to cater for our increase in livestock.
So the pay-off for the labour invested, met two objectives. Effectively, doubling our return. We've also spread the cost of the rainwater tank, to also meet the new feed requirement for the chickens, without spending any more money. It just took our labour and some hand tools.
March, 2010
This is what the slope looked like originally. We forgot to take before photos, but this one from 2010, adequately represents the sloping nature of the land. It remained green in the wet season, but struggled in the dry. I also didn't want to have a chicken tractor, permanently tilting sideways.
So we'll be busy moving dirt and no doubt, building new chicken tractors soon! All this is long overdue, but we've set some pretty good objectives now to meet. In fact, we've also set a deadline, to have all earthworks on the North facing slope (the areas immediately around the house) before it meets the lower gully, completed in twelve months time.
We've got until October 2017, to meet that objective. We're planning to have all that done by hand too.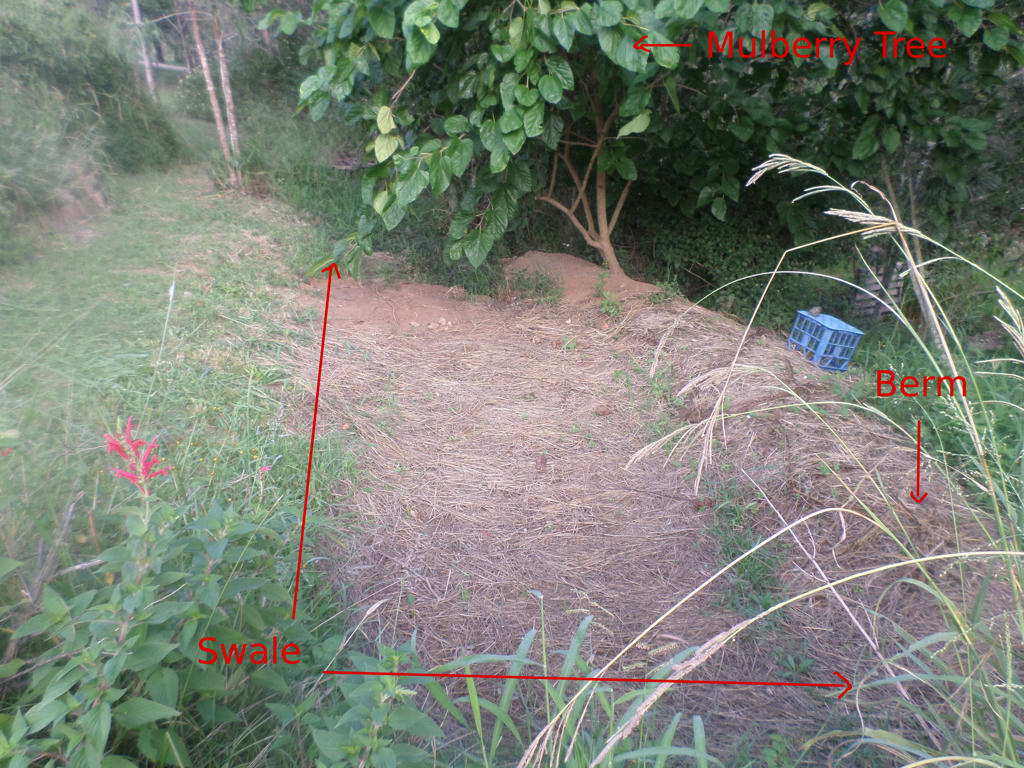 March 2015
Which means finishing
this swale
, started back in 2015, and building the swale underneath it as well. Which will require dumping dirt from elsewhere, as the slope is too steep, to cut into. We need to raise the land to build the second swale instead.
It will also require, building one of the largest hugelkultur mounds we will ever attempt. We're talking several, 40 metre trees worth of mound! We're in our early forties now, so we're still young enough to do these things. But if we keep putting them off, like we have been (simply doing other important things) it will never get done.
So we want to meet the objectives we've set, or at least come extremely close. Setting a deadline helps to keep our time organised better, and our efforts focused. It will be nice to know, all immediate areas around the house won't need more earthworks done, after next year. Any earth moving required elsewhere on the property, can be done at our leisure - which will be more in tune with our ageing process. And we can relax knowing, we can call it quits any time, and it won't effect the areas around the house.
So that's what we'll be up to for a while. I'm looking forward to sharing all the dirt with you guys!!