Okay, so my husband doesn't have many vices - he's not a drinker, smoker or addicted to 4WD'ing! So I don't like to request his remaining vices be curtailed. They're honestly pretty tame, but can sometimes be expensive for our one income family. I'm always trying to find ways to save money.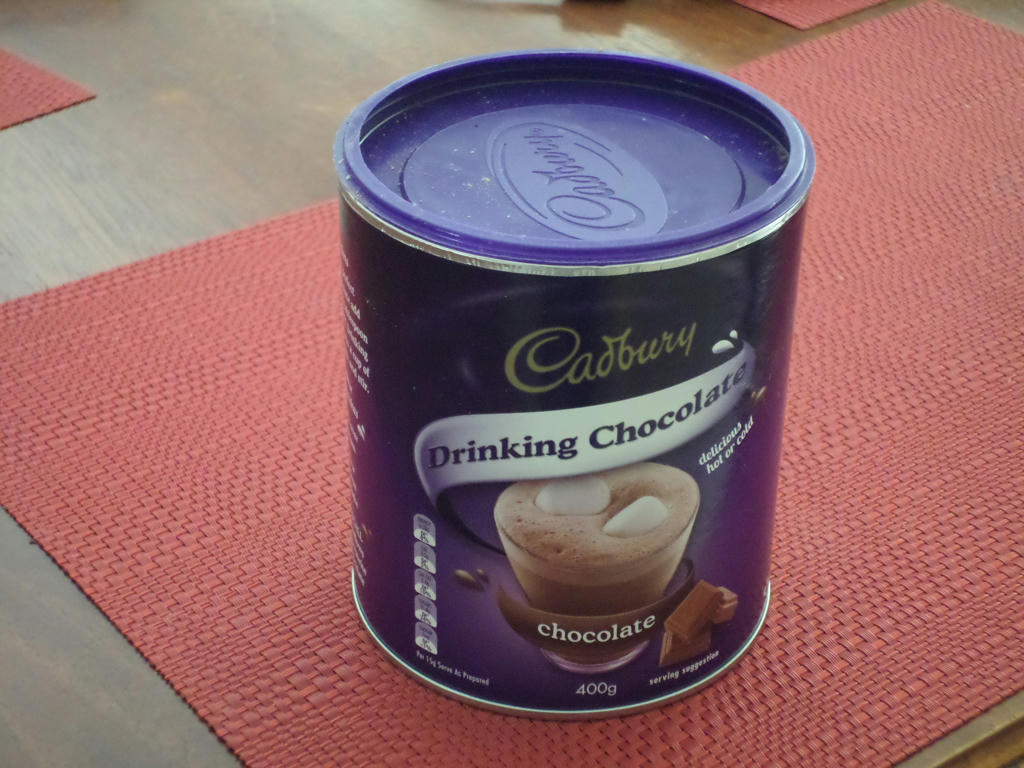 A necessary evil
My husband IS a coffee drinker though, and not an ordinary one - he likes Mocha's, which is coffee, plus drinking chocolate. He actually has two different varieties of chocolate powder in his Mocha's. First is, Milo, made from barley, so is more a chocolate malt powder - its cheaper per gram though, because we can buy in bulk. His second powder however, is Cadbury's drinking chocolate, derived from cocoa powder, and decidedly more expensive per gram.
I was filling up the glass jars, near the coffee station recently (from the main tub above) and I thought to myself - there HAS to be a cheaper way. There just has to be! So I looked at the list of ingredients and realised, I could make it cheaper.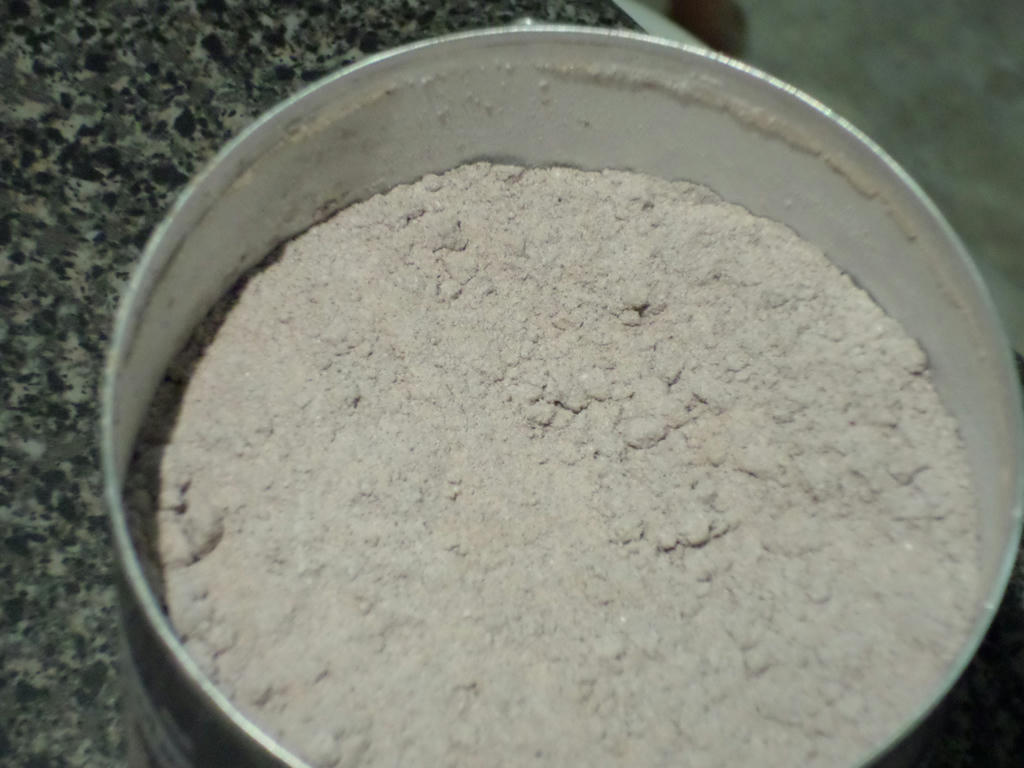 New mix
You may be grossed out by this, so please turn away if you are allergic to sugar (fake sugar, at that) as these were the list of ingredients I came up with. It fills that little 400g tub I normally buy from $5 to$7 (or $3 on special, if I'm lucky).
Ingredients:
*2 cups of icing sugar mixture to 1 cup cocoa powder*
Whiz around in a food processor then store.
Crazy right? But now affordable and no worse than the name-brand variety. David tasted it and said it was just as good! When I buy Cadbury's on sale, its 75 cents per 100g. Using normal prices for the other two ingredients, it works out to around 36 cents per 100g. That's saving more than half price. Why normal prices compared to sale prices? Well, I buy a no-name brand for the other two ingredients listed, which never goes on sale, because its the lowest price all the time.
Best thing is though, I don't have to wait for his name-brand drinking chocolate, to go on sale any more. I can always stock those other ingredients in the pantry. Plus I'm re-purposing the old tub to hold my new premix, making it easier to see what it was.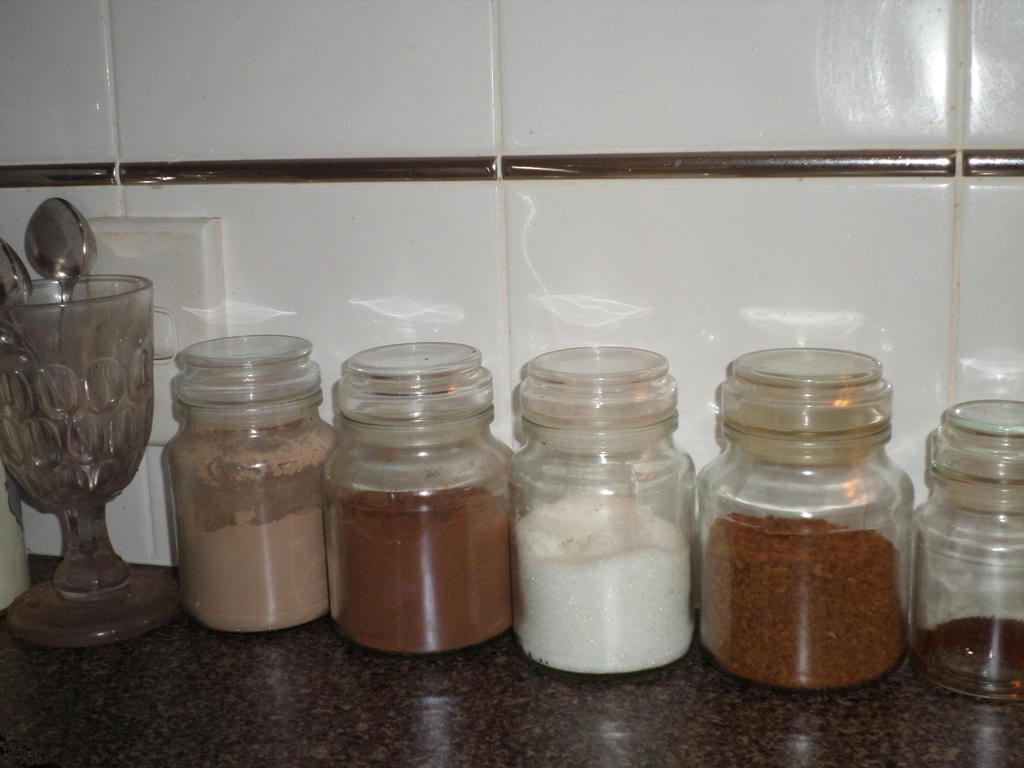 Coffee station with teaspoons a permanent feature
~ because I can save opening drawers
I like to decanter all my coffee brewhaha (
Muh-ha-ha
) into small repurposed Moccona coffee jars, which take up considerably less room on the kitchen bench, than most specialty storage jars would. And its obvious why. Yes, all those containers are for one cup of Mocha. He likes two teaspoons of coffee too, so we buy decafe to reduce the amount of caffeine he has per cup (smallest container on the end).
The way I look at it though, he has very few vices and I'm proud he'd rather a nice cuppa than a coldie (beer) after work. But I've managed to save just that little bit extra in our food budget too.
PS: if you don't have a food processor, or don't want to use the electricity, grab a plain old sieve and bowl instead, mix with a spoon, then store in your favourite jar.