Wowee! Two weeks into winter already, and I'm behind in my garden chores. It's been mostly overcast, with no rain lately (at the time of writing this) but I did manage to break a sweat tidying my potted area, near the verandah.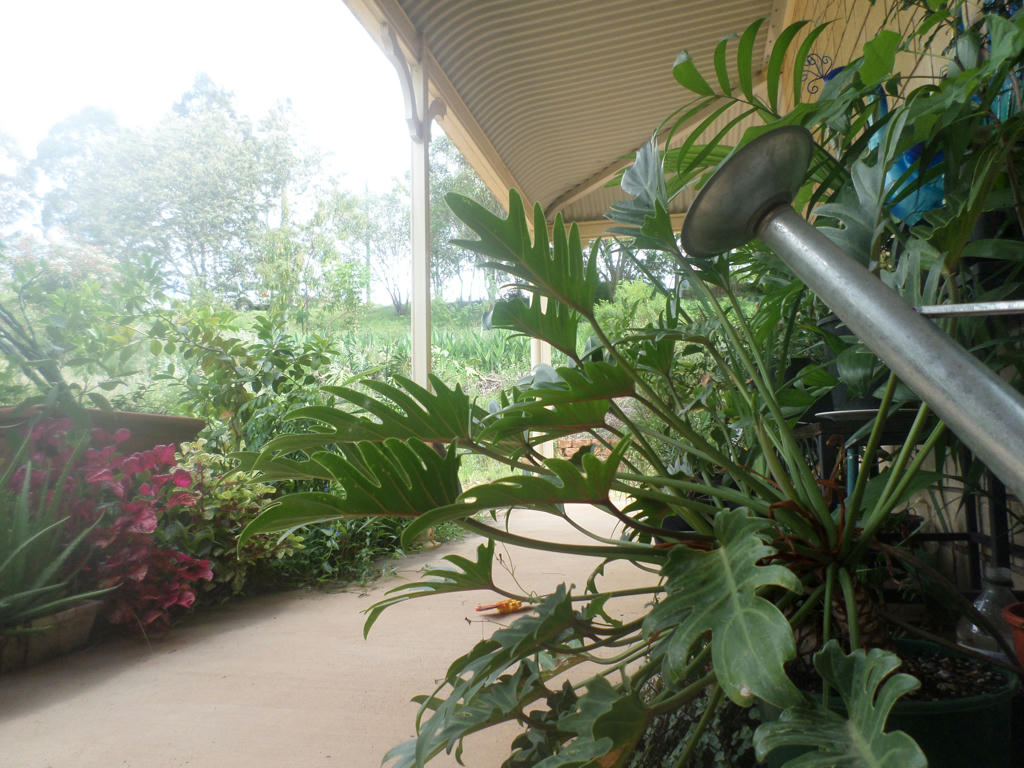 December 2014
I love my potted area. Everyone who walks onto our verandah, comments how jungle-like it feels. That's the beauty of pot culture, in and around our house. We can bring nature right up close, without having to worry about roots attacking foundations or what have you. It's also very water conservative, if you can house all the pots together.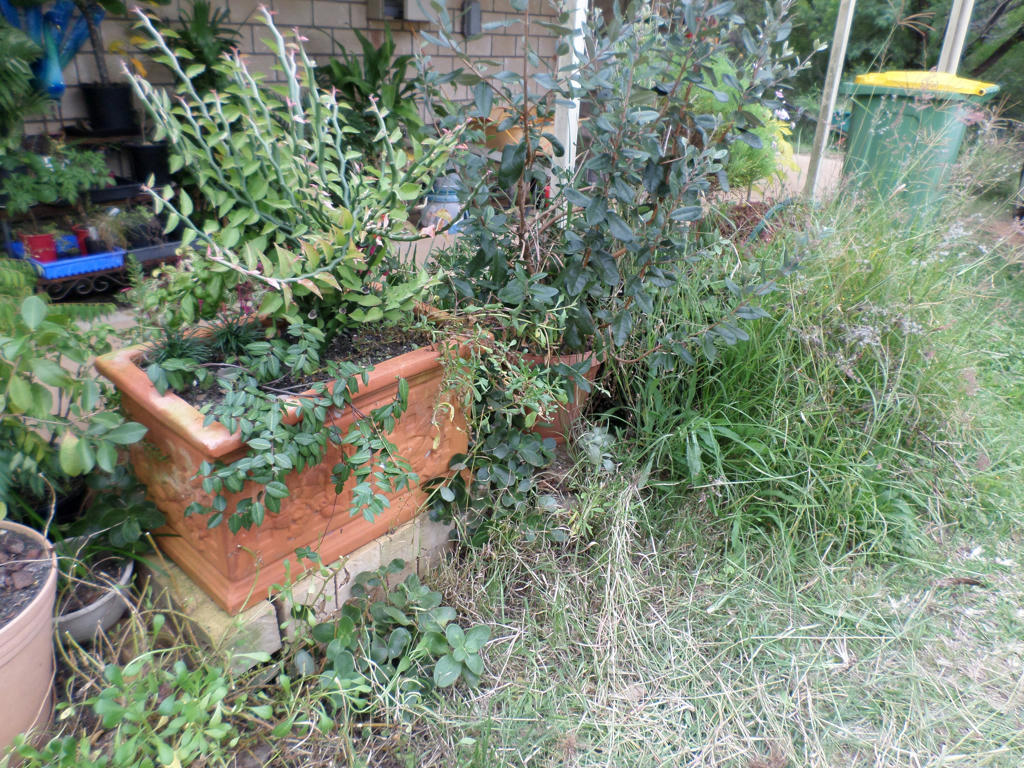 Clean up
My potted area has become somewhat overgrown after summer, and it was time for a tidy. I have plants growing on the edges of this potted area (in ground) and asked David not to mow near them, in case he gave a lethal haircut. As a result, long tufts of grass grew on the edges. I cut away at the grass by hand with secateurs, which revealed a tangle of plants which probably needed a prune several weeks ago! There is still some more tidying to do.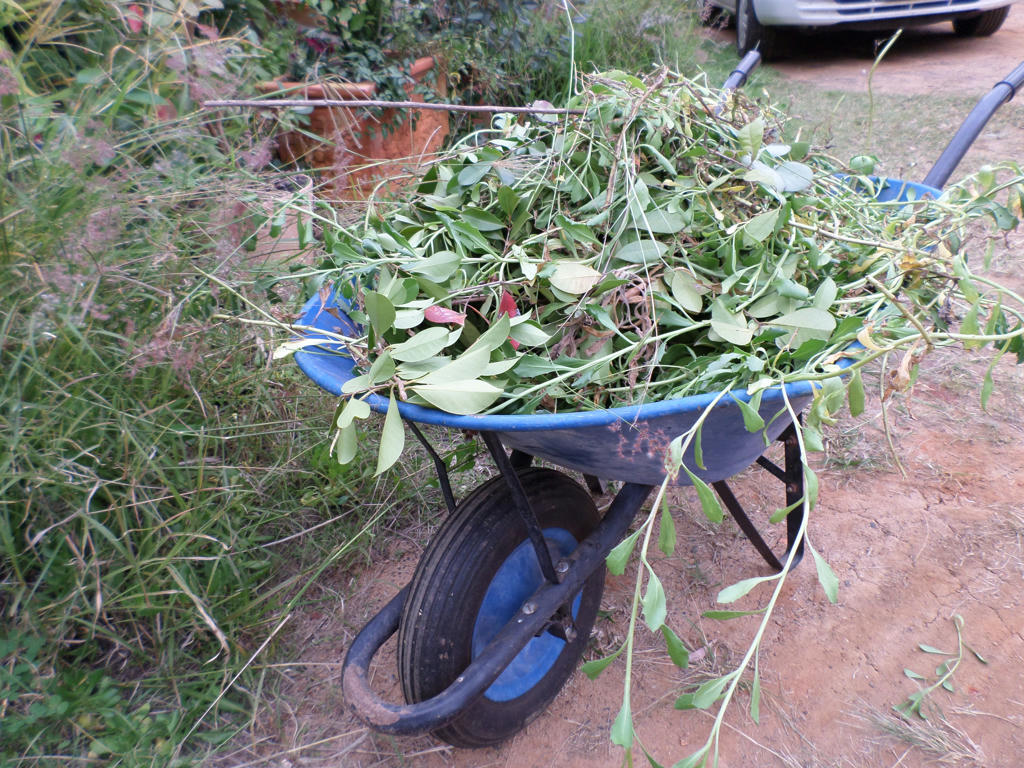 I got quite a bit of pruning material from my plants, which I'll pass through the chipper and return to the area, ready for spring. While cleaning up, I also managed to take several different cuttings.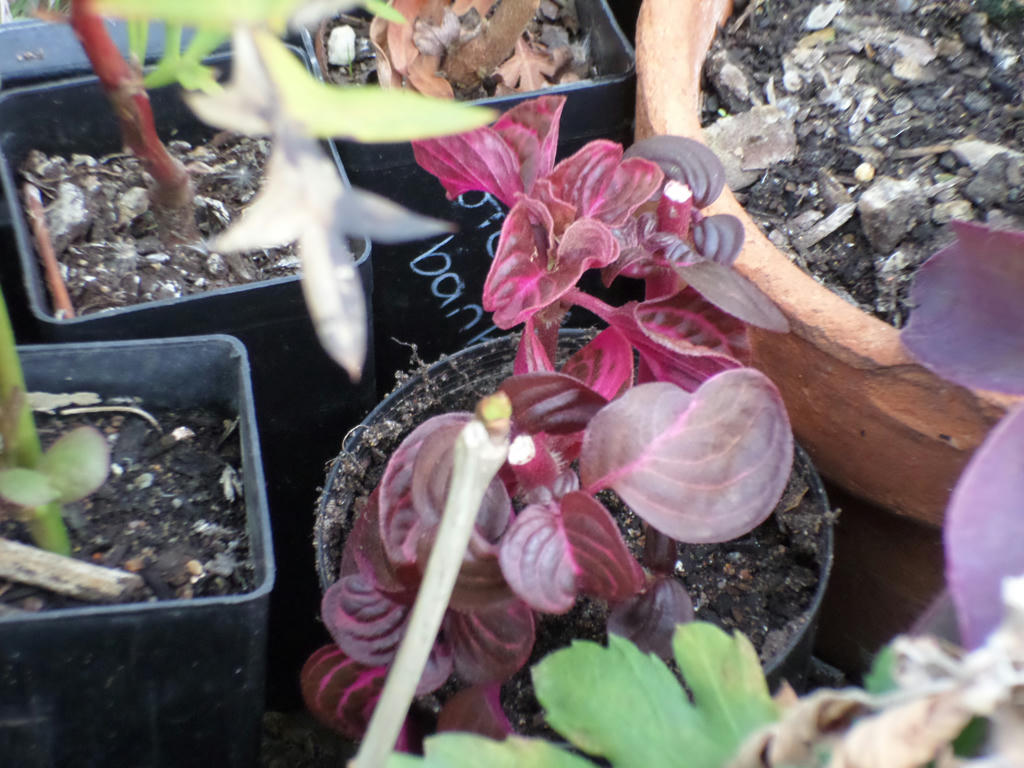 Not sure what this red-leaf plant is called, but it seems to love moisture and dappled shade. There was plenty of material after pruning, to stick into some soil and strike for next spring. When an opportunity arises, always propagate, as you never know if something will happen to the parent plant.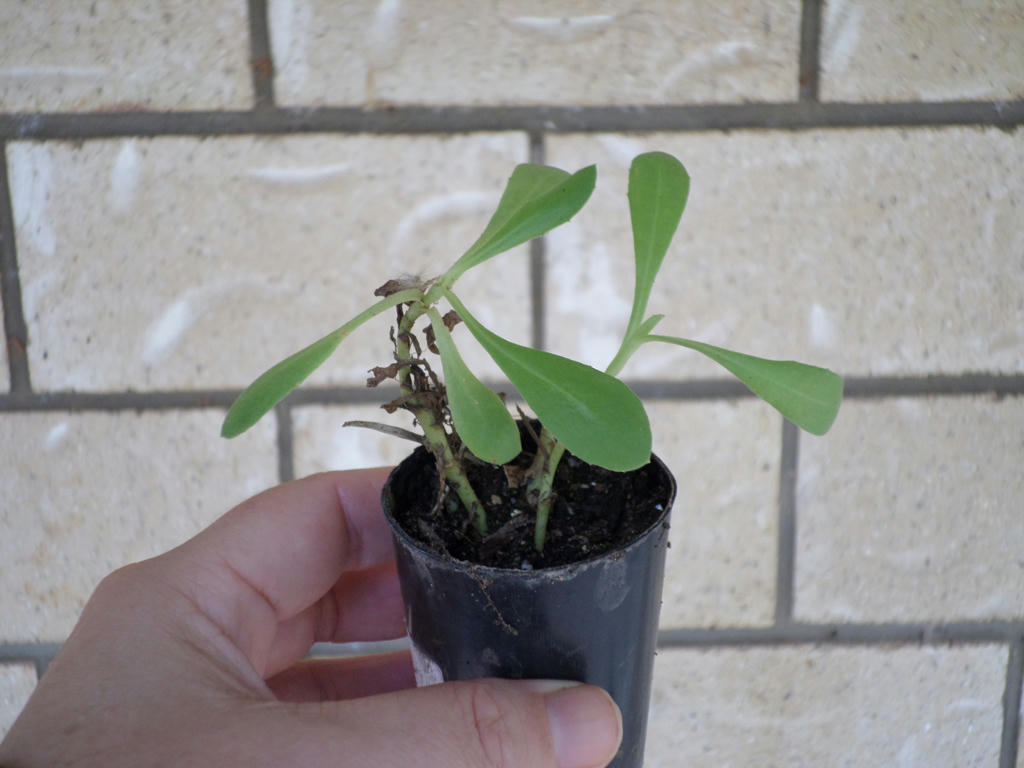 Osteospermum ecklonis (deep purple) cutting
Some plants even rooted into the soil already (natural layering) so it was simple to just snip and re-pot. Ridiculously easy. I really like this particular ground cover too, as its hardy, easy to propagate and helps keep the moisture in the ground, near my pots.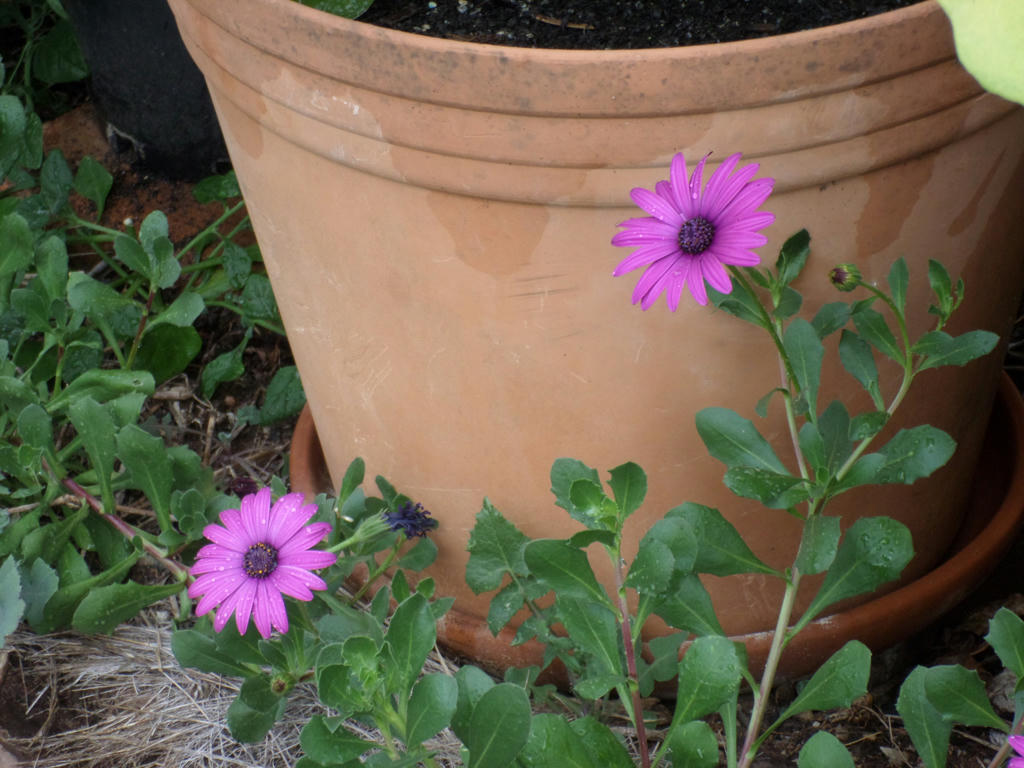 Osteospermum ecklonis (deep purple) in ground plant
September 2014
That's part of the designed success in my potted garden - having plants in the ground, around the edges of the pots. It cools the pots at ground level, when the sun can dry them out pretty quickly. I place these pots on the eastern side of the house too, so they get morning and noon sun during summer, but receive shade in the afternoon.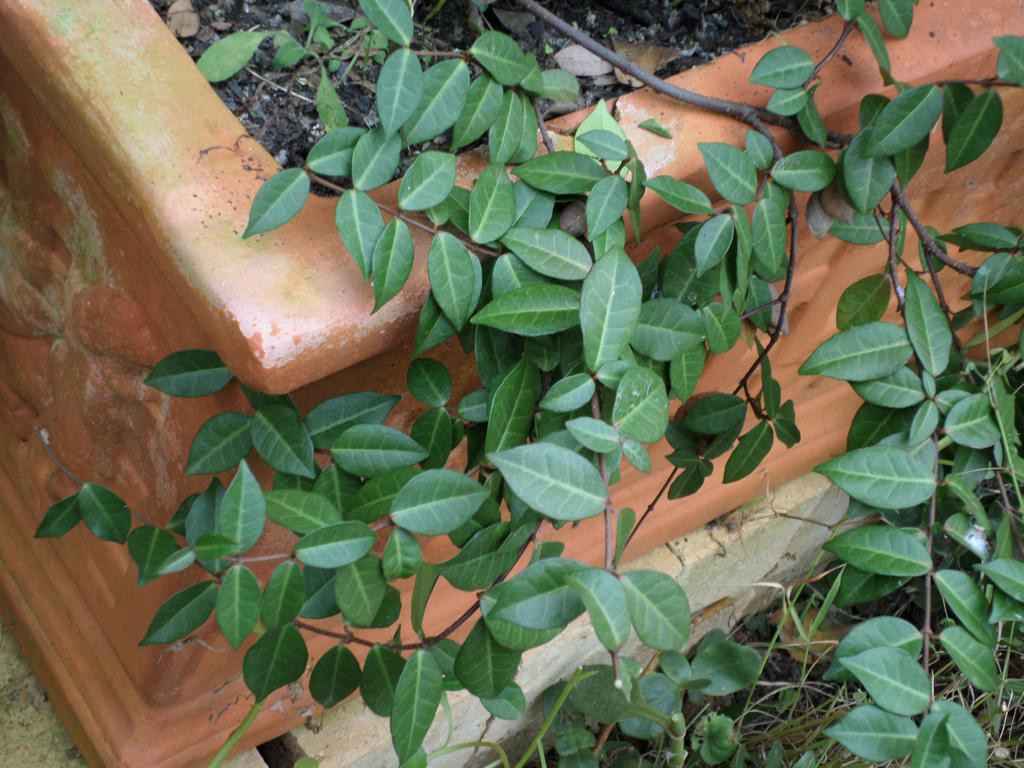 Trachelospermum asiaticum
Another strategy I like to employ to save pots drying out, is growing plants over the sides. It shades direct sunlight, heating up the pot. Especially terracotta pots! These wandering plants, really are into self preservation and will happily cover the edges you give them. This particular plant is called Trachelospermum Asiaticum, and is related to the Star Jasmine. Unlike its relative however, this variety doesn't grow to weed proportions and is much slower growing.
I've heard its hardy, but I've never gotten it to survive in ground in these parts. It seems to love moist pots though.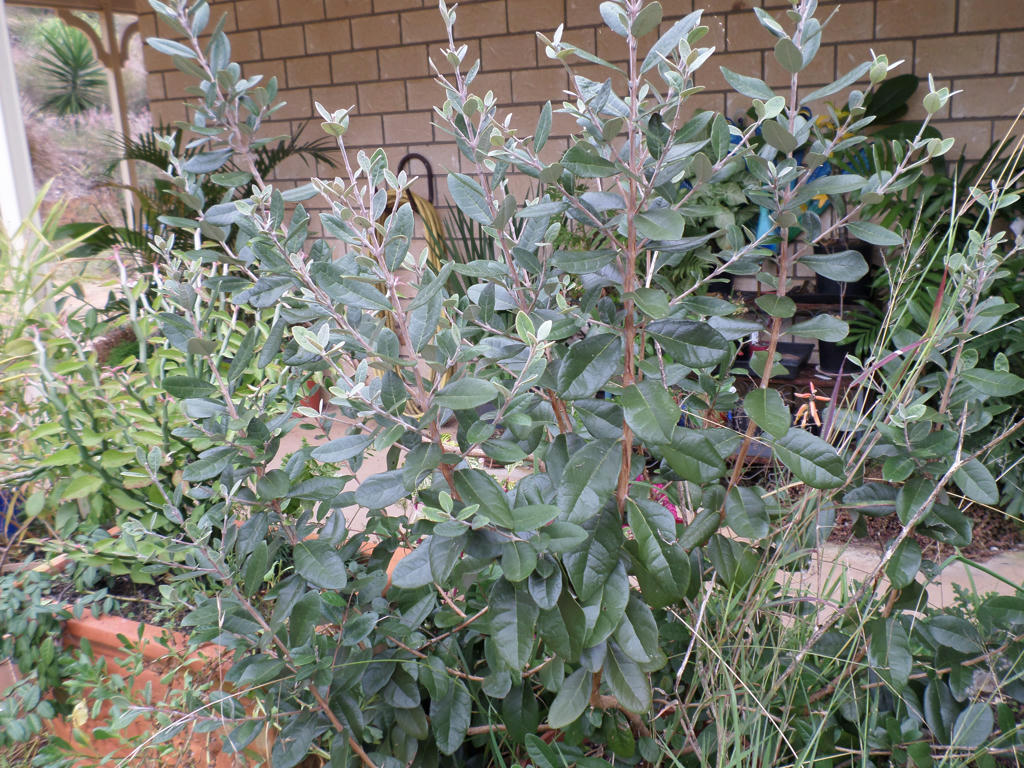 Pineapple guava ~ due for a prune
I've had a lot of success with my fruit trees in pots, even if I didn't get anything more than a few fruit this year. This Pineapple Guava didn't give me anything at all, but put on some lovely growth instead, which helped shelter more delicate pots nearby. That's another advantage to pot culture, you can change positions to create the desired micro climates you want.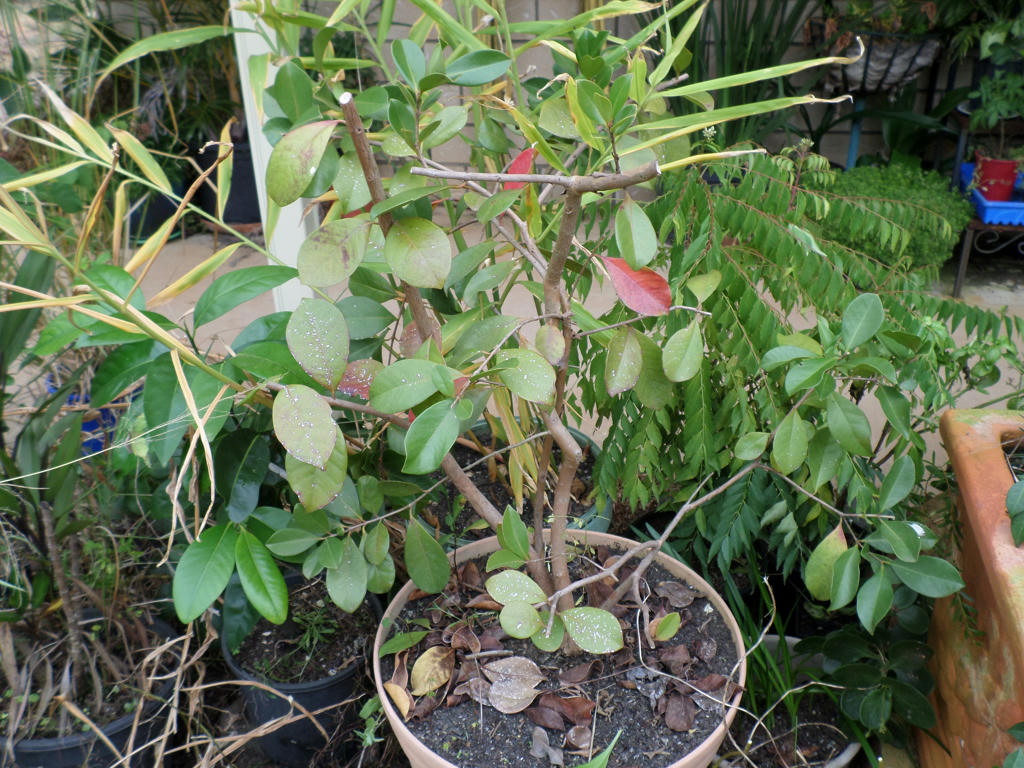 Strawberry guava ~ after a prune
On the other hand, my Strawberry Guava struggled at bit towards the end. I put it down to the potting mix I used, as it was mostly bark. Very poor quality, only good for three months, not six or more. I cut it back to promote more lush growth, which I've read guavas need to fruit well. It produced about 3 fruit, but it was definitely poor quality. I don't think the potting mix was holding the moisture, making the fruit shrivel.
I will give it new potting mix in the next few months, when the weather warms a little more, and the plant can take advantage of it.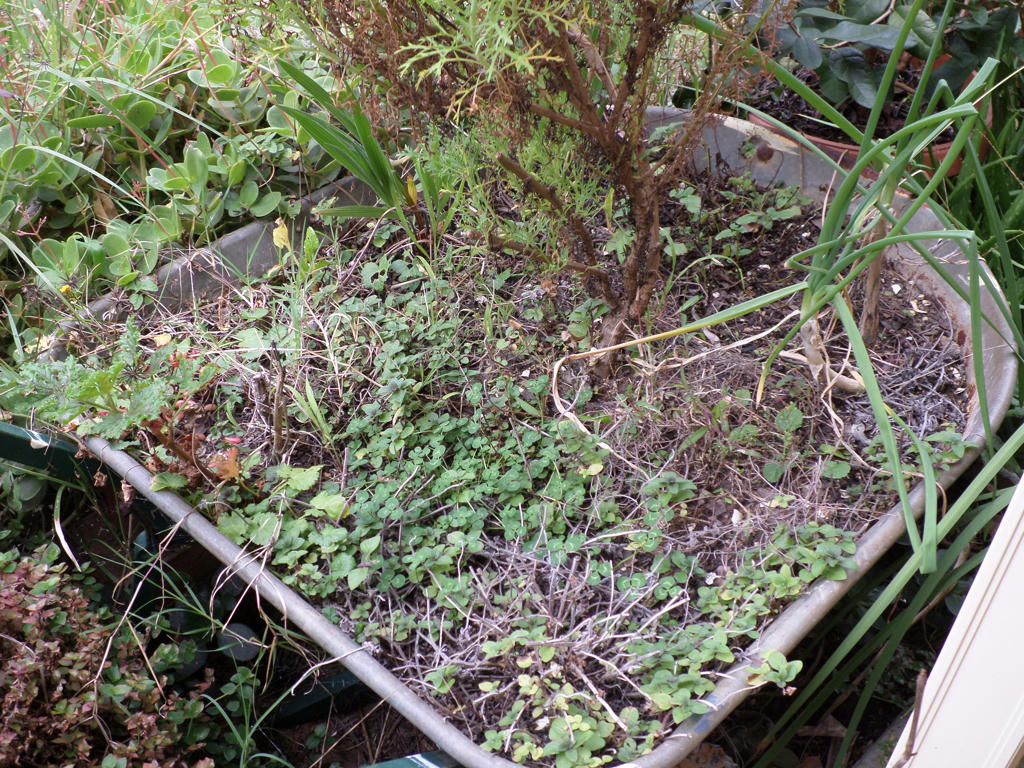 Wheelbarrow
The wheelbarrow I surrounded with a collection of pots, did well, although I think I've spent the soil to exhaustion, as there was quite a lot planted in it. Two different mints, oregano, shallots, lemon balm some flowering bulbs and a hardy daisy. If it wasn't for the pots and the micro climate around the wheelbarrow though, I doubt anything would have survived.
I've never had much luck with metal wheelbarrows, if they don't get some form of shelter from direct sunlight, heating up the metal. Nestling pots around them, really does improve the growing conditions.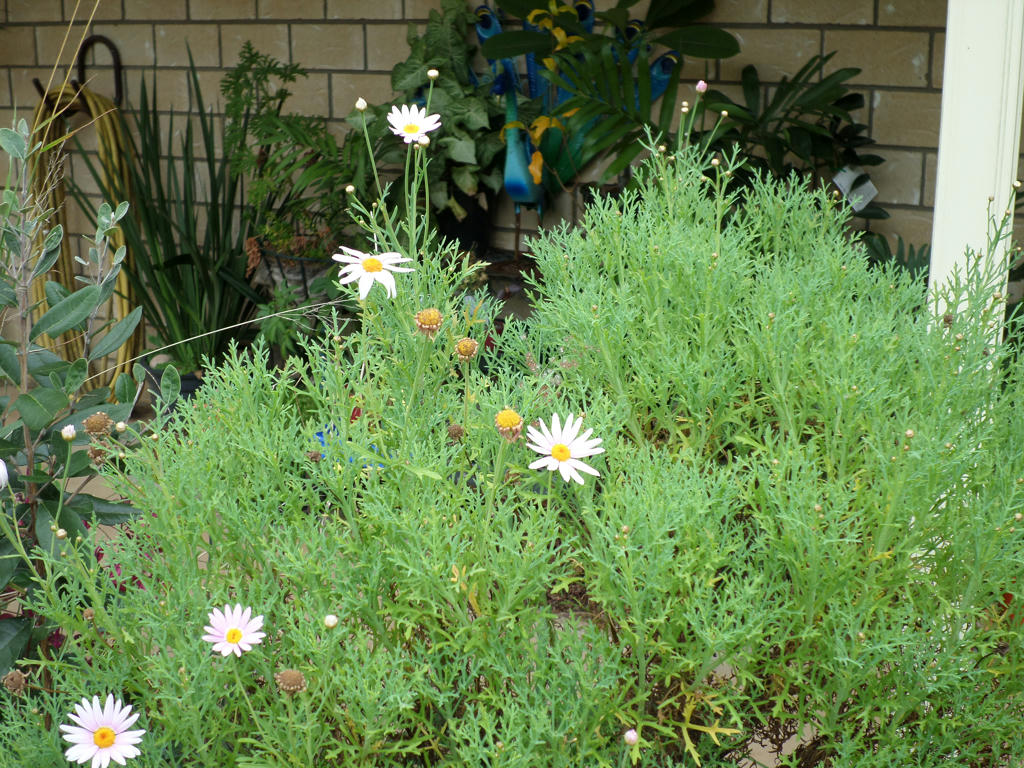 Daisy shrub
My daisy grew very well in the centre of the wheelbarrow, but now I think its sucking up any moisture amongst the fiercely competing plants. I intend to transplant this daisy back into the garden (originally a cutting I took) and fill this barrow with new soil and a different arrangement of plants. I'm thinking a lovely spring display of flowering plants.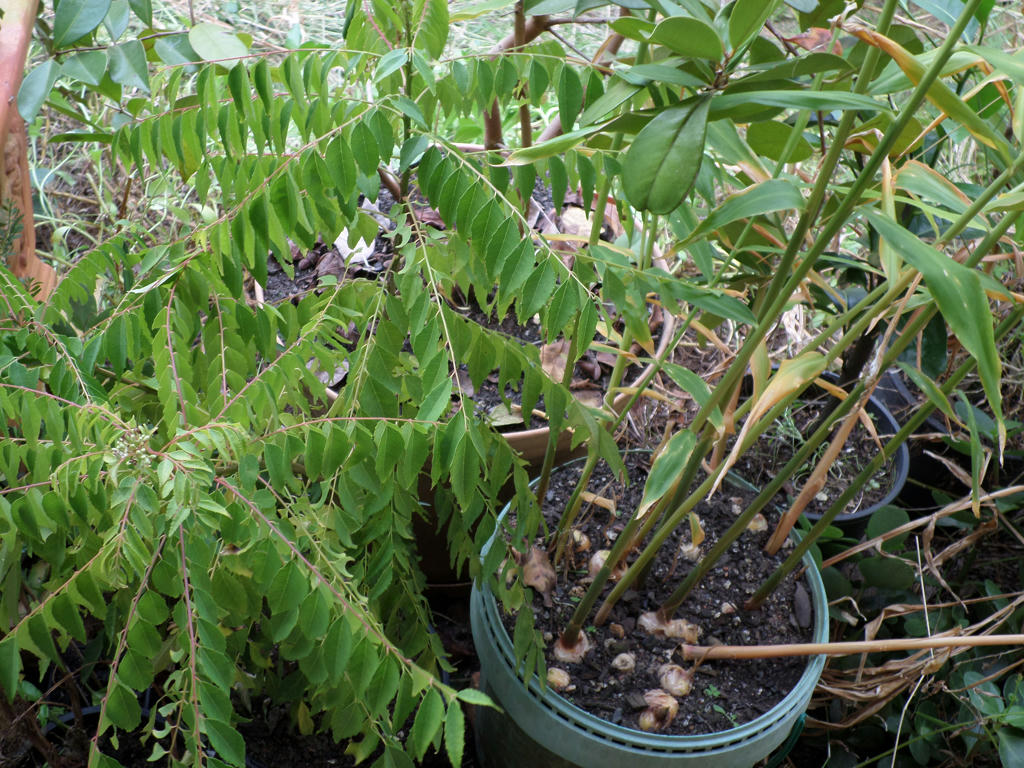 Curry tree (left) ginger (right)
And lastly, my ginger has started to die back, which means it will soon be ready to harvest. I want to make some lime and ginger marmalade soon - my limes are ready, I'm just waiting on the ginger!
You can also see my curry tree plant, next to the ginger and it did really well at creating dappled shade over the ginger rhizomes. Frankly, potting the curry tree saved its life too. I almost lost it, in ground, but managed to spoil it back into life with pot culture.
As you can tell, there's a little involved to growing in pots (the right soil and creating conditions where the vessels don't overheat) but I would have to say its one of those growing enterprises, with very quick results. The rest of my garden takes many seasons for the plants to grow into their niche and start supporting the system. With pots though, you pretty much bring everything to them and they reward you with instant results.
I'm experimenting with other areas around the house too, all involving plants to some degree - and its about solving particular micro-climate problems too. I also love the feeling of nature hugging our house.
Do you have a favourite plant(s) you love to spoil in pots?