If you've missed the previous posts in this series about relationships, you can visit by clicking on
part 1
,
part 2
and
part 3
.
Our family ~ made by Sarah
Gully Grove, 2012
While I only came to discover my indigenous heritage, four years ago, my biology remembers a language about the environment, which has been teetering on my consciousness, since I can remember. Even before I could form sentences, I was listening and watching for animals in the landscape. I could see the slightest rut in the ground, of an otherwise perfect lawn. Locate that pin which dropped on the ground, camouflaged by sticks looking exactly the same. And I was always noticing the slightest movement at the corner of my eye.
After living at Gully Grove, for nearly nine years, those early observations and keen instincts are gradually returning. They're a little more blunted by the passage of time, and the busyness of young family, but I still remember them. Which is why I have hope, others can remember and hone their observation skills too. It can be helped along, the more you place yourself in a natural environment though.
The pond
My story became entwined with our property, but that's not going to be everyone's story. People will often adopt public parks and spaces, as their own too. They even get together to create organic community gardens in the city, or nurture a shrine of varied container plants, on a rented balcony.
I've even known a money centric individual, to adopt a neglected plant in their office, without being asked to. Because it elevated the feeling of their artificial space, in a way, they didn't want to be without. I remember asking them, as they ferried a jug of water to the plant, if there was a roster for people to do this job. They shrugged their shoulders and said, nope, but they would miss seeing this plant in the office, if it died - and sure others would too.
My colourful container plants
So in the city, stuffed into an office building, covered from head to toe in designer clothes, with a diary full of social gatherings - but still, they saw the need for the plant. You see, its in our DNA. If that person could notice it, surely there's hope for many more to tune into that call for nature? Savvy businesses who actually want more productivity from their employees, will often integrate plants in the office, or build a dedicated garden outside, for individuals to take their breaks in. It helps you to relax, as nature is inclined to do.
If you don't have any of that where you are, plan to become the change your community, home, or office building needs. Invite other people to get involved in the process too. It doesn't matter how or where you start, its that you actively attempt to integrate your daily life with some natural aspect in the world. This will press all those biological buttons which say, this makes me feel happy. You're entitled to that feeling, as earth was fashioned with you in mind, as you were fashioned to keep earth in mind. Together, you are complete.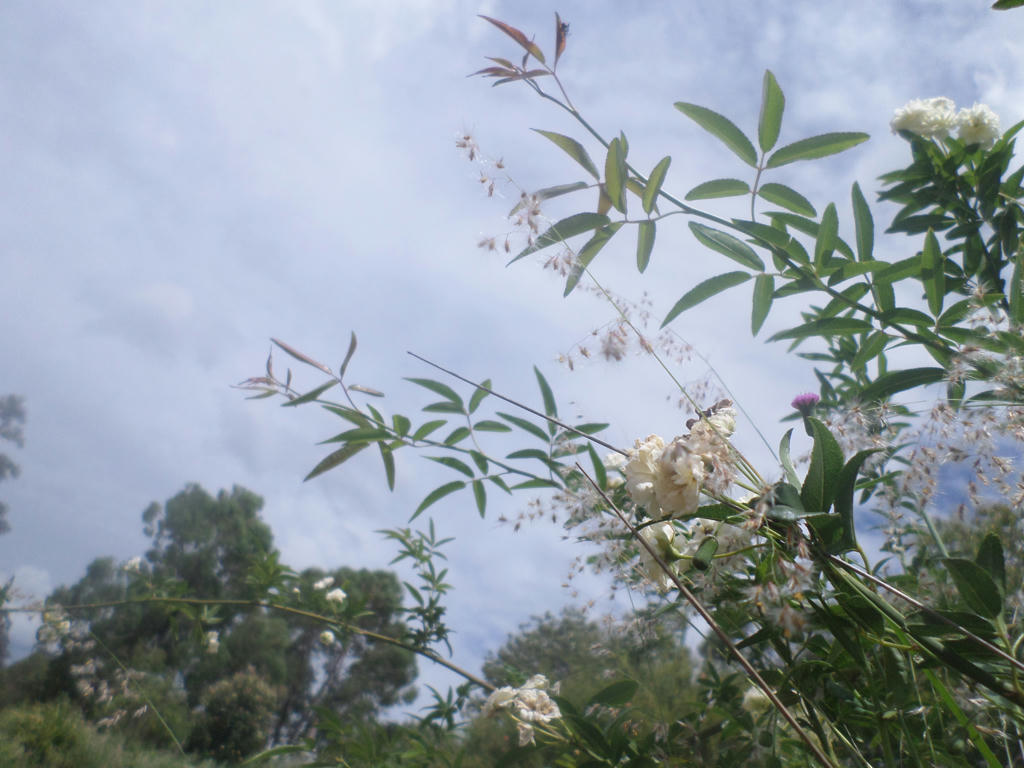 Banksia Rose, on a cloudy day
The more you do that, the more you won't be able to fall into the daze of not noticing where you're going or what you're doing. You'll start to see things at the corner of your eye again, and find it difficult to lose your keys as often, because you'll start to see in connections again. Everything connects, you just have to sharpen your senses to remember how they do.
Nature is the place where community and nations can find their identity again. We need reminding because we're easily distracted by everything we build. A great nation will fashion its policy respecting the autonomy of nature though. It will give financial incentives to individuals and corporations, who respect the autonomy of nature to function in our communities also. It may be a pipe dream, some ways off in the distance still, but its worth mentioning anyway.
I think every generation can claim some responsibility for ignoring the environment. Some more than others. I think every generation can claim some envy for progress too. Let's just put that all in the past, apologise to nature and get on with mending our relationships in a proactive manner. That means exposing ourselves to natural things more often, and finding new ways to make connections flow into every aspect of our life.
Can any more be said than that? Well, stay tuned for part 5 soon.