Since making new ground in my old neglected
vegetable bed
, I needed some fill to improve the growing conditions. Hopefully soil that was in better condition.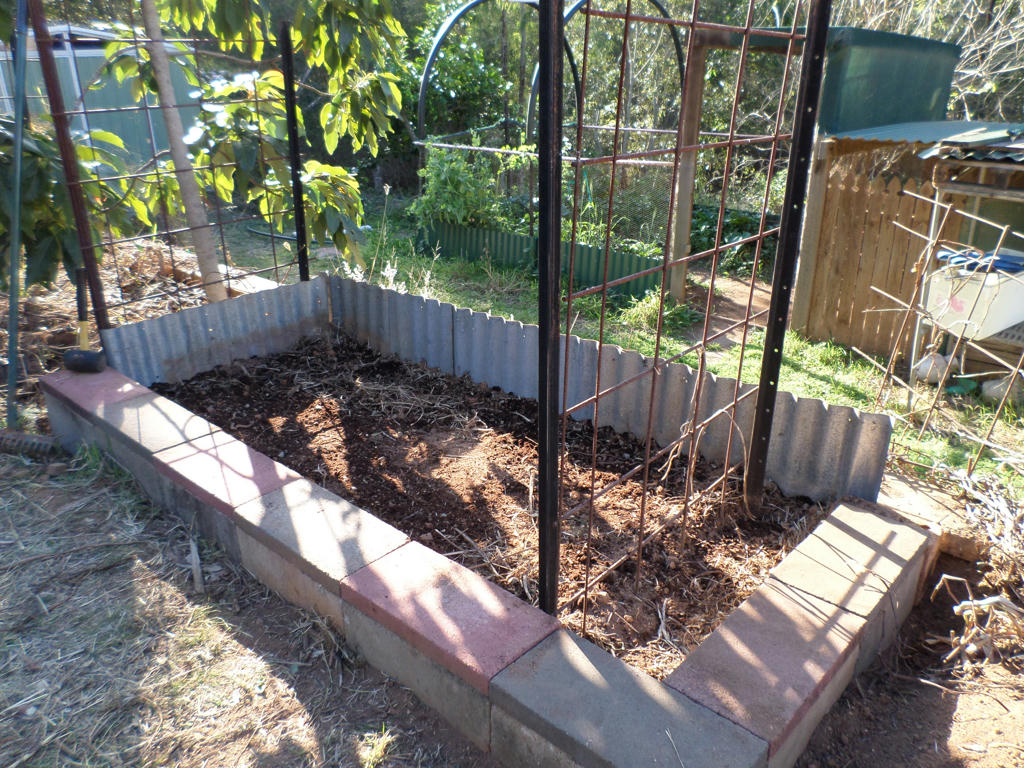 New vegetable bed, with Middle Ridge in the background
It was time to raid a garden area, I had temporarily set up, after evicting the chickens from Middle Ridge chicken coop. That coop, had aged chicken manure in the run. I turned it into a temporary growing area, back in
April this year
.
It was only ever meant to be temporary, as I had other plans for that area, but I took some photos of the plants before removing the soil.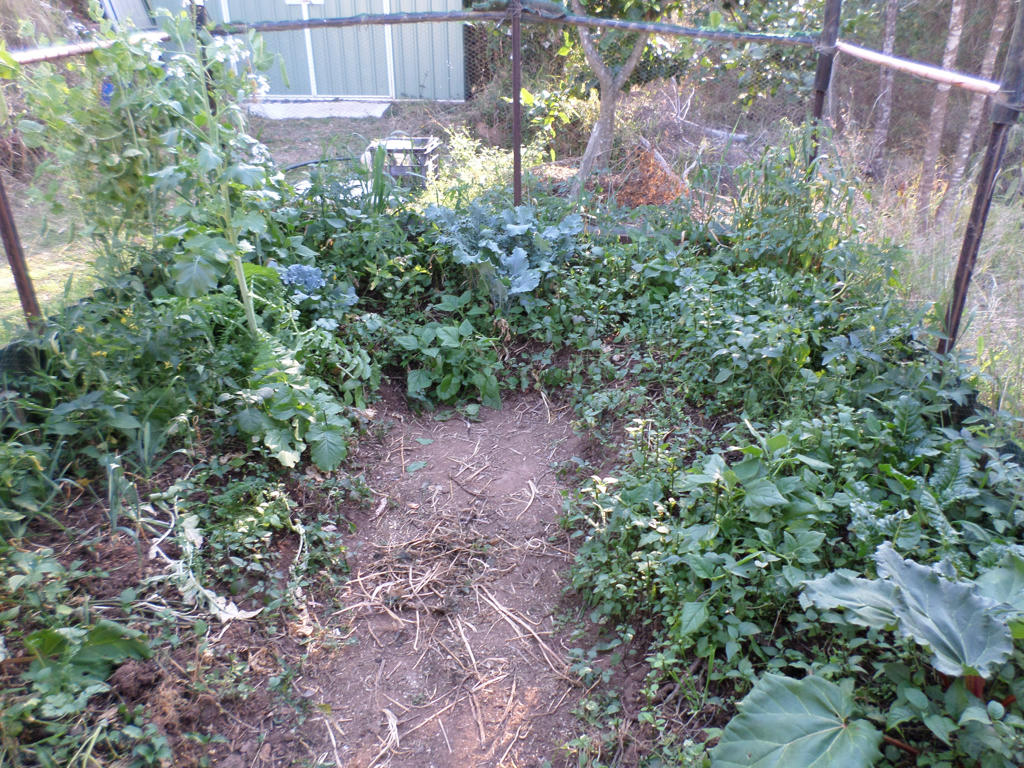 Middle Ridge temporary growing area
Most of it was overrun with weeds, but it helped keep the soil shaded and ensured I always had a steady supply of greens for the guinea pigs and chickens. You can see its starting to wane as we come out of winter.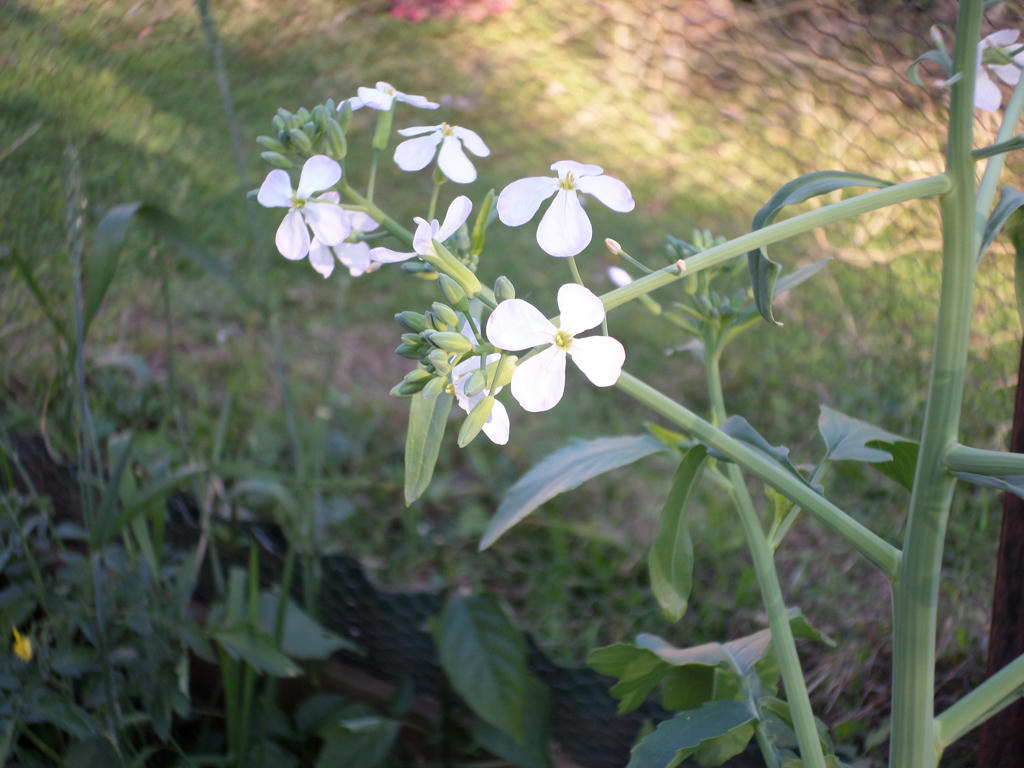 Daikon radish flowers
The best crop of all, which I really loved was the Daikon radish. Its going to seed at present, and I'm saving the biggest to collect from. I wanted to eat it when I ran out of radish for stir fry, but I needed the seed more.
When cooked, Daikon radish tastes more like parsnip than radish, but still has a mild after-bight that we all know radishes for. I really enjoyed it, and treated it like carrot in my stir fries.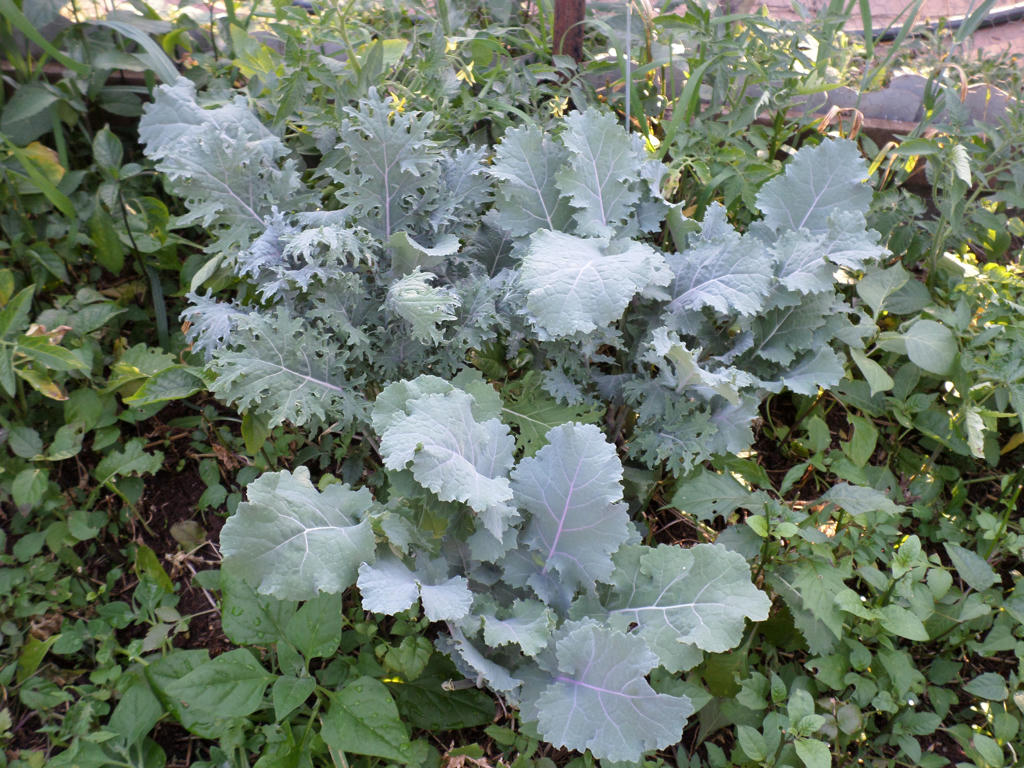 Walking stick kale x 3 plants
Another crop we have eaten from, is the Walking Stick kale. I used them in a stir fry and a casserole. A bit fibrous, but still tasty. I would also pluck this for the chickens and guinea pigs, though the latter weren't overly keen on them.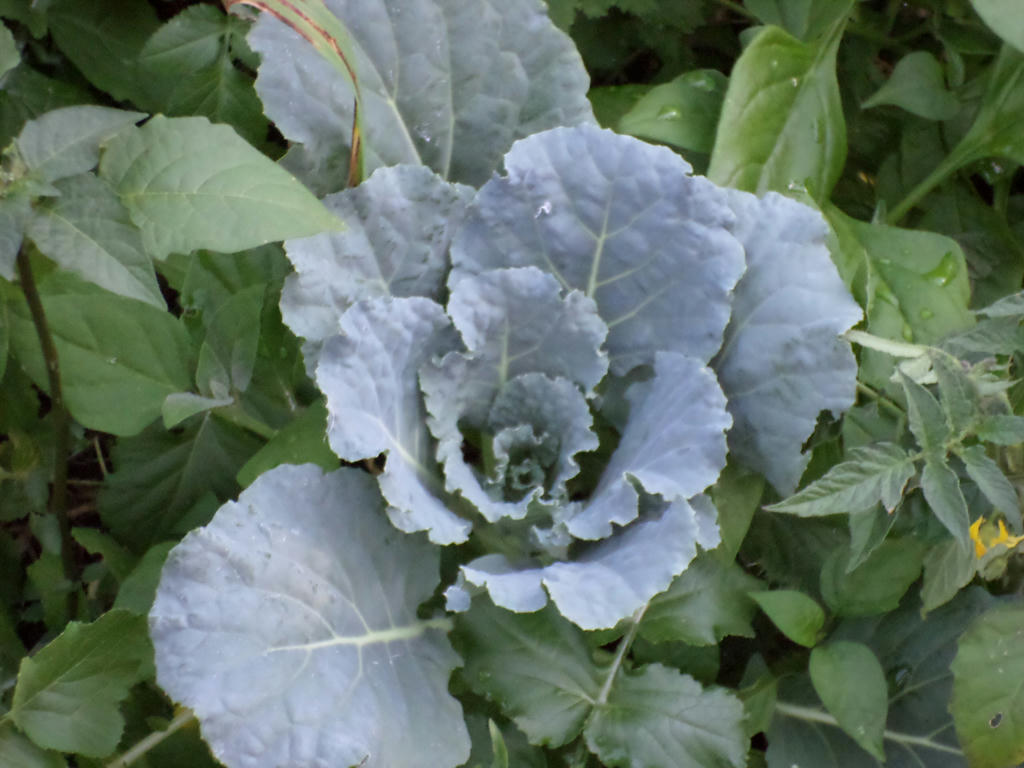 Savoy cabbage x 1 plant
The slowest of all growing plants in here, would have to be the Savoy Cabbage. I hope this guy is spared from pest attack. Of all the cabbage, Savoy is my favourite. Its the very best cabbage for flavour in sauerkraut, and its even sweeter when fried with bacon. It even beats Sugarloaf cabbage, as far as I'm concerned. But its the only one I've got too!
I don't know when it will be ready, but it certainly hasn't hearted yet. It may bolt to seed before I get to taste it. If so, I'll collect the seed and plant more.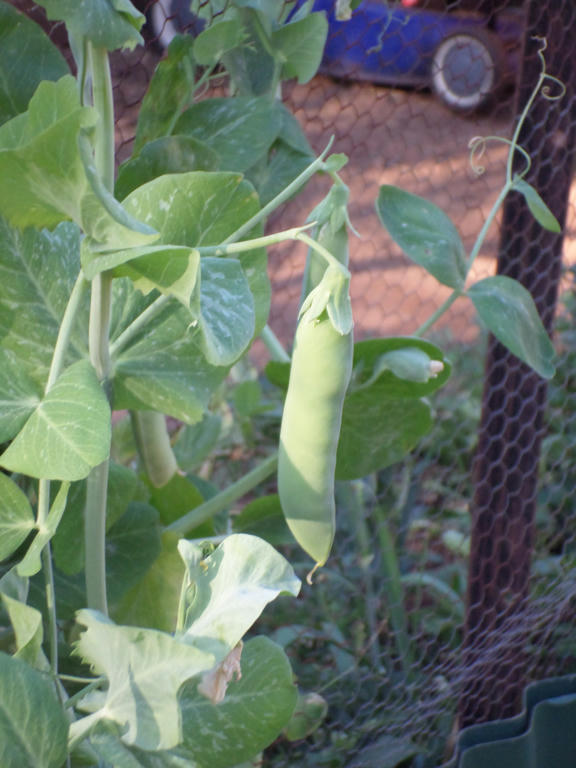 Lacy Lady pea x 6 plants
The Lacy Lady Peas were a mediocre crop. They grew well, but didn't produce many pods per plant. It could do with the fact, they had to recover from a particularly windy period though.
I'm guessing they're a cooking pea only, as when eaten fresh from the vine, they don't taste tender, despite the fact they received adequate water. I will save the seed and try again, paying more attention to trellising and wind protection.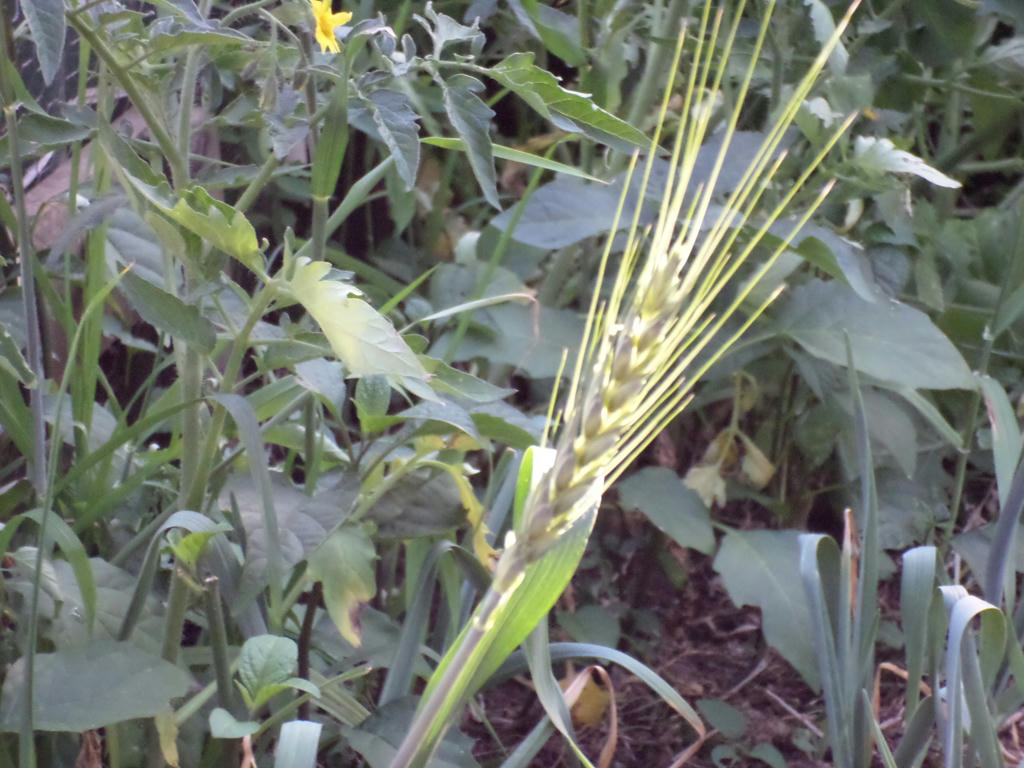 Wheat?
A surprise crop, which no doubt came from the chicken feed that was once present here, was wheat. I pulled some recently, when I was clearing out part of the area, and fed it to the chickens. Even though it wasn't ready yet, they still liked it very much.
Wheat won't ever be a mainstay crop here, but if I manage to save seed (not knowing anything about wheat, lol) I'll throw some in the chicken feed areas and see what comes up. I have some buckwheat, amaranth, millet and barley to throw into the chicken feed areas as well.
I've never grown my own chicken seed before, but I figure, why not try? If I can get fencing up, I'll even let the chickens do the harvesting for me.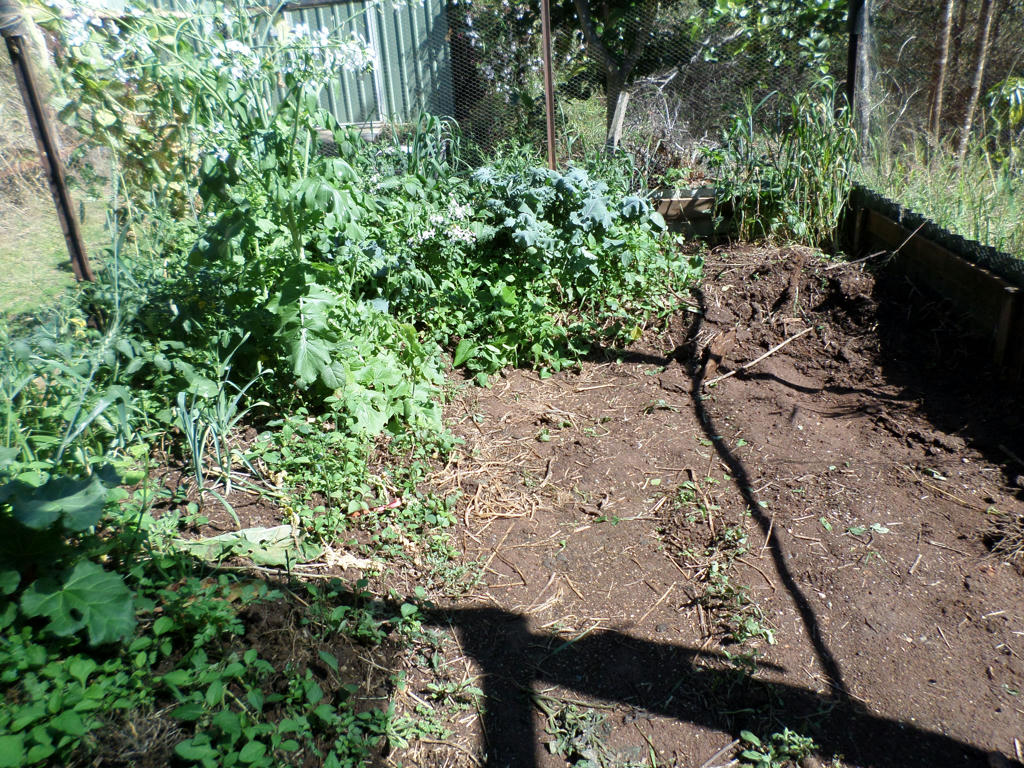 Right side removed
But back to the new vegetable bed, and what to fill it with. I cleared out one row of the soil from the Middle Ridge growing area - fed the weeds, including some silverbeet and celery to the chickens, and transplanted a rubarb plant into the new vegetable bed.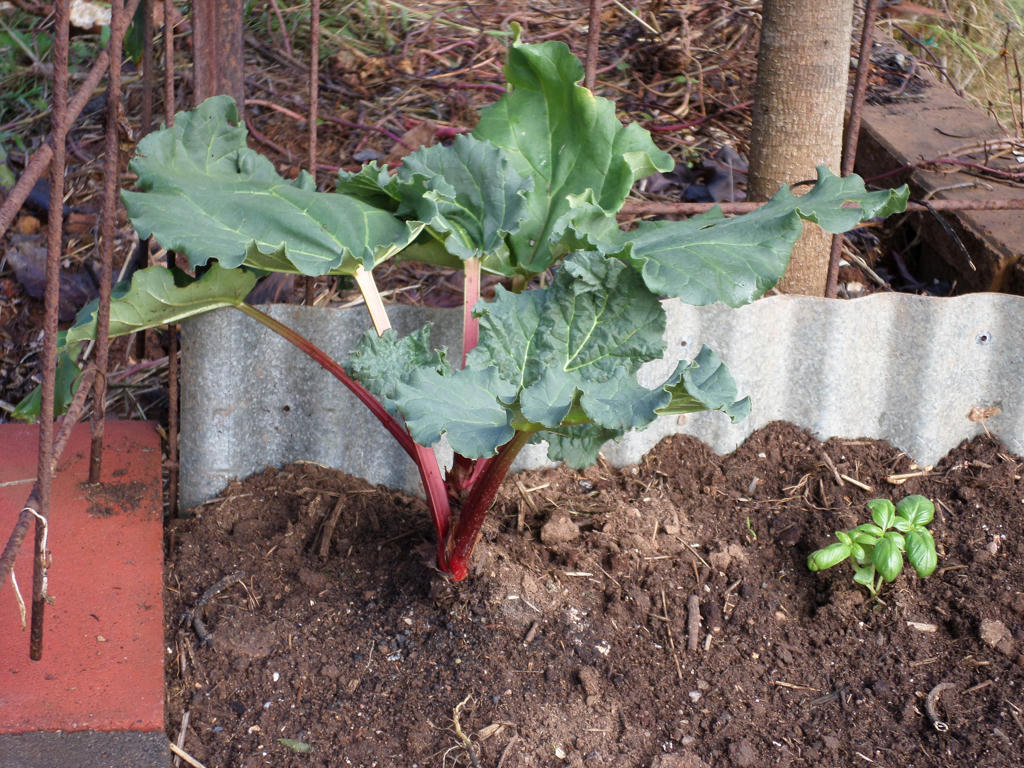 Rubarb
The rubarb transplanted well and even improved. I've never seen the stems that long before. I've also planted basil next to it, and some seeds of some variety, which I hope will use the trellis behind.
I'll come back for more of the soil at Middle Ridge as I need it. Which I found was required quite recently, when extending the new vegetable bed too.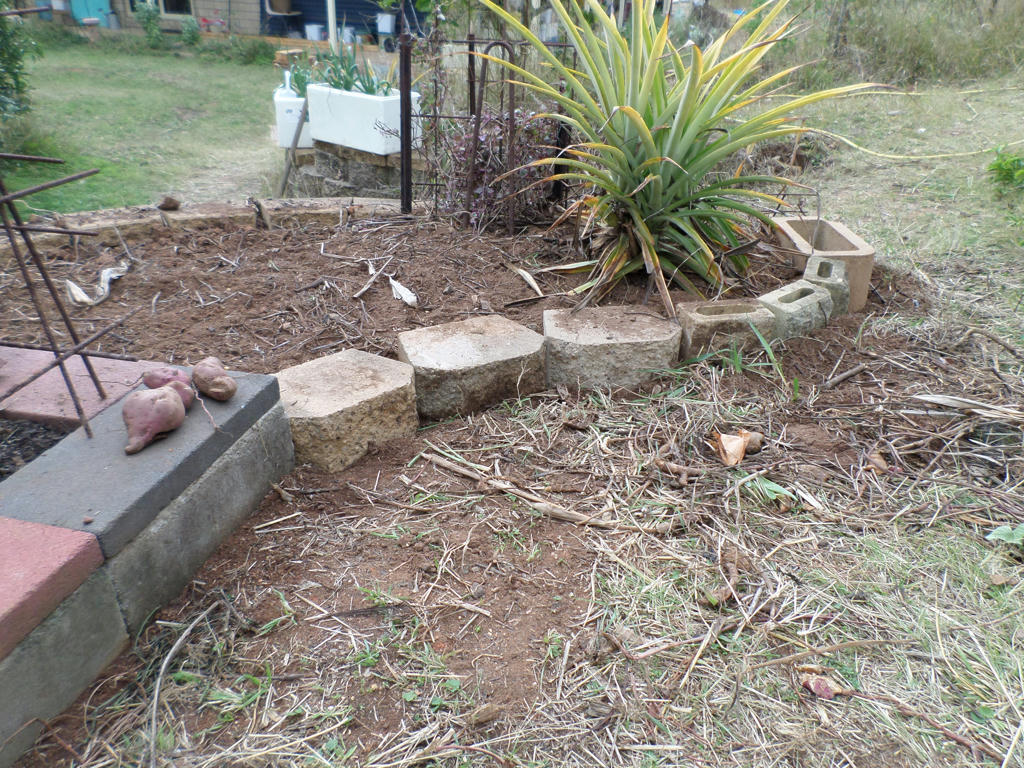 New curved bed
It adjoins the former bed, but as it wasn't going to be a straight line, I used a different kind of block. It was good to use up some odd blocks I had laying around. Notice the colour of the soil is slightly red? That's the natural clay in this area.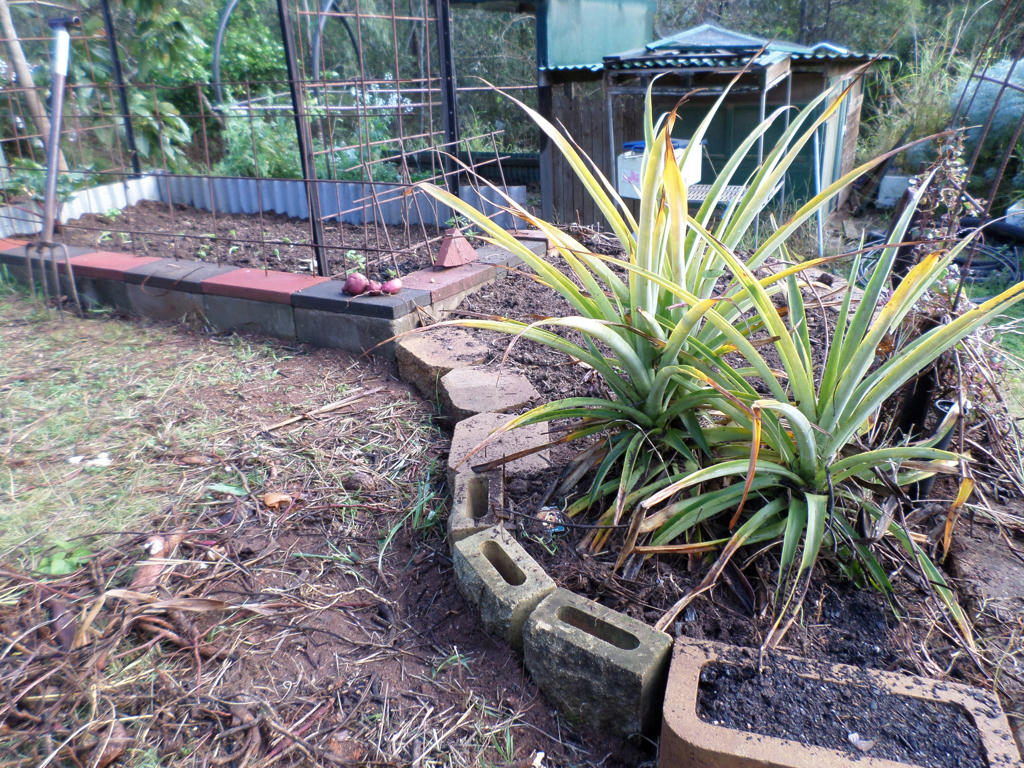 Two adjoining beds - both filled with improved soil
Mixed with the new soil, and coffee grounds from my husband's work though, the soil is now a lovely chocolate brown colour.
I planted some jerusalem artichokes in the new bed, and some horseradish root in the block at the very front. Should make it easier for harvesting the root without dispersing it. I have to be careful what plants I choose for this area, as it sits above a retaining wall and gets good drainage.
I depend a lot on the rainy season, with some water from the chicken coop tank, to keep this area hydrated. So anything with a good root system, or preferably a rhizome, will survive here.
I'm not stopping, however. as I have more beds to extend. I'm gearing up for Spring. :)