I'm late in updating my latest weekend project, namely because I decided to give the computer a rest for a while. The outdoors was calling and we had the time to indulge, so everything else got put on hold. I look forward to sharing some gardening endeavours, but for now its back to my weekend projects.
This was something I had been mulling over for a while. There's a lot of things I do on a daily basis, which wasn't organised very well. We currently live in the biggest house we've ever had (at four bedrooms) but its not a Mac Mansion. It doesn't mean the space we did have available however, was organised very well.
So I did a lot of online research, and borrowed a few ideas. Let me start with what I did in the kitchen.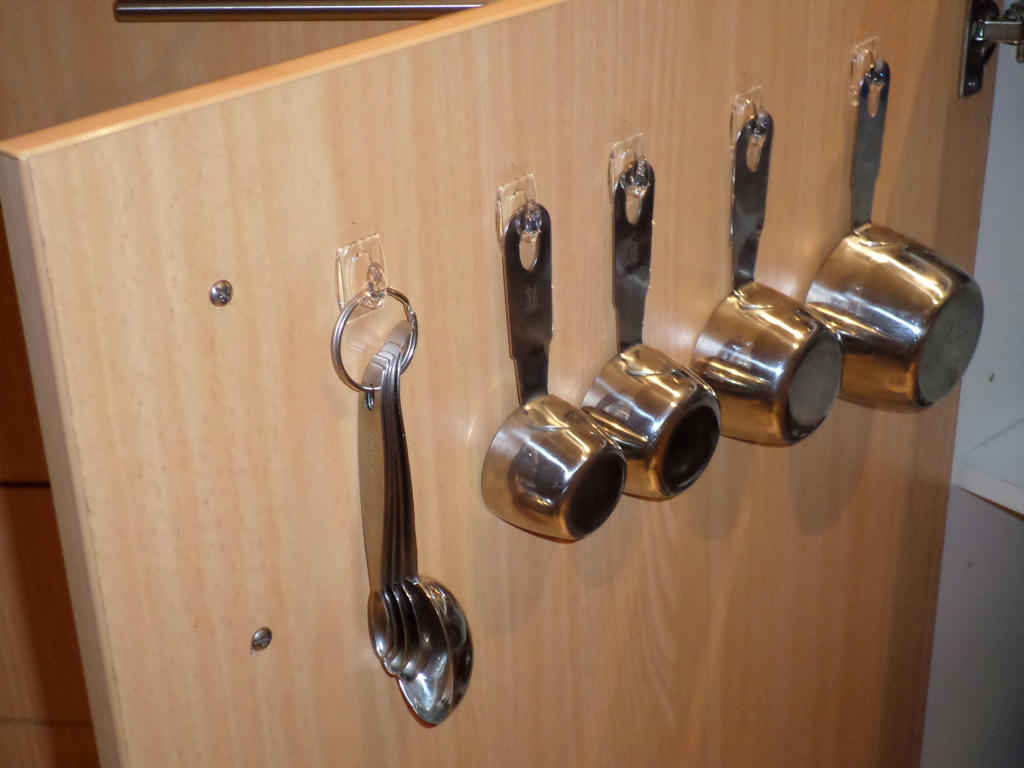 All in a row
I bought some clear "Command" adhesive hooks, which can hold up to 225g. I did a dummy-run, measuring out the distance between each hook, to give enough room for each cup measure, and for the measuring spoons. I'm happy to say, the hooks have stayed in place, even though this cupboard gets opened a lot.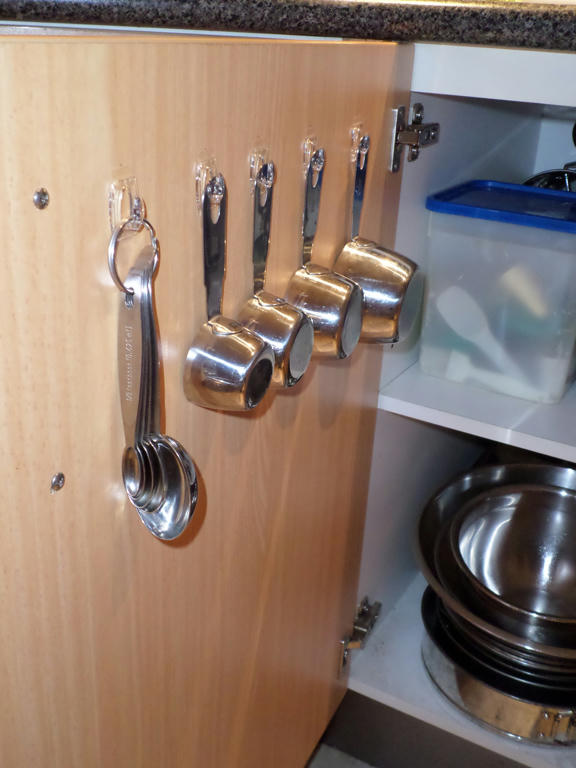 Functional storage
It's my baking cupboard, and the measuring cups and spoons once sat on top of the plastic container, with the blue lid. I used to have to open the door, stick my hand in and hope to grab the cups or the spoons (whichever I wanted) and drag the whole lot out. Now I just open the door and select which ones. No guesswork involved, because I can see exactly what I want.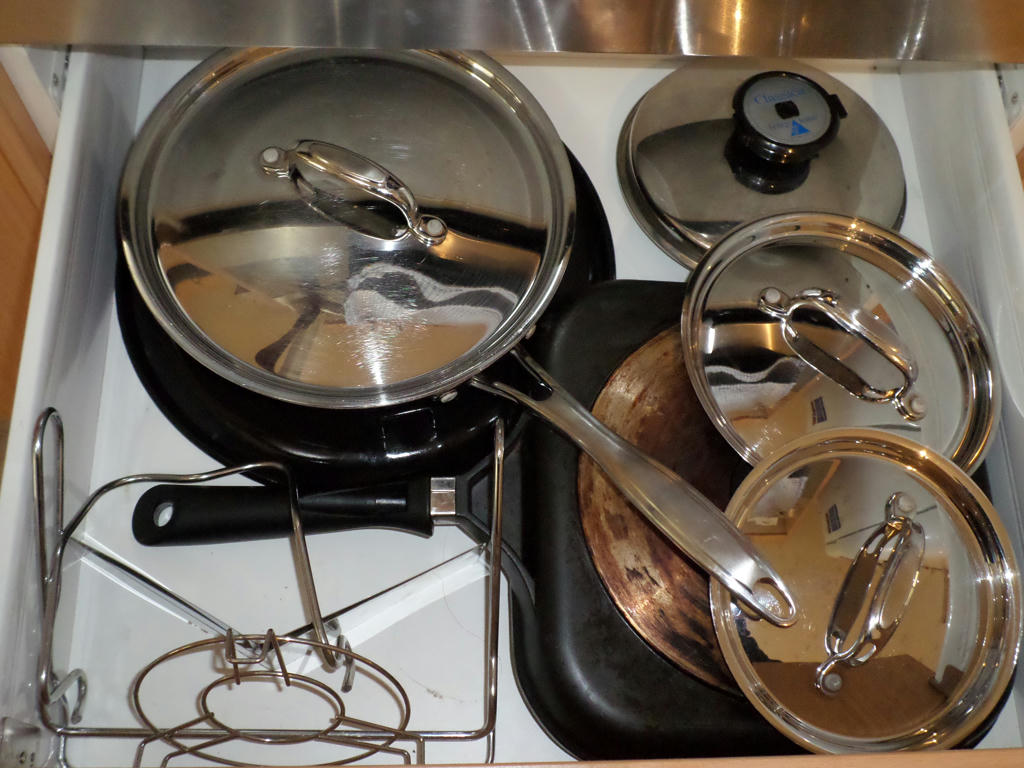 Stored, but not conveniently
Also in the kitchen, I had a problem with extremely difficult to store saucepan lids, which were constantly pushed around the frying pan drawer. An obstacle they are no more, thanks to a simple tea-towel railing.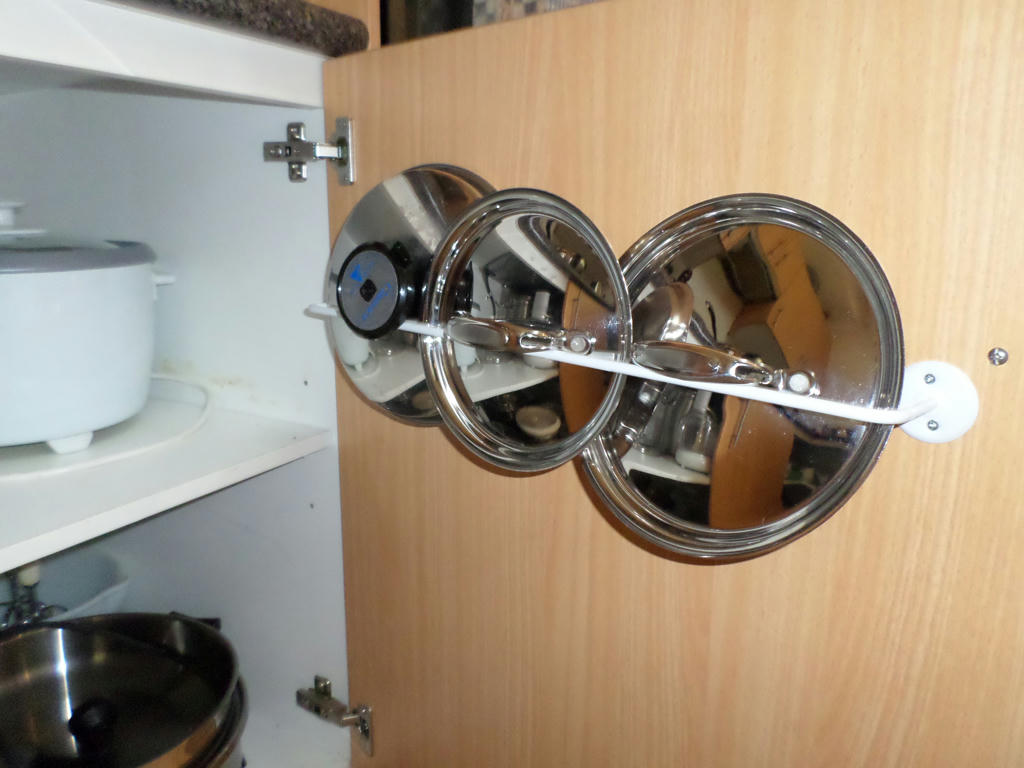 Vertical space
These are now stored in the cupboard door, under the stove top. I did have to screw into the thin wood, as opposed to attaching by adhesive tape, but I don't imagine I'll be needing to remove this railing. I did a dummy-run with measurements again, being sure to take into account, the shelf in the cupboard and the lip at the very top. I also had to reorganise a few items in the cupboard, to make sure the railing didn't hit them, once the door was closed.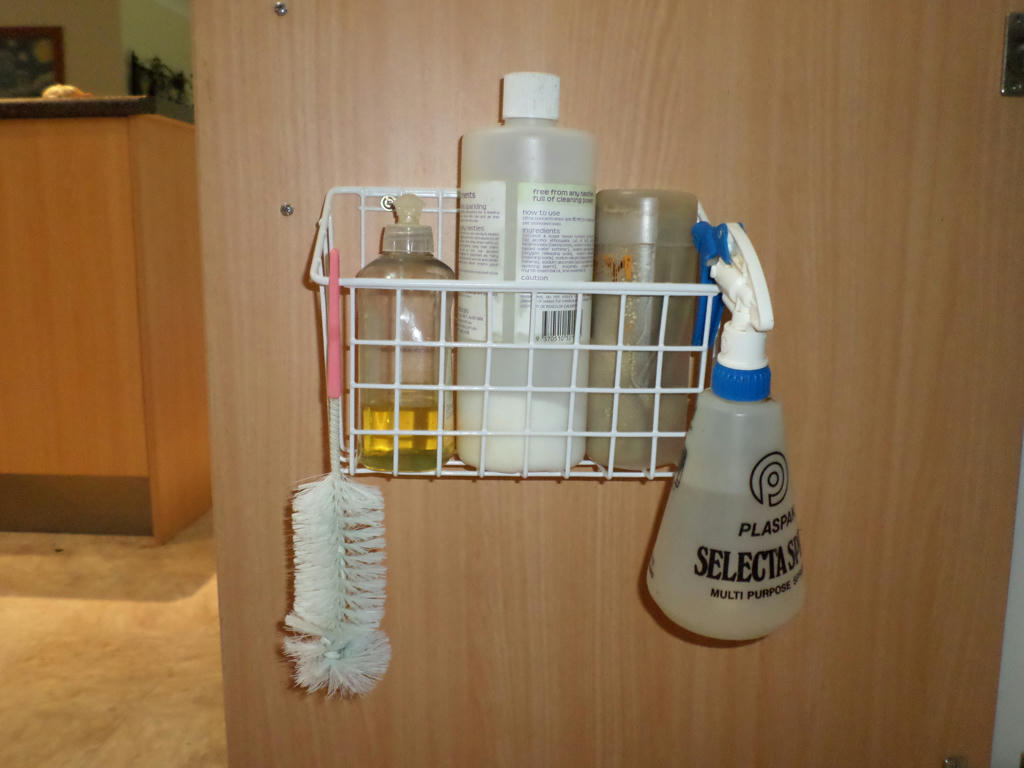 Bottles of bliss - if stored correctly
This would have to be my favourite addition to my kitchen storage campaign however - a simple wire basket caddy. I use the vinegar spray, dishwashing liquid and powder for the dishwasher, regularly during the day. I also use the bottle cleaner quite a lot also, but had nowhere "airy" enough to store it.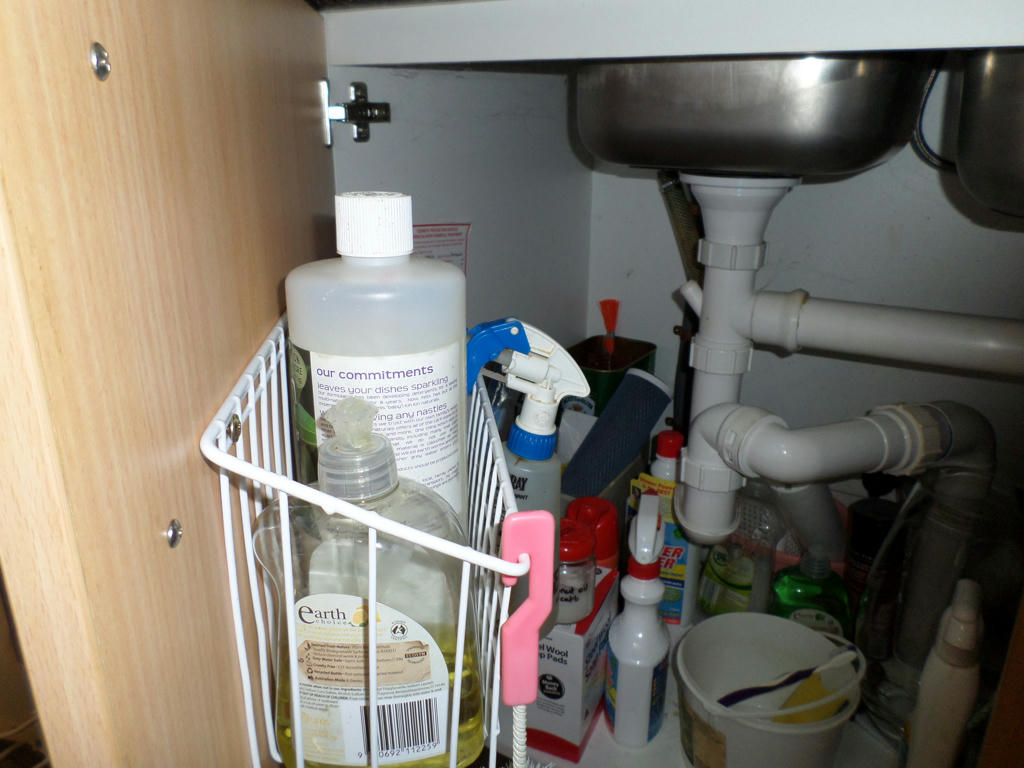 Ready to go!
Once again, I used screws to attach the caddy to the door, did a dummy-run, and made sure I could position it, so it filled the space between the door and the plumbing. Who needs that space right where all that s-bend plumbing is anyway, except maybe for storing regularly used cleaning products?
The reason this is my favourite addition to the kitchen, is I no longer have to bend down to the lower shelf on multiple occasions during the day. I get to stand up straight, open the door and grab exactly what I want. I highly recommend this for people with mobility issues or back pain. I have a reasonably healthy back, yet I didn't realise what a relief it would be, not to have to bend down to that lower shelf for items I use every day. I can't believe I haven't done this one sooner.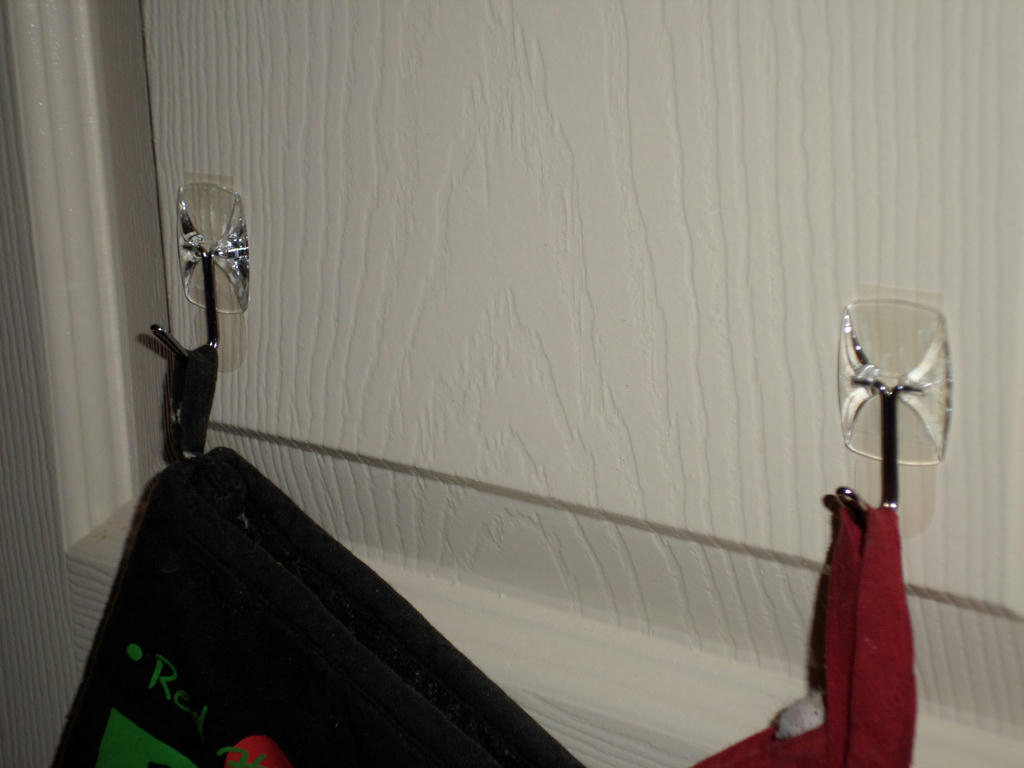 More hooks
Lastly, for the kitchen, is some more (can you guess) adhesive hooks. Only these metal hooks swivel. They're meant for hanging utensils, but I already use an old pottery crock for that purpose. Who needs to have their oven mitts, taking up storage on the kitchen counter though, as mine previously were?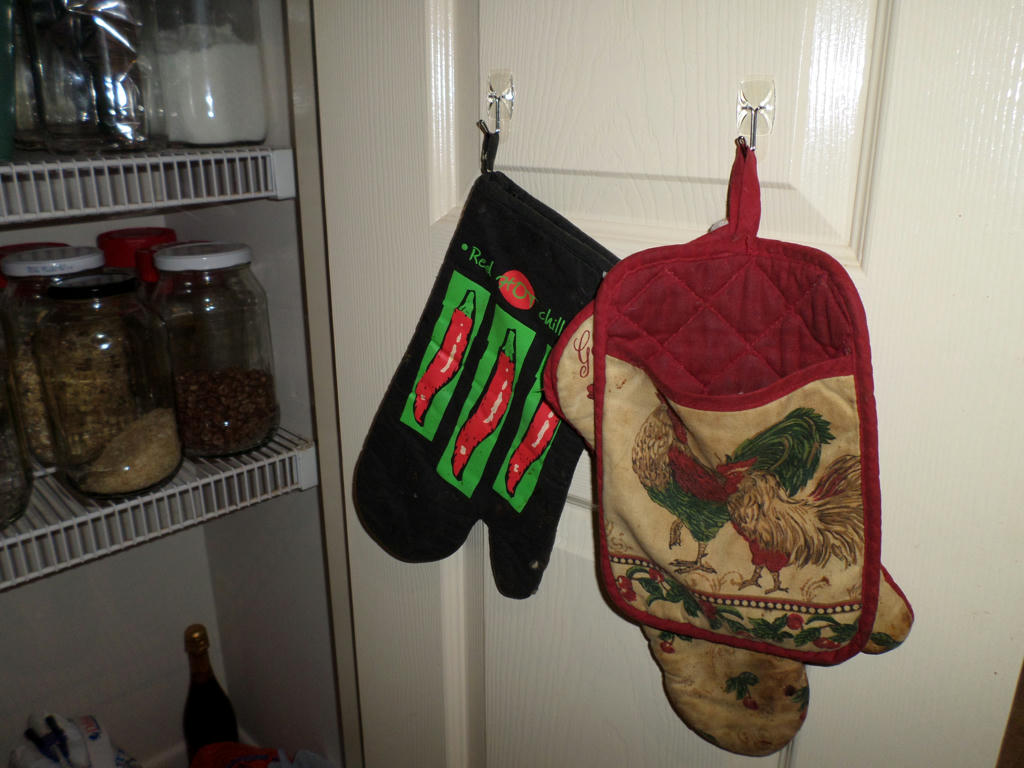 Tucked away, in the right space
My oven mitts are well loved, and now hung inside the pantry door. I didn't want them in the cupboards near the stove-top and oven, for safety reasons. The storage space it freed, was the heavy pot holder (trivet) they were formerly resting on the counter. I had to move the mitts first, then move the pot holder into position, before I could get to whatever needed removing from the oven or stove.
It may sound like a lot of trouble to go to for oven mitts and a trivet, but as a former professional baker and cake decorator, organisation is the key to any regularly used work space. If you have to double-handle things, when you're in the process of cooking, mistakes are easily made, things get dropped - it's just one of those days - or just too many stacked functions in the one space, with poor organisation? The simpler you can make your tasks, the more likely they are to run smoothly.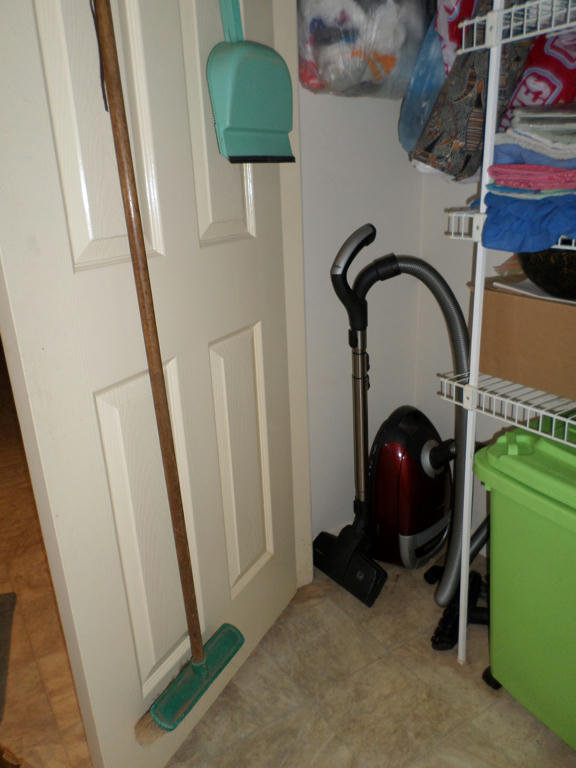 More organised - less drama
Right next to the kitchen however, is a storage cupboard. Its chock-full of stuff. So much so, that I would often have to battle with the vacuum cleaner, to get access to the broom and dustpan. I use them more than the vacuum, (daily almost) but I suddenly noticed all that space on the door! Why was I wrestling with the vacuum cleaner hoses for?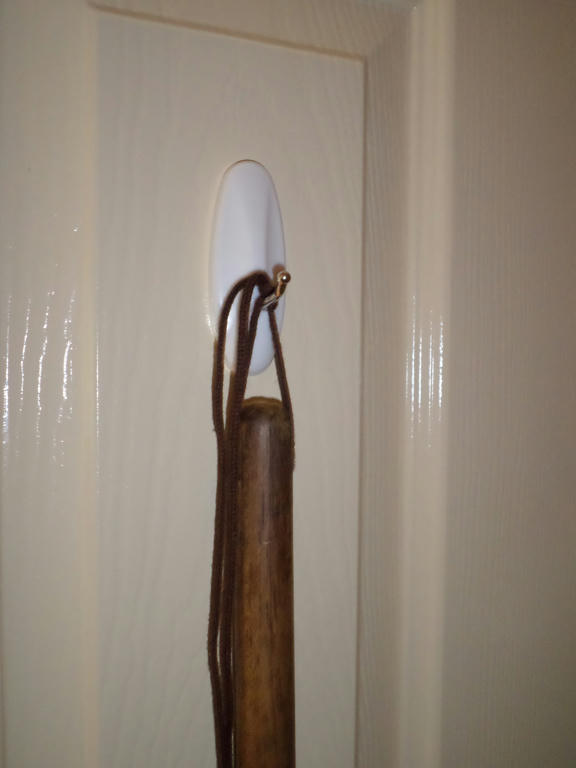 On a shoestring
This was another case of looking up, instead of down. I just had to drill a hole in the broom handle, tie a random shoelace through it (keeping an extra shoelace, when one of them breaks, is handy) and hung it from the hook.
This was the same brand of adhesive hook I used for the measuring cups and oven mitts, only it could hold up to 5 kilograms of weight. Even though my dustpan and broom, would come nowhere near that - I also had to take into account, the extra weight the item would pull on the hooks, when the door is swung open. To date, everything has stayed in place.
If my cupboards were made of solid wood, I would have preferred screw-in, metal hooks. You can even get fancy, and
make hooks
out of all
sorts of things
. Whatever system works best for you, so don't feel like you're only limited to pre-made storage solutions.
I also made some storage changes to the bathrooms, as well, which I'll share another time.
Are there changes you made to your kitchen work spaces, where you thought, why didn't I do this sooner?