Nature is knocking at the door
Born out of a lack of time, too much land and aspects of weather, I don't always get outside when I need to. Some weeks, months or even years later, I return to particular locations, and find an overgrown jungle. In the past, this frustrated me. Only because of the thought of having to pull it all out, and starting again.
However, this sometimes unavoidable (sometimes deliberate) approach of, "do nothing", has taught me some cost-effective and environmentally friendly strategies.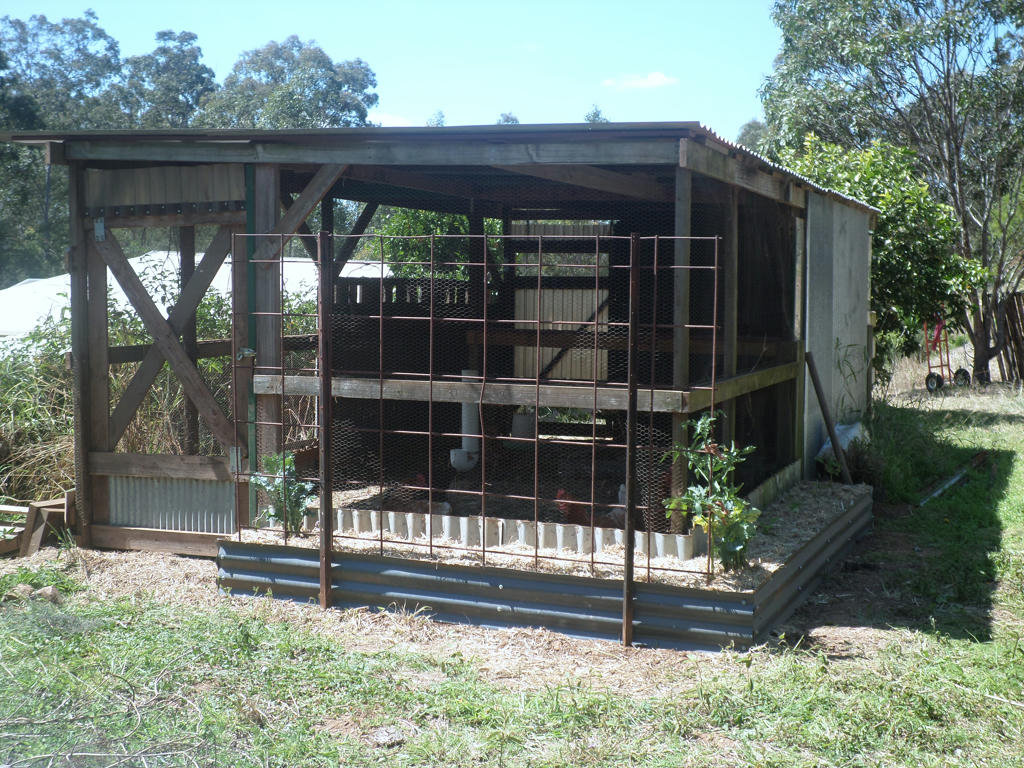 Hilltop, chicken coop (2014) when it's pretty
Take our chicken-coop for example. We got rid of some aging hens before summer (2018) with the intention of remodelling the coop. Mainly to insulate the roof and finally install guttering, for rainwater collection. But we'd have to wait for the heat of summer, to pass, first.
During the months in the interim, we knew we'd have no need for this location. So it was really the perfect time to, "do nothing". It's also known as, letting the land go fallow. A year or more, where it will not be disturbed, by anything but nature.
​As you can imagine, the area became overgrown in no time.
Hilltop, Chicken coop (2019) engulfed by nature
Even without much rain during summer, this overgrown jungle, took over. But it was of no major concern. Because it was also:
Saving money, purchasing fuel
Saving time spent mowing
Retaining moisture through thick foliage cover
Providing bee forage - the only place, flowering
Providing habitat for pest predators, such as birds, spiders and snakes
We do get poisonous snakes here, occasionally. I've only seen the brown snakes, not the black. But we're more likely to encounter the non-venomous tree pythons. Even still, good reason to take precautions. A caveat to the do nothing method, is when it makes sense to do something. Like maintaining access paths.
Behind the coop (2019)
Having two water-tanks near the coop, we mow a strip between them. This causes less stress, when fetching water. As snakes are more likely to hang where the grass is thickest, and avoid open spaces. We have a high population of carnivorous birds, so snakes are trained to duck for cover.
Hard infrastructure is overdue for an upgrade, to make it more efficient - but in terms of the natural system, it's only gone from strength to strength. All those seed heads and tall grass, attracts small birds such as quail, finches and wrens. Which drop a lot of fertility behind, and make an impact on pests.
So even though WE'RE not doing much with this area, nature is. By a hundred fold, or more!
Going to flower
As I already mentioned earlier, this area was the only place flowering, during drier times. But also flowered the longest, between insignificant rain events. What you see pollinating the pigeon-pea flowers, are small native (stingless) bees. So I now have pigeon-pea pods developing. This gives me new seed to plant, at a time the drought was hammering (and in some instances - killing) some of my other trees.
This "do-nothing" approach, advantaged a select few of my fruit trees (in a nearby location) which I didn't notice, until recently. I'll share more about that in another post. But just goes to show, instead of feeling frustrated when nature knocks on my door, I look forward to it, instead. Because there are mutual benefits to our arrangement.
We did disturb this area recently, which I look forward to sharing another time. Because while there is a time to go fallow, the opposite is also true - a time to rejuvenate, through creative destruction.